Magical Monochrome Manipulations; It's All Black And White To Me
"…everything looks better in black and white."—Paul Simon, Concert in the Park
Proving that you can, in fact, change your tune, Paul Simon altered the lyrics of his 1973 hit song Kodachrome from the original "…everything looks worse in black and white." When he performed the song at a concert in Central Park on August 15, 1991 everything looked "better." I happen to agree with him. There are lots of ways to create monochrome digital images but the easiest way to create a black-and-white digital image is in the camera at the time of capture. Many digital SLRs have built-in Monochrome modes and some even have modes that enhance gray tones while making the rest of the colors look less vibrant, producing an old-fashioned even handcolored look. Worried about losing that color original? Tip: Shoot in Raw+JPEG mode and you'll simultaneously capture two files, a color Raw file and a monochrome JPEG. If you originally captured a color image file, there is lots of software available to convert that image if you change your mind later on. The beautiful old Buick shown in the illustration was customized for the Shah of Iran and now resides in a private collection. It was originally photographed in color using a Canon EOS 30D but was later converted using…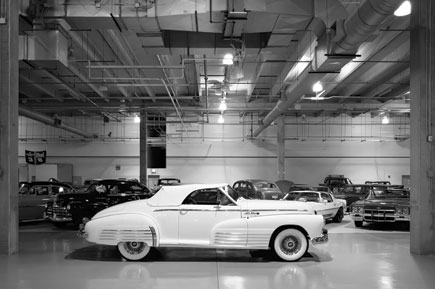 All Photos © 2010, Joe Farace, All Rights Reserved

Black & White Studio
Whenever I write anything about black-and-white image conversion software, I invariably get e-mails from readers asking why I didn't talk about Power Retouche's (http://powerretouche.com) Black & White Studio, so I'm kicking off this month's column by mentioning a great product that I first introduced to you in 2006. Over the years, Black & White Studio has continued to improve and at $39 remains a bargain for both Mac OS and Windows users. It will convert color images to black and white using the light sensitivity of specific films, such as Tri-X for example, or you can set your own sensitivity curves. This Photoshop-compatible plug-in also lets you apply the equivalent of on-camera color filters (yellow, orange, etc.) to an image and in its Print mode lets you employ the equivalent of Multigrade paper filters—remember them?—with effects ranging from 00 to 5. In Zone mode you can apply highlight and shadow controls as well as make adjustments in three selectable zones. Download a demo version and try it with your own photographs.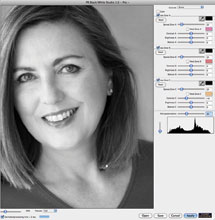 Craig's Lightroom Presets
I met Craig Minielly at Imaging USA last year but had long been a fan of his Photoshop Actions. Minielly told me that when he asked photographers about new software they told him they didn't want "another set of dummy buttons for funky effects" but instead needed a set of image controls that they could comfortably use for critical client work as well as personal creativity. Minielly believes that Lightroom offers a new kind of image and session control along with image management tools that let you handle files and workflow production in ways not even Photoshop can accomplish. So he's put together several sets of Lightroom Presets, including new ones for Black & White and another called Color Genie along with his existing FX sets (Essentials, Editorial, and Vintage Boudoir). Within these Presets there are hundreds of one-click Presets that can stylize your images. Visit his website (www.craigsactions.com) where you can mouse over a picture and see "before and after" examples. I've been using these Presets as part of my expanded Lightroom coverage for this column and find they make using the program a delight.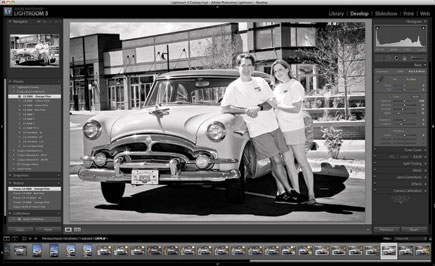 HDR In Black And White
Why not? As I write this Nik Software's (www.niksoftware.com) HDR Efex Pro was formally launched and the software contains two black-and-white presets called 11 Artistic and 12 Artistic. The plethora of sliders on the left side of the interface allows further tweaking, but if you look closely at the illustration you will see that the basic monochrome effect was produced by dragging the Saturation slider to zero, which opens up an infinite number of possibilities when combined with the other sliders and the 20 built-in HDR methods. You can vary the strength of the HDR methods, too.
LATEST VIDEO