Locations; Carrizo Plain National Monument; Photo Ops In California's Serengeti Page 2
Every spring the Carrizo Plain is one of the top draws in the state for wildflowers. The east side of Soda Lake is typically a blanket of tidy tips and goldfields. From Soda Lake Road take Simmler Road just a short distance and park. Then blaze your own trail across the plain in thick fields of blooms.

The Caliente Ridge leads to the highest point in San Luis Obispo County at Caliente Mountain, rising 5106 ft. The trail is steep but wildflowers adorn the sweeping hillsides. Expect to photograph stocks of golden aster, clusters of owl's clover, and vibrant fields of California poppies. The Selby Rocks themselves are a perfect outdoor studio. Smothered in multicolored lichen, they make terrific backgrounds surrounded in flowers.

You'll need an array of lenses for the Carrizo Plain. A 600mm lens will be required for the herds of pronghorn antelope, tule elk, and most birds. A 70-200mm is perfect for reptiles. A wide angle may be the most useful lens for the grand landscapes across the grasslands, and a macro lens for flowers and insects. Protecting your camera gear from dust will be your biggest challenge. Bring blower brushes and plenty of wipes for lenses and cameras. Zip Loc baggies are useful while walking the plain when the wind blows.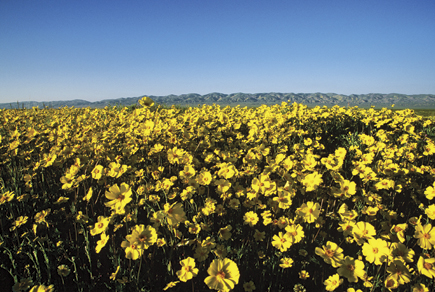 Wildflowers just east of Soda Lake on Simmler Road are so thick you can't see the ground. The Temblor Mountains are in the background.
If You Go
Take Highway 101 north to Atascadero. From there, connect with Highway 58, heading east for 52 miles, turning right on Soda Lake Road. You'll be on a paved road for eight miles and a maintained dirt road the rest of the way. You can also take Highway 33 out of Ojai, turning right on Highway 166 in the Cuyama Valley. Turn left on Soda Lake Road and enter the monument.

The Carrizo Plain is one of the best wildflower destinations in the state. At least 10" from winter rains is needed for a decent wildflower season. Call the wildflower hotline at the Theodore Payne Foundation at: (818) 768-3533. The hotline is updated each Friday from March through May. Their website is www.theodorepayne.org.

Free camping is available at Selby Camp and the KCL Campground. Non-potable water is available at Selby, but you'll need to bring all your own provisions.

Painted Rock is closed to public access March 1st through July 15th. Guided tours are offered in March through May by reservation only.

Contact the Goodwin Education Center at (805) 475-2131 for wildflower updates and other information about the Carrizo Plain. The center is open December through May, Thursday through Sunday, 9am to 4pm.

The Carrizo Plain is jointly managed by the Bureau of Land Management (BLM), Department of Fish and Game (DFG), and The Nature Conservancy (TNC). Further information is available at the Bakersfield BLM office at: (661) 391-6000. More information is available at: www.blm.gov/ca/st/en/fo/bakersfield/Programs/carrizo.html.

LATEST VIDEO