Lighting
Some Illuminating Discoveries
New lighting products did not prove to be an amazingly illuminating experience at this year's PMA. Still, there were a number of welcome introductions. They ranged from digital slaves to studio lighting, plus strobes for the underwater enthusiast. Note: Select flash units are mentioned as having a safe sync voltage for use with digital cameras. Check camera specs or contact the manufacturer first to ensure the flash can be safely used with the camera. With any camera, you may also need to verify correct polarity for proper usage.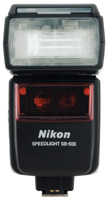 Shoe-Mount Flash And Digital Slaves Nikon Speedlight Addition
We'll begin with dedicated shoe mounts. Nikon showcased the SB-600, the latest addition to their Speedlight line-up following the recently announced SB-800, featuring the same i-TTL flash control technology. The SB-600 delivers automatic balanced fill flash and advanced wireless lighting capabilities (on up to four channels) and is seamlessly compatible with the newly announced D70 digital SLR's built-in strobe. It can be used in tandem with the SB-800 for multiple lighting setups. This unit also features a bounce/swivel head and modeling flash, and, when used with the Nikon D2H, adds high-speed sync as well. FV Lock allows you to lock in the flash exposure while recomposing. One especially noteworthy feature is auto white balance adjustment, when used with the D2H or D70, whereby flash color data is transmitted to the camera to compensate for variations resulting from flash duration--a decided plus. And it has a really cool control interface.
Sigma Super
Sigma added to their dedicated flash line-up with the Sigma EF-500 DG Super SA-N ($199 street), a shoe mount boasting a full array of capabilities and designed for the new Sigma SD10 digital SLR (a similar flash is available configured for other SLRs). This version specifically offers digital wireless TTL-off-camera flash control with the SD10 alone, whereby this strobe can trigger any number of EF-500 slave units (also compatible with other Sigma film and digital SLRs minus this feature). The GN is 165 (ISO 100). Other features include full TTL exposure control; lighted digital display; swivel/bounce head; auto zoom; AF auxiliary light; rear-curtain sync; FP (high-speed) flash sync for more controlled fill under a variety of conditions; and stroboscopic effect, with built-in wide angle diffuser.
Sunpak Digital Flash
ToCAD America introduced the Sunpak PZ40X Digital Camera Flash ($149 street). Lightweight, this shoe mount is available in Nikon, Canon, and Minolta
TTL-dedicated configurations, and will also work manually with cameras having a standard, non-dedicated hot shoe. The GN is 102 (ISO 100) at the 50mm zoom setting. Other features include TTL auto flash (D-TTL for Nikon, E-TTL for Canon, and ADI for Minolta); backlit LCD for controlling and monitoring all settings; power zoom covering 24-80mm; continuously variable or in five manual power-ratio steps; tilt/swivel head; and built-in autofocus assist light. The PZ40X is powered by two AA batteries, making it less of a drain on the wallet.
Digital Slaves
In digital slaves, we saw Phoenix Corporation's D92-BZS Digital Slave Flash ($75 MSRP), with a GN of 92. It features a swivel/bounce head and four-position zoom, and can be used on a hot shoe or with sync cord and the supplied bracket. It works equally well in fill flash and redeye reduction modes and can be used with virtually any digital camera. As a slave, it can be set to disregard any pre-flash blips.

S. Bower gave us a look at three new digital slaves with hot shoe and bracket, sans sync cord, with prices ranging from $49-$109. Two models are supplied with a flexible-leg tabletop tripod.
Underwater Strobes Sunpak G-Flash
We all know how inadequate a built-in flash is underwater, so any off-camera strobe is welcome. The new Sunpak G-Flash ($199 street) is submersible down to 148 ft, and features an impact-resistant body, with a GN of 70 (ISO 100) and adjustable output. Since it is totally wireless, triggering is via a built-in slave (requiring operation in tandem with the on-camera flash). The G-Flash is compatible with any underwater, weather-resistant, or standard digital or film camera with on-board flash and a standard 1/4x20" tripod socket. It can also be used with most flash-equipped cameras in underwater housings or protective weather shields.
SeaLife MAXX Duals
Pioneer Research shed new light on the world of underwater photography with the SeaLife ReefMaster MAXX Dual Strobe Set SL580. This system encompasses two external flashes with sure-grip rubberized arms that are flexible, allowing you to vary the lighting angle and avoid backscatter.
Booth Genesis Booth Photographic Ltd. showed the Genesis Uni-Lever Flash in two models: G-400 ($699) and G-800 ($875), with variable output to 400 ws and 800 ws, respectively, weighing 6 and 8 lbs. These monolights come with a 150w modeling light, umbrella reflector, and user-changeable UV-coated flash tube (Pyrex enclosed). Uni-Lever accepts Photogenic accessories.
Power Packs
New power packs were very scarce, but we found a couple that dedicated Norman users should appreciate. Photo Control Corp. introduced their sleek, ultra-modern Norman D12 (1200 ws) and D24 (2400 ws) series 900 Digital Power Supplies. These packs bring Norman into the 21st century and are a serious departure from the more conservative packs we're used to seeing from this company. Sporting digital displays, these generators are adjustable in .01-stop increments, with symmetrical and asymmetrical light distribution, featuring a slow charge option when shooting on location with sub-par wiring. Plus these new packs reinforce the trend toward PocketWizard radio-slave compatibility. A sync voltage of 6v DC should make them safe for digital cameras.

We round out this category with battery-pack-based strobe systems specifically designed for location work--from Lumedyne. Action Packs (starting at $920 MSRP) feature fast-flash duration (as short as 1/3000 sec) and fast recycling, in 200 ws and 400 ws versions. Quadramatic packs ($750 for starters) are made for Quantum's Qflash X/X2/X2D or a Lumedyne head with an Auto Module. Next Generation packs ($720 and up) and heads replace the Classic packs and heads and offer enhanced features over the older models.
Continuous Studio Lighting
Who says manufacturers don't listen when we talk? Argraph proudly displayed their newest addition to what has now become their Samigon Internet Photo Studio line-up: the Professional Internet Photo Studio ($500), based on suggestions I'd made previously for a larger, more robust unit. This Internet Studio is a modular design consisting of an illuminated 18x24" base, with two adjustable arms fitted with 5000K fluorescent lamps for a total daylight-balanced tabletop lighting solution, and designed to hold a sweep backdrop.

Paterson Photographic had more to show us than strobes, introducing the new Halogen 1000w Continuous Light ($199 street), which is dimmable and rated at 3400K, featuring fan cooling, a Bowens fitting, and an extruded aluminum body for maximum protection.

JTL displayed the ID Photo Kit ($600 MSRP), which consists of three tungsten lights with 250w quartz-halogen bulbs. It is fan-cooled with thermo-control to protect against overheating. The kit includes two softboxes, one with barn doors, plus two heavy-duty stands and one backlight stand, and all packed inside a padded carrying case; remote control included.

We also saw some new, cool lights--literally. Brandess-Kalt-Aetna showed off their new AC-powered Color Corrected Cool Light Banks, as part of their SP Studio Systems product line. Weighing in at 6 lbs, the SPSFB423P ($399 MSRP) offers a four-bulb bank with 23w, 5200K fluorescent bulbs, whereas the 12 lb SPSPB923P ($649) is a nine-bulb unit. They are designed for digital photography.

APV kept it cool with two new MH-Imagers cool daylight metal halide lamps: MH-800 and MH-2400. Rated at 5200K, with an average life of 7000 hours, they are flicker-free and self-contained. Model MH-800 ($190) uses a 150w bulb but its output is said to equal an 800w incandescent, while the MH-2400 ($400) employs three
on/off-switchable bulbs (total output = 450w, claimed to be equivalent to 2400w incandescent)--bulbs and reflectors sold separately. These heads fit inside a softbox. The larger lamp head comes with detachable handle.
Studio Strobe Lighting--Monolights Interfit Combo
High tech appears to be the wave of the future in studio strobes, especially judging from our first few monolight systems. Paterson Photographic demonstrated their new Interfit Combo 1200 digital monolight ($899 street), with an operating voltage suitable for digital cameras. This unit employs a digital display, with all controls on the side panel (except on/off switch on back), counts flashes popped, and has a built-in photocell. Output is variable in 0.1-stop increments. It features a 1000w halogen modeling light to better simulate intensity of the strobe. Color temperature remains constant as strobe output changes, regardless of watt-second rating. The unit accepts Bowens fittings and a 700 ws unit will also be available ($749).
JTL's Versalight D
JTL went high tech with their latest monolights: the very impressive Versalight D (for Digital) self-contained strobe series. These can be operated via a remote control, and can be computer controlled so that saved lighting setups can be used again as needed. Models are available from 300-1000 ws, each infinitely variable (available in 105-120v, 60Hz and 220-240v, 50Hz), with prices starting at $339 MSRP. Additional features include audible signals; built-in stabilizer; digital power adjustment for strobe and modeling lamp; an idle function to save electricity; user-replaceable flash tube with built-in diffuser; overheat protection; and aluminum alloy housing.
BKA Expands LancerLight Series
Brandess-Kalt-Aetna introduced the SPC3200 ACDC monolight ($489 MSRP), which expands their LancerLight strobe series. Compact for tight spaces, this unit will operate on AC or with the optional battery pack and is rated at 320 ws, with full, half, and quarter-power settings (for strobe and modeling light). It accepts softboxes, barn doors, and other accessories.
Norman's ML400 & ML600
The new Norman ML400 and ML600 monolights (from Photo Control Corp.) also boast digital displays, plus they add PocketWizard compatibility, with 6v DC sync voltage (suitable for digital cameras). Each comes with a 150w and 250w modeling lamp, respectively, and each is adjustable in .01 steps and compatible with Norman and Photogenic reflectors/light modifiers, with a 2-second recycle to full.
FEATURED VIDEO