Lighting The Way; Software & Other Tools For Photographers Page 2
Soft Classic Remastered features a classical soft warm glow while Orton's Spice is based on the 1980's Orton Effect that was originally produced by sandwiching multiple slides before printing. The Edge adds an edgy contrast with a slight glow that can be adjusted while Hollywood Fashion has a feel similar to Sexy Soft but with a bit more edginess. Fantasy Lights I produces glowy vintage tones with bright highlights and rich darks and Fantasy Lights II presents a slightly milder version. Anime is great for bright colorful scenes where high saturation is desired. There is so much else here, including Crystal Ball, Sunshine Place, Old Fashion Love Song I and II, Goth Life, Dragon Eye, Hill Of Lucas, Etch a Sketch, LeCreme Infrared, and Gav's Yummy B&W, all of which can be tweaked by adjusting a layer's opacity or painting back part of a layer. If you photograph people, you need this inexpensive ($45) set of actions.
© 2010, Joe Farace, All Rights Reserved
Bigger Files = Bigger Cards
Lexar Media's (www.lexar.com) Professional 133x Secure Digital High Capacity (SDHC) memory cards are available in 16GB and 32GB capacities and have a maximum Class 10 speed rating, providing a fast minimum sustained write speed capability of 133x (20MB per second). The higher capacities of these 16GB and 32GB cards make them a good choice for shooting high-resolution images and large HD video files with SDHC-compatible digital cameras such as the Olympus E-PL1. In addition to enabling photographers to fully leverage a D-SLR's high-speed processor, the Professional SDHC cards significantly accelerate image download times from the card to a computer, improving digital workflow. All Lexar Professional memory cards include a limited lifetime warranty, a free downloadable copy of Image Rescue 4 software, and money-saving promotions from Adobe for photo and video editing software.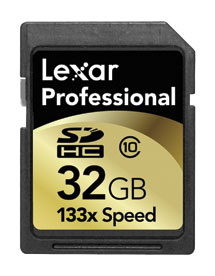 Fun Faux Frames
Suzette Mehler had an idea: picture frames made from matte board that looked liked expensive antique frames and Faux Museum (www.fauxmuseum.com) is the result of her dream. Shipped flat, these frames simply pop out to create expensive-looking 3D frames that let you display everything from posters to family photos for just a few dollars ($8-$49). The cardboard creations look like antique wood and extend out several inches deep to create a feeling of depth while securely holding prints from wallet-sized to 16x20". The frames are recreations of European antiques, and have easy 1-2-3 assembly. Mary put together our first frame in a manner of minutes and it looks great! You can hang them on the wall or display them on a shelf with the small easel that's included. Faux Museum frames are sold at many real museums across the country, including the Baltimore Museum of Art and George Eastman House, and are the most fun you can have framing your photographs.

LATEST VIDEO