Lighting Kits And Add-On Accessories; Studio & Shoe-Mount Gear
Whether it's shoe-mount strobe or studio lighting, accessories of all shapes and sizes appear to be on the rise. One clear trend is an increase in kits for all kinds of lights: hot lights, digital lights, and strobes. Accessories in the form of intriguing light shapers and reflectors continue to crop up to help us mold the light and make the most powerful visual statement.

APV/Tristar has decided to address a lighting component many of us take for granted: light stands. Their new 100 Flat Leg Series are going Green, in the sense that they've been designed to last and last and last, replacing plastic and die-cast aluminum components with sturdier stuff. They also boast a new kind of lever lock for quick and easy locking of the air-dampened column. The flat, solid legs increase the stability and fold up compactly, hence taking up less space when traveling.
California Sunbounce The Cage
California Sunbounce always comes out with clever lighting tools for the studio and location photographer, and this year is no exception. The Cage, designed in close cooperation with noted photographer Greg Gorman, gives you total control over lighting in an enclosed space that will hold up to four people comfortably. You can create window light from any direction, with countless ways of modifying the light. Assembly takes less than a half hour, and it is said to hold up well in windy conditions, especially when tied down with guy wires and sandbags. The framework sells for $1085, and the fabric set is $965. This company also debuted the Sun-Strip, in two sizes, starting at $218. This is a narrow reflector that simulates a strip light for a well-defined, narrow stream of light. Also new, but still in development, is a collapsible reflector, the Sun-Mover, which caught my eye, owing to its oval shape and resilient design. Stay tuned for this one.
California Sunbounce Sun-Strip
Dot Line's RPS Studio Quick-Folding Softbox Kits with 5400K cool fluorescent lights offer effortless set up in any studio (stand and bag included). The lamp included is a new, cool-running, daylight-balanced 70w bulb, which outputs the equivalent of 300w. Also available: Dual Square Folding Softbox Kit (with two lights/model RS-4070: $290) and Dual Octagonal Folding Softbox Kit (model RS-4080: $350 street). Monolight fans will be happy to learn that Dot Line has something new for them as well. The RPS Studio CD Series 600 W/S 2 Monolite Kit (model RS-SB/300SLK: $599) is a combined 600 ws mono system, with two heads and all the accoutrements needed for studio work. Each 300 ws head features a digital LED display, rubberized finish, tracking modeling lamp, and stepless flash output, plus IR/wired sync.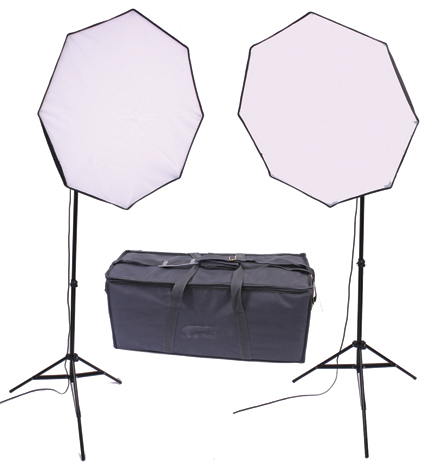 Dot Line Dual Octagonal Folding Softbox Kit
Dot Line RPS Studio 600 W/S 2 Monolite Kit
A larger 24x24x24" model now gives you two options in the Giottos Portable Light Tent line (HP Marketing Corp.). The previous size was 20x20x20". It may not seem like much, but those extra few inches make a big difference when the product you're shooting is too tall, wide, or deep for a smaller cubical tent. This diffusion housing is made of white nylon and folds flat for quick and easy transport (thanks to a carrying handle/tripod straps). Four colored background cloths (black, white, red, and blue) are included. Light tents can normally be used with any strobe system, studio or shoe-mount, or any cool continuous light source, but care should be exercised with hot lights (personally, I'd avoid them here). The list price for the 24x24x24" model is $59.
Giottos Portable Light Tent
Gossen (Bogen Imaging Inc.) has a new Starlite 2. The meter has been made more user-friendly than its predecessor by a simple change in the button designations. The Starlite 2 boasts a splash-proof housing, incident (raised or lowered dome) and reflectance (1? or 5? spot) readings for ambient light and flash, with a rotating turret. Additional features include contrast measurement, analyze function, memory for multiple readings that the meter averages, and Zone System readings, with Shutter-Priority, Aperture-Priority, and EV-based displays. The dual-display (digital plus analog) LCD panel is backlit.
Interfit continues to support studio strobe with new monolight kits and light shapers. New from the company is a lighting system dubbed Kooltubz. The system is available in two sizes, incorporating four and six fluorescent tubes, each 55w. Kooltubz 4 ($349) and Kooltubz 6 ($479) are supplied with barn doors and a cool softbox, plus carry bag. Kooltubz use energy-efficient, flicker-free lamps that provide a powerful daylight-balanced light source, and which are cool to the touch. They run on worldwide voltage (100-240v). Another cool light is the new Super Cool-Lite 655 ($339), available as a single head with a 4-foot Octobox (eight-sided softbox), outputting the equivalent of 1300w in incandescent parlance. If you need to go the economy route, Interfit now offers the two-light EZ-Lite kit employing 500w tungsten lamps ($139).
Interfit Super Cool-Lite 655
JTL has made a major modification to their new and unusual Coolite LED Light (see our initial reports in the January 2009 issue), which can operate continuously or as a flash (one set of lights remains on as a modeling light). Each LED now has a collimated lens to direct the light path straight outward, thereby avoiding spill light. This light consists of a matrix of user-replaceable LEDs, with maximum strobe output at a very usable 300 ws—at a 5500K color temperature, and a 4v sync voltage. The light also has manual and infrared control, a digital display and control panel, and power settings from 1⁄8 to full in 0.1-step increments. Remote control included, this $1200 light bank has a very efficient working life in excess of 100,000 hours, and can be further configured into a four-bank array (with optional units). JTL also expanded their HMI line-up. These 5500K lights now come in 250w (equal to 1000w tungsten) and 400w, with an optional collapsible light bank that holds up to four heads and is controllable with the help of an exterior module. Each HMI bulb has an 800-hour working life. The Versalight E-series of monolights have also undergone some changes, notably with the addition of a proprietary digital radio wireless transceiver and modified mounting bracket.
| | |
| --- | --- |
| | |
| | |
Nadel is now focusing on three-light kits, which they say are proving increasingly popular among Opus lighting enthusiasts. In fact, three such kits were recently introduced. The new kits feature Opus H-series monolights with a full range of accessories. The OPL-H250 and OPL-H150 self-contained strobes are made of an all-metal housing, output at 5500K, steplessly adjustable power from 1⁄8 to full. Each unit has a 60w, variable-power modeling light, a built-in photocell, and full power recycling in only 3 seconds. Specifically, the Opus OPL-H34098 Three-Light Kit consists of the following: two OPL-H150 ws monolights, one OPL-M40 ws slave flash, three 7-foot light stands, one 16x20" softbox, two 46" convertible white/translucent umbrellas, one four-channel wireless remote, a snoot, a four-leaf barn door with honeycomb and color gels, three 16-foot power cables, and one 16-foot sync cord—all in a padded carrying case.
Nadel Opus OPL-H34098 Kit
Westcott introduced the uLite with 500w photofloods as part of the Photo Basics concept. Hot lights are an economical way to shoot studio portraits without having to worry about flash metering. A basic uLite Two Light Kit ($229) comes with all the essentials, including collapsible softboxes, and
light stands. Three-light kits also available ($295), adding a background light. The uLite Digital Photo Lighting Kit ($295) provides a 9x10-foot wrinkle-resistant green screen, which will let you create some truly amazing portraits, once you get the hang of extracting and compositing elements. The starter kit that comes with this system should put you on the right track almost immediately. There is also a four daylight-balanced fluorescent lamp base option for the uLite.
Westcott uLite Digital Photo Lighting Kit
Shoe-Mount Lighting & Accessories
For many of us, a shoe-mount flash continues to be the most practical and effective means for lighting creatively. And we're seeing an increasing number of shoe-mounts with USB connectivity, which lets you update the firmware and thereby slow down obsolescence. While only a few new flash units were brought forth this year, accessories that give us what amounts to studio lighting capabilities with our portable light sources are coming fast and furiously. Note: Some of the accessories for studio lighting are as much at home around shoe-mounts as well.
APV/Tristar's Stealth bracket (a similar product is available under the RPS brand name from Dot Line) lets you mount two shoe-mount flashes and electronically sync them so that one fires when the camera is landscape oriented, the other portrait (vertically) oriented. Why? Because this way you don't have to play around with the bounce/swivel head and lose precious moments and it keeps the flash head well above the optical axis for better lighting sans redeye. Available for Canon, Nikon, Olympus, Pentax, and Sony D-SLRs. It is powered by two AAA batteries.
When I first saw Litepanels (Bogen Imaging Inc.) last year, I dismissed them as simply video lights. This year I reversed my thinking, after someone explained that they can very effectively be used with a D-SLR—okay, I'll have to find that out for myself by giving them a test. But still, Litepanels Micro panels are powerful LED lights, and they're long-lasting (40,000 hours), small, lightweight, and heat-free. Equipped with a tilting foot so they slide into the camera's hot shoe or onto a bracket, they provide a continuous light source, running at 5600K (flip-down filter holder and filters included). And I'm told that one tiny panel is actually enough for a head-and-shoulders portrait, in terms of coverage. They're also dimmable, with no color shift. And they'll run for 1.5 hours on four AA alkalines, 7-8 hours on lithiums. These lights can be used on their own or as a fill or accent light with flash (with flash sync set appropriately). Each weighs under 4 oz and measures 3.3x3.3x1.5". I imagine they'd do quite well on a still life set, and for copying.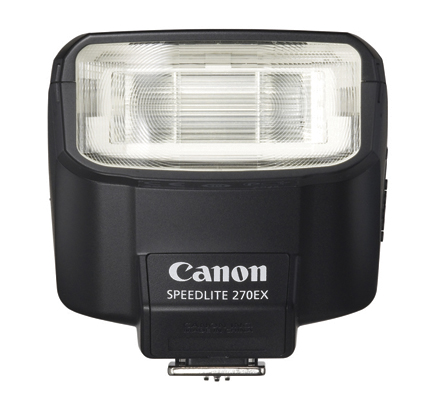 FEATURED VIDEO