Leica SL Mirrorless Camera Review
(Editor's Note: Lab Review lab tests and comments are supplied by BetterNet, Shutterbug's TIPA-affiliated testing lab and edited by George Schaub. Shutterbug is the sole US representative within TIPA, a worldwide association of photo and imaging magazines. You can see our hands-on Field Review of the Leica SL in the January 2016 issue of Shutterbug and online here.)
The new Leica SL (Typ 601) is a brand new mirrorless system camera with a full frame sensor and a resolution of 24MP. The SL can't be described as a Compact System Camera because it has a very heavy and robust body built by a milling machine out of a massive aluminum block and is comparable to the size of a standard SLR system. The same applies to the kit lens used for the test. The weight of the Leica Vario-Elmarit-SL f/2.8–f/4 24–90mm ASPH lens is approximately 2.5 lbs; in combination with 1.8 lbs for the Leica SL body the photographer has to transport a system of nearly 4.4 lbs. This may prompt photographers to purchase a heavy-duty strap as their first accessory. The entire camera is well-sealed and the new SL lenses are also protected against dust and humidity.
The camera offers an excellent viewfinder system. It is the first digital camera with an EVF that offers 4.4 million RGB dots. The viewfinder is very, very large. Compared to an optical SLR viewfinder and a 50mm lens in infinity setting the viewfinder size is 0.80x. This is larger than the optical viewfinders of professional SLRs (Canon, Nikon). The viewfinder offers a very bright image and a frame rate of up to 60 frames per second, which is very helpful when shooting sports. In addition, the camera offers a 2.95 inch LCD screen on the back with 1,040,000 RGB dots. Unfortunately this screen is fixed. A fully articulated swivel LCD would be helpful.
Handling of the camera is unique and unusual. The camera offers numerous function elements that aren't marked or labeled because nearly every function button or dial has multiple functions. The camera offers two setup dials: The dial on the back (which can be reached by the right hand) can be used as a switch. By pressing and turning this dial the photographer can change the exposure mode. The camera offers P, T, A and M, with scene modes displayed on its very large and bright status LCD on the top. The dial on the top and the back dial normally are used to set up aperture size and shutter speed in manual exposure modes, but they are also used for menu navigation. There is also a small joystick on the back.
More confusing for the first time user are four buttons located to the left and to the right of the LCD screen on the back. When pressing some of these buttons quickly the camera will show some main menus; holding them in will activate them as function buttons.
For example: Lightly pressing the button on the upper left of the screen will open menus; pressing it in longer will open the ISO speed setup. The lower left button opens the magnifier function on the screen or the EVF; pushing this button a little longer will open the white balance setting. By default, the silver button on the top is used to toggle between photo and video setup. Pressing it longer opens the setup dialogue for EV compensation. In addition, the function of all these buttons can be defined by the user.
The camera has a very fast AF system. Based on contrast metering, this AF system worked very well. In combination with the fast AF servo system of the new standard zoom lens, the camera showed an excellent performance even when taking a series of images in burst mode, with up to 11 frames per second in full resolution. We did some tests of cars driving by and the camera captured sharp and precisely focused images when using the AF-C setting. For manual focusing it offers a magnifier function and focus peaking.
The camera has a USB 3.0 interface for very fast data transfer to PCs or Macs (it is supplied with long USB 3.0 cable). It also offers an HDMI interface and a special interface that can be used for an optional (wired) remote control. This interface allows for use of an optional adapter/interface with a 3.5 mm jack for an external microphone and a 3.5 mm jack for earphones. This helps to check and enhance sound quality when recording video.
Comments on Image Quality:
Color: The automatic white balance system of the Leica SL tends towards some cooler nuances with a shift into the blue area of the color space. Only the brightest white test pattern of our chart was shifted into the opposite direction (more yellowish). The color errors are on a very low level with only minor aberrations of all colors from their given values. Skin tones are reproduced very naturally, but with a slight tendency into the magenta area of the color space. The saturation is a bit low, but this can be helpful when optimizing Leica SL photos in an image-editing program.
Sharpness: All technical tests were done with the Leica Vario-Elmarit-SL f/2.8–4 24–90mm ASPH lens. In combination with this lens the Leica SL reproduced the ISO 12233 chart with 3778 of 4000 lines, which is an excellent result. Contrast lines show some "overshot" effects, but even fine details like the hair of the model or some detailed structures in the standard test box are reproduced very clearly, cleanly and without aliasing or moiré effects. The look of the SL photos is very natural and sharp. Differentiation of colors is very good. By using the DNG Raw files you can create even better results.
Noise: The camera showed excellent results in ISO settings from 50 to 3200. The luminance noise keeps on a low level and crosses the 1.0 percent line only at ISO 3200. Noise spectrum is low and the RGB graphs in the "Pixel noise" chart are nearly identical. Overall, the look of images taken with ISO 50 to 3200 is very clean. At ISO 3200 luminance noise gets visible as a kind of very discreet "film grain" and is still acceptable in images taken with ISO 6400. In the highest ISO settings the combination of color noise and anti-noise filtering becomes visible and is quite annoying at ISO 25,600 and 50,000.
The results of the dynamic range tests are on a high level. The camera achieved a maximum of 11.5 f-stops and keeps a high level of 10 to 11 f-stops up to ISO 6400. Dynamic range drops significantly in higher ISO settings (down to about 8 f-stops at ISO 50,000).
Video Functions and Quality
The Leica SL offers comprehensive video functions, including 4K video modes including the "real" cinema 4K-resolution of 4096 x 2160 pixels (24 f/s); Full HD recording with higher frame rates (24/25/30/50/60 f/s); and slow motion sequences with 120 f/s with 1920 x 1080 frames per second. It offers MOV and MP4 recording and uses H.264 compression technology. The user can't set up bit rate or compression style (I-frames or GOP). But the photographer can choose additional image styles with "L-Log" video recording. Using this mode will create flat video images with high potential for color correction and contrast enhancement in video editing software (including using 3D video LUTs to create special "color looks").
The camera offers a clean HDMI output signal (without overlay information) to record uncompressed video (or slightly compressed ProRes files) on an external recorder. Using the HDMI interface, videos can be recorded with 4:2:2 color sampling and 10 bit, while the standard video files with H.264 compression are recorded as 4:2:0 8 bit files.
The Leica also features professional time code setups that makes it easy to keep several cameras or audio recorders in sync (when editing in Adobe Premiere CC or other editors).
Exposure settings can be done manually. Setup is done like in photo mode using the dial on the back to toggle between P, M, T, A mode; both dials can be used to change aperture size and shutter speed. Shutter speed is restricted by the chosen frame rate, so you can't set up speed settings like 1/25 sec when recording in 50p mode, for a example. The photographer can also change ISO speed settings; the camera allows all speed settings between ISO 50 to ISO 50,000 in video mode.
Audio level can be set by the photographer. In addition, the camera offers a "wind reduction" setting for better sound quality. The Leica SL also offers a special interface for external microphones and earphones, but you have to use the optional "Leica AA-SCL4" adapter with 3.5 mm interface for a microphone and a second 3.5 mm jack for the earphone.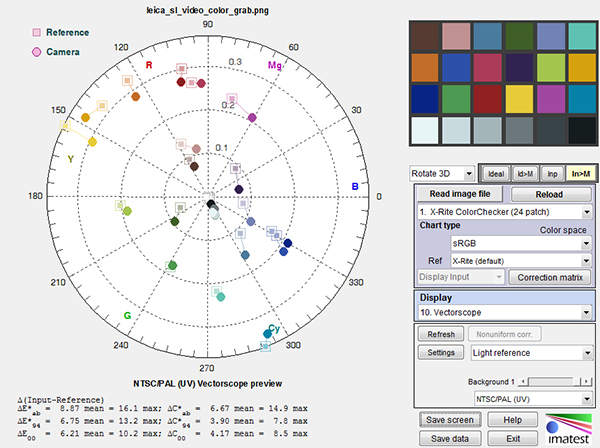 Comments on Video Quality
The camera showed a very good performance in our video tests. Live 4K videos don't show any aliasing or moiré issues and look very sharp and full of details. The test chart was reproduced with 1503 of 2160 lines in 4K mode and 895 of 1080 lines in Full HD mode, which is a very good result.
Colors are very good. Like in photo mode, the video colors are a little under-saturated. The white balance system caused a neutral or little bluish look, but the color error level is still very low.
In noise tests the Leica SL showed a very good performance up to ISO 25,600, only the image quality of videos taken at ISO 50000 isn't acceptable. Dynamic range is significantly lower in video mode than in photo mode (which is also a result of the H.264 compression). The camera acquires a maximum of 8.9 f-stops. The additional video stabilizer of the Leica SL helps to record blur-free and stable video sequences.
Pro:
+ massive body with perfect finish
+ very large EVF with extremely high resolution (4.4 million RGB dots)
+ sharp images with clean reproduction of fine details; nearly 3D looking images
+ very realistic color rendering
+ unusual and unique, but comfortable handling (once you get used to it)
+ very fast AF system
+ video recording up to 4K including clean signal on HDMI for 4:2:2 10 bit recording
Con:
-very expensive
- at this writing, only one "real" SL lens available; 2 additional lenses have been announced and T lenses can be used (APS-C crop). Leica M lenses can be used with additional adapters
- missing swivel LCD
The Leica SL (Type 601) mirrorless camera sells for $7,450, body only. The Vario-Elmarit-SL 24–90 mm f/2.8–4 ASPH zoom lens sells for $4,950. More info here.
(Lab Review is where we publish web-exclusive lab reports on cameras. To read more Lab Reviews, click on
the Reviews tab
on the top navigation bar of this page. New photo gear reports are published frequently, so check Reviews for more equipment evaluations from
Shutterbug
writers.)
FEATURED VIDEO