Konica Minolta Maxxum 7D
First D-SLR Camera With Built-In Anti-Shake System
Photos © 2004, Peter K. Burian, All Rights Reserved
Although Konica Minolta was the last major manufacturer to enter the digital SLR market, the Maxxum 7D was well worth the wait. This is an incredibly versatile camera with advanced technology, including a significant bonus. The Maxxum 7D is the first SLR camera in the world to boast a built-in Anti-Shake mechanism to compensate for camera shake. That's a valuable feature because it works with nearly all Maxxum lenses made since 1985, precluding the need to buy pricey lenses that incorporate a stabilizer system.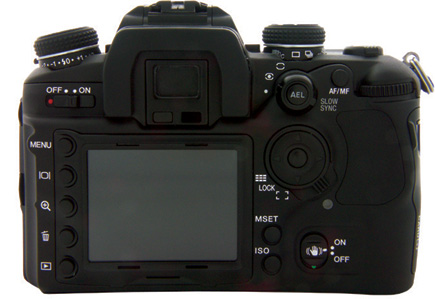 Design And Features
This is a moderately large camera with a huge 2.5" LCD monitor, a real advantage over the more typical 1.8" or 2" screens. There's no need for a secondary data panel, because the color monitor displays all data (with oversized numerals) as well as images. In keeping with its 35mm Maxxum 7 predecessor, the digital Maxxum 7D includes a durable magnesium-alloy front body panel and base as well as many similar dials, knobs, levers, and buttons. Naturally, many features are accessed with the electronic menu that includes a multitude of options, including custom functions.
Although the Anti-Shake system is the most attractive Maxxum 7D capability, this
full-featured model is desirable for other reasons, too. Owners of Maxxum lenses who have waited for a Konica Minolta digital SLR camera will be well served by this one. (JPEG Large/Fine capture; ISO 100; +0.3 exposure compensation; -1 color saturation setting; Sunny Day white balance; f/8 at 1/125 sec; sharpness adjusted in post-processing.)
The Maxxum 7D employs Konica Minolta's latest image processor, CxProcess III, for high-definition, natural-looking images and pleasing skin tones. The processor's Advanced LSI engine assures great speed and responsiveness. A high-capacity buffer (temporary image storage bank) allows for shooting 15 consecutive full-resolution JPEGs or nine raw images, at 3 frames per second. The 6-megapixel CCD sensor is 23.5x15.7mm in size and produces a typical 1.5x focal length magnification factor, actually field of view crop.
The Maxxum 7D is very quick to respond with fast autofocus and virtually no delay between pressing the shutter button and the instant of exposure. This makes the camera suitable for taking candid people pictures or for action photography. (Program mode; Continuous autofocus and framing; Large/Fine JPEG capture; sharpness adjusted in post-processing.)
The Maxxum 7D is fast in other respects, too. Turn it on and it's ready to shoot almost instantly; in most conditions, there's no apparent shutter lag. I found that the camera quickly set focus and captured the image; that was great in candid picture taking, for capturing a moment of interaction or a fleeting gesture. Even in the highest quality JPEG mode, I rarely experienced frustration waiting for the buffer to clear; that happened only after shooting a very long series of images in action photography. The autofocus system is quick and reliable in both single shot and continuous mode, indoors or out. For even faster tracking performance, sports photographers will want one of the Maxxum SSM lenses with ultrasonic focus motor.
When used without overrides for color, hue, white balance, or exposure, the Maxxum 7D often produces pleasing images with a moderately wide dynamic range. Color saturation is very high, especially when a polarizer is used, ideal for some subjects but excessive for others. (Maxxum 24-85mm zoom; JPEG Large/Extra Fine capture; ISO 100; f/5 at 1/500 sec; Hoya polarizer; image sharpened in post-processing.)
Anti-Shake Evaluation
Full specifics on the Anti-Shake technology are included in our sidebar, but how effective is the system? According to Konica Minolta, it provides a two to three shutter speed step advantage over a conventional camera/lens combination when the equipment is handheld. That's a realistic estimate, based on my tests with three Maxxum lenses ranging in focal length from 24-300mm.

For example, I was consistently able to make razor-sharp images at 85mm (127.5mm equivalent) focal length at a shutter speed of 1/25 sec; some images made at 1/15 sec are equally sharp. At a 300mm focal length (450mm equivalent) I was able to get sharp images at a 1/90 sec shutter speed, and occasionally at 1/45 sec, instead of the 1/500 sec speed usually required with conventional equipment. That's preferable to the much faster shutter speeds required when using a camera/lens without a shake compensation system. The primary benefit? We can work at much lower ISO settings for superior image quality, without worrying about blur from camera shake.
Konica Minolta does not recommend using ISO 3200 routinely, but makes it available for use in difficult conditions. Digital noise is prominent in this ISO 3200 image above, but it's very well controlled at other ISO levels, making the Maxxum 7D highly competitive with the best cameras in its league. (A 100-300mm APO lens at 200mm; f/4.5 at 1/300 sec; JPEG Large/Fine capture; sharpness adjusted in post-processing.)
To be absolutely certain of technically excellent images, assume that the Anti-Shake system provides a two shutter speed step advantage. For longer exposures--especially when the Anti-Shake system is operating at maximum--brace the camera against some firm support. As with any type of stabilizer system, think of the Anti-Shake mechanism as a benefit in day-to-day shooting and as a valuable amenity in low light when you simply must use fairly long shutter speeds.
FEATURED VIDEO