Photo Tips on How to Capture the Thrills of an Air Show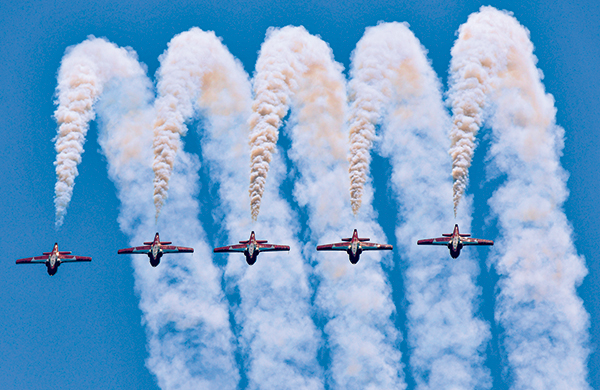 They are the Royal Canadian Air Force Snowbirds aerobatic team, and Lindsay Silverman photographed them at the annual Memorial Day air show held at Jones Beach, New York.
Frankly, there are only two ways to get a photo like this one: either you're incredibly lucky or you've been to this rodeo before and know what to expect.
"I've gone down to Jones Beach every Memorial Day for years," Silverman says. "For me it's the official start of the summer season, plus it's an air show—and how can anyone who loves photography not want to go to an air show?"
His experience photographing this air show means he's pretty good at predicting the schedule of events. He knows what planes will be coming and what they will likely be doing. He arrives early, shoots for six or more hours, and keeps things simple with one camera, one lens, and every setting chosen for maximum speed.
For this photo, Silverman's camera was set for continuous autofocus, auto ISO, and high-speed shooting at 10 frames per second. He shot hand-held and activated the lens's vibration reduction feature. "I keep my eyes on the skies and let the automation do its work," is how he sums up the day's preparation.
At air shows the planes can be counted on to provide great graphic effects; a photographer just has to be ready to take advantage of them. "When they make this move—this drop-down arc, releasing smoke—you know they're going to be precise and symmetrical," Silverman says. "What you've got to do is have the shot lined up and the horizon straight."
His vantage point was the beach's boardwalk, which gave him a little bit of elevation help for an in-your-face image like this one. "They're coming fast, they're very high, and with a telephoto lens, they fill the frame." It helped that this Memorial Day's weather provided a clear blue sky background.
Okay, maybe luck played a small role, too.
Google Lindsay Silverman Flickr to view his Photostream. To see more air show images, visit his Facebook page.
Tech Talk: Lindsay Silverman took the photo with a Nikon D500 and an AF-S Nikkor 200-500mm f/5.6E ED VR lens at 500mm. The speed settings were 1/1600 second, f/8, ISO 125, aperture priority, and Matrix metering. The crop factor of the camera gave the 500mm focal length an equivalency of 750mm.
FEATURED VIDEO