Inkjet Media; Papers And Inks Page 2
We should add that the ink tanks for this Photosmart Pro printer are high-capacity. As HP explains it, "HP Advanced Photo Paper has a proprietary, nano-porous coating that absorbs ink through capillary pressure for rapid ink absorption and instant dry time. The new photo paper, which is optimized for use with new high-chroma HP pigment inks, has a higher ink absorption rate and higher ink capacity than the previous paper. Since the porous coating is comprised of water insoluble ceramic pigments, it is highly water- and scratch-resistant. Each layer of the paper coating serves a unique function and contributes to the new photo paper's enhanced features."


Ilford has added to their line-up of GALERIE professional inkjet papers. These papers include Smooth Gloss and Smooth Pearl in 4x6/100-sheet packages, 5x7/30-sheet packages, and 17x22/50-sheet packages, as well as Smooth Heavyweight Matte 13x19 in 50-sheet packs.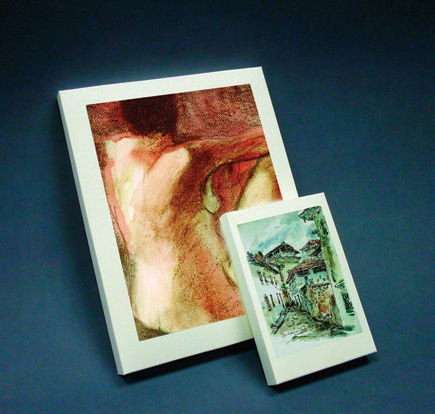 Inkpress Paper is now distributing the Cone Piezography Neutral K7 inkset for black and white printing on Epson printers. The inkset consists of seven "dilutions," or shades of black/gray--all pigment-based. It's designed to produce clear detail in deep shadows, as well as in extreme highlights. All seven shades are used. Each shade is designed to address a specific density need, increasing overall print resolution. Interestingly enough, I was handed a printout using these inks, where even 1 point type was clearly legible (when viewed under a loupe, I should add). Optimal operation requires a third-party RIP software. Available for Epson Stylus Photo R800/R1800, 2100/2200, 4000, 7600, and 9600. A K6 version is available for the Epson 7000, 7500, 9000, and 9500 (1280 compatible inkset to come). Inkpress Paper also introduced its own dual-sided microporous RC luster paper in sizes from 4x6, compatible with all printers--pigment- and dye-based. The other media is an economical Proofing Matte paper that comes out to a penny a page but capable of accepting high-density ink placement.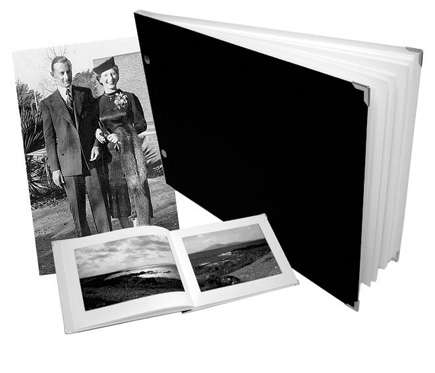 Scuff-resistant FibaPrint Gloss F-Type 300g/m2, from Innova USA, is designed for use with pigmented-ink printing systems.

It is modeled on the traditional fiber-based material used in conventional photography and is available in a 300gsm Micro Porous Gloss coated surface with a special acid-inhibiting layer. The surface has a special gloss coating, designed for high-quality fine art and photographic reproduction print applications with inkjet (giclee) technology. FibaPrint Gloss has a very large color gamut. The Opus Digital Presentation Album system is a line of refillable 12x8.75" digital presentation albums holding 20 dual-sided pages of Innova digital fine art papers. The Innova inkjet coatings are scuff-resistant and both the paper and covers are archive-grade quality. The pages are printed and mounted directly into the album cover.


The slipcase and metal-cornered cover provide protection during transit and storage.

InteliCoat Technologies introduced Magiclée Torino 21g, a poly/cotton blend, 21 mil canvas with a high-gloss finish, in roll sizes. This acid-free media is compatible with pigment or dye inks in either piezo or thermal-driven printers. Also announced was the Magiclée RIP powered by ErgoSoft StudioPrint, a new workflow solution designed to ensure color-accurate results out-of-the-box for InteliCoat's Magiclée brand media.

Here's something different: MagneCote combines a Sterling Ultra inkjet paper with a magnetic coating to bring us magnetic inkjet media. It is available in different weights and in a variety of sheet sizes.
Media Street showcased their new Generations Quad-N-Color (G8) 100 percent pigment inkset. These inks work with Epson R2400, R4800, 7800, and 9800, offering three levels of black. A new line of Quad-N-Color papers matched to these inks was also introduced. There was also a new archival black and white inkjet system for the Epson 2200 designed by fine art photographer and digital imaging consultant Richard Wolfson. This new printing solution incorporates the Generations QuadBlack (GQ) pigment inkset, a selection of photographic and fine art papers, plus a special print driver to produce exhibition-quality black and white photographic prints.


Pantone introduced ColorVANTAGE pigment-based inks for Epson K3 printers at a cost advantage over OEM inks. The inkset features three shades of black aimed at improving gray balance while eliminating color casts on glossy and matte papers. These fast-drying and lightfast inks have been designed to produce a large gamut of colors that offer vibrant, true-to-life reproduction while eliminating color casts and improving color reproduction in the mid tones. Specially developed printer profiles ensure optimal color performance. The inks are engineered with an extremely small pigment particle size and compatibility with OEM inks, ensuring that they do not clog print head nozzles.

Premier Imaging Products added to their PremierART line of fine art media with three 100 percent cotton-based and naturally acid/lignin-free papers engineered for high D-max and expanded color gamut. Platinum Rag Fine Art Paper is a museum-grade optical brightener-free paper with a low gloss surface similar to fiber-based black and white prints. Velvet BW is a bright white soft press paper with a velvety appearance and subtle texture. Smooth Matte Canvas features a base with a 2:1 weave for added durability during the stretching process and a 23 mil thickness for that true canvas feel. This company also announced Wilhelm Imaging Research certification for Print Shield and Eco Print Shield finishing sprays with Epson UltraChrome K3 inks.

Photographic Research Organization (PRO) introduced the PhotoImage Album series of color inkjet papers. These new papers are dual-coated for printing on both sides. PhotoImage Album Semi-Gloss is 10.5 mil micro porous RC photo grade, dries instantly, and is water-resistant. PhotoImage Album Bright White and PhotoImage Album Natural Watercolor are both 100 percent cotton rag and acid-free.
Manufacturers/Distributors' addresses can be found on page 174.
FEATURED VIDEO