Imaging Software On Parade; Snoochie Boochies, Batman, Here's More Software Page 2
Mucho Magico!
The latest version of Boinx Software's (www.boinx.com) Mac OS-only FotoMagico slide show generator includes iMediaBrowser 2 integration, updated Flickr browsing directly from within the application, and a price reduction to boot. The Pro version now costs $149 and the plain vanilla version is just $29 and both are well integrated into the Mac OS system from desktop to iPad to iPhone. FotoMagico users can purchase the FotoMagico Remote iPhone app for only $4.99.

The iMediaBrowser 2 framework sports expanded media libraries searches as well as Flickr support. A "Linked to Slides" audio option provides users with the ability to link audio and soundtrack items to specific slides or allow it to play throughout the entire show. Version 3.6 also comes complete with a variety of product enhancements and bug fixes for a streamlined workflow and the plug-in installation in the setup assistant makes video editing with FotoMagico a breeze. A 27" Cinema Display option in the New Document assistant displays your slide shows on this new Apple monitor. Presentations exported to YouTube can be up to 15 minutes long or you can export slide shows to your iPad.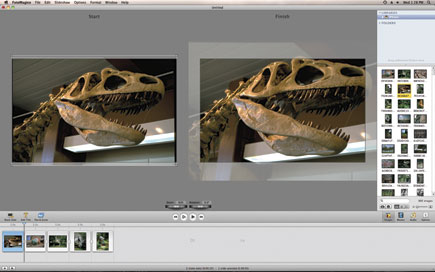 Taking Actions
The new Kubota Creative Tools (http://kubotaimagetools.com/index.html) Lensbaby Pak is designed to enhance the artistic effects of images created using Lensbaby (www.lensbaby.com) optics. The Lensbaby Pak ($39) includes 15 Photoshop image enhancement tools devised to enhance each of the six different Lensbaby optics, and includes the DASHBOARD 3 control center so you can quickly and easily locate Kubota's image enhancing tools as well as all of your existing actions stored in the Actions palette. DASHBOARD 3 Pro ($49) lets you assign a keyword to your favorite actions and the next time you're editing a job shot at that location, for that client, or in that style, you just type the keyword in the search field and those perfect-fit favorites will be available instantly.

I was always a huge fan of Kevin Kubota's Sloppy Borders but the new Bor-Tex package takes them to a whole new level. The Bor-Tex Pak ($349) contains a collection of 100 Earth and Industrial textures, along with over 125 Sloppy Borders, and includes a special DASHBOARD that's designed just for them. There's even a preview window that lets you see the border or texture before you apply it and you can rotate and re-size your texture, adjust saturation, hue, opacity, and more. There's a drop-down menu within the Bor-Tex DASHBOARD called General Use Borders so you can preview and compare them in a single location to quickly select the Sloppy Border that works best for your image. The package includes clean, simple, and elegant borders with options to simultaneously convert images to common print sizes. Are you listening Senior photographers? You can also choose to downsize your image so the outside of the border keeps the original dimensions or choose to make the border grow around the original dimensions of your photograph.

Big Images From Little Files
In the June 2007 issue (online at www.shutterbug.com) I tested a bunch of different programs for making blowups from small image files. One of the products I was impressed with was BenVista's (www.benvista.com) PhotoZoom Pro and now the company has launched Version 4 that not only cleans up JPEG compression artifacts and noise but renders images that are "perfectly sharp" after enlargement. PhotoZoom Pro 4 fully supports 64-bit imaging environments, both as a stand-alone application or Photoshop plug-in. Other improvements include fine-tuning options, predefined settings for different types of images, and presets for common print and pixel sizes. Besides PhotoZoom Pro 4 ($219), BenVista released PhotoZoom Classic 4 ($99) that may lack a few of the Pro version's features but can still produce high-quality image enlargements thanks to its S-Spline XL image re-size technology.

LATEST VIDEO