HP EliteBook 8540w; A Mobile Workstation For Digital Photographers
For those who thought that we here at Shutterbug were inalterably attached to our Macs, the chance to work with a PC, albeit a very fast and upper-price range one at that, was something we did not want to pass up, if only to dispel our own notions about crossing the OS Rubicon. The new HP EliteBook 8540w we worked with came with 8GB of RAM and a 320GB hard drive, more connection slots than we ever could wish for, a Blu-ray reader/writer, a download card slot for SD memory cards (with adapters available for CF, etc.), microphone, image out slots to a projector, HDMI, and more. As configured the unit runs close to $3100, although we've seen lesser-priced units of the same model with more modest attributes. This is close to what you'd pay for a MacBook Pro similarly configured, albeit minus Blu-ray and various slots but plus a larger screen. But our aim was not to put it head to head against the latest MacBook Pro, but to check it out on its own merits. That said, in terms of size and weight it is similar to the 15" Mac in many respects (the HP being 9.9x14.7x1.3" and weighing in at 6.5 lbs with a 15.6" display) so there's no plus and minus in portability here.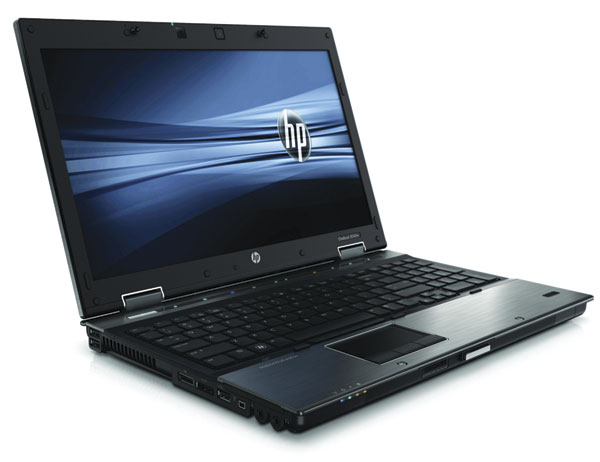 The unit works with Windows 7 Pro and 64-bit, with a 1GB video memory and NVIDIA Quadro FX 1800M card. I happened to have an old copy of The Da Vinci Code on a Sony stick I'd never been able to play on the Mac and it ran as smooth as silk, as did a number of videos I'd recorded in various camera tests. There's no hesitation on HD high-res video files either. Connecting to other units and the outside world is also easy with integrated Bluetooth 2.1 and Wireless LAN, which hopped on my home network easily enough. The screen is dubbed an LED-backlit HD anti-glare type, and given the right ambient light and tilt seemed to have little trouble in terms of giving a very clear view. The full-size keyboard gave plenty of room to work and the track pad and inherent mouse, if you will, made for easy navigation, even in image processing programs, though using a mouse or better yet a tablet setup is always more desirable.
I had both Photoshop CS5 and Lightroom 3 loaded and the first thing I did was open Lightroom to import from a 4GB (2.8GB load) Class 4 SDHC card I shot at a hockey game. The card images opened almost instantaneously in the Lightroom Library when I first inserted the card into the front slot on the HP unit. Browsing through the Library was quick and easy using the arrow keys. It took about 110 seconds for the 2.8GB files to load once I pressed the Import button. Once opened the 42MB JPEG files were processed with ease, something to be expected from the 8GB of RAM in the memory.
I then loaded test images from a previous bracket series to test the speed of Photoshop's HDR processing, something that often grinds computers with less memory down. I used five 16-bit, 16MB NEF (Raw) files, each bracketed by a 2⁄3 stop, of a desert landscape. I chose them from Adobe Bridge and chose Tools>Photoshop>Merge to HDR, and the process of merge to the slider option stage took about 20 seconds. Once I made the selections the final image write was about 8 seconds. Again, having 8GB of RAM memory makes these highly complex and sometimes slow tasks quick.
I then loaded the drivers from Epson's website for my Epson Stylus Pro 3800. I chose a colorful shot from the hockey series to print. The drivers loaded fine, it seemed to me, and the Epson showed up in the Photoshop page setup dialog box as the printer but, as they say, that dog would not hunt. I used a FireWire connection that works fine on my Mac G5 and while the computer seemed to detect the printer and the file I wanted to send to the printer (in the Epson dialog box), the file seemed to hang up and never did print. I had to force quit to get the unit to move on to another task.
A call to HP tech told me that it was probably the FireWire connection from the printer, and they were right. USB worked just fine, as it did to an HP 7900 series printer I also tested with the workstation. A real benefit of working with the unit is that it recognizes and loads numerous peripherals without your having to do any work, and also right-click loads profiles without having to wander down through a maze of folders. For example, when I hooked the 7900 series printer to the computer it immediately recognized and loaded the drivers, and print results were a dead-on match with the screen image.
Something you hear from Mac fans, and I'm one of them, is the "touchy feely" advantage of the Mac system and machines, and the supposed inelegance of PCs. After working with the HP I have to disagree, at least with the souped up system I got for testing. True, for those of us who crossed over years back and haven't looked back there are some workflow issues in terms of file maintenance, etc., but certainly with Lightroom and Photoshop the overall handling difference is negligible.
There had been justifiable grumblings about Vista, and that's what kept lots of photographers away from PCs, at least from folks I've talked with, but now most folks using Windows 7 seem quite satisfied. There is little problem with profiling, calibrating, etc. and, aside from different print dialog boxes, there was little problem with output. My only problem with the unit is what I consider a fairly small on-board hard drive (320GB) as configured here, although wisdom dictates having back-up external drives anyway. All in all, the speed, power, and input and output options of the 8540w make it a contender for those doing pro still image and video editing and output.
As Tested
Processor: Intel Core CPU i7-720QM (1.60GHz)
OS: Windows 7 Professional (64-bit)
Memory: 8GB, HDD: 320GB (7200 rpm)
Primary Optical Drive: Blu-ray DVD R/RW
Screen Size: 15.6"
Graphics: NVIDIA Quadro FX 1800M
Digital Media: 6-in-1 integrated Digital Media Reader
Networking: Intel 82577LM Gigabit Network Connection, WiFi: 802.11a/b/g/n
I/O Ports: (5) USB, (1) eSATA, (1) RJ-11, (1) Display Port, (1) RJ-45, (1) VGA, (1) FireWire, (1) Headphone-out, (1) Microphone-in
Battery: 8-cell
Other: Webcam, Bluetooth, Fingerprint Reader
Price: $3107
For other configurations, more information, and pricing, visit HP's website at: www.hp.com.
LATEST VIDEO