HP's Photosmart Pro B9180; HP Tosses Its Hat Into The Fine Art, Pigment Ink Printer Ring Page 2
Using the Photosmart Pro plug-in greatly simplifies things, handling all color management options in a single window similar to Photoshop's Print with Preview option. Here, you can set Printer Managed as the color handling option and the driver will automatically select the correct profile based on your paper selection.
The HP Message Center prompts you when supplies are running low.
HP's Device Manager (Mac) and Solution Center (Windows) provide access to a number of features on the B9180, including color calibration, head cleaning, ink and print head status, and options to add new paper types and profiles for use with third-party media. When supplies begin running low, the Message Center will open with information on which color needs replacing. I did find that this feature is conservative though. I typically was able to get another seven or eight 8x10 prints after a low ink message before needing to actually replace a cartridge.

Print speed is on par with other photo printers from HP--a bit faster than Epson, a bit slower than Canon. Where the B9180 excels is paper handling. With two separate paths, there is no need to unload from the tray to use the specialty media feed. Just open the cover and the printer automatically switches paths for you. Loading media in the specialty feed is very simple and nearly foolproof. I did manage to misfeed some canvas the first try, but after that had no problems with alignment or feeding.

Although the printer driver only has paper settings up to 13x19, you can choose the Custom option to create page sizes up to 13x44. I did several 24" and 30" panoramas with no problem at all.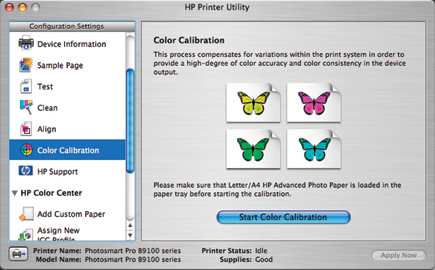 Color calibration, as well as many other tasks are easily performed. In this case, the closed loop calibration built into the printer evaluates the print and makes any needed adjustments automatically.
Ink use is very light. I don't have figures for the number of prints possible with a set of cartridges (and it would depend on the media and image printed), but the B9180 seems to have inherited the miserly ink use of the Designjet 130. You can further reduce ink use by leaving the printer on at all times. This prevents the printer from doing a full nozzle check and print head servicing at start up. The B9180 will perform a nozzle check each day, and if a clog is found only the affected nozzles are cleaned, saving a great deal of ink. Combined with the larger cartridge size (27ml vs. 12-13ml), you'll spend much less time swapping cartridges out.
You can add third-party papers and profiles which will be added to the supported papers list in the print driver and Photoshop plug-in.
Media Options
Unlike dye-based printers, pigment inks have the ability to print on a wide variety of media types, and HP has embraced this with the B9180, introducing a number of new papers with the printer. Along with the usual gloss and satin media, HP has added photo rag, watercolor, canvas, smooth fine art, and aquarella, which is a highly textured paper. Many of these papers are being provided by Hahnemühle and seem to be the same as their own brand of the same type.

I also tested the B9180 with a variety of third-party papers, including Moab's Entrada and Kayenta, Crane's Silver Rag, and Hawk Mountain's Peregrine Velvet. In all cases, I created custom profiles as well as used the closest match in the supplied profiles. Without exception, each of these papers worked fine with no puddling or smearing of ink.
There is a new tab in the printer dialog, Printing Shortcuts, which moves many of the selections you'll need to make into a single dialog with presets based on the type of print you want to create.
HP is rating all their papers at 200+ years, based on testing from Wilhelm Imaging Research (www.wilhelm-research.com). This applies to color and black and white, making the pigment Vivera inks the new longevity leader.
Output Quality
To be honest, I've been very satisfied with my Epson printers. The 7800 and R2400 deliver excellent quality color, and the Advanced B&W mode does the job just fine. So, I was pleasantly surprised at the initial prints out of the B9180.

Color prints had a vibrancy that exceeded the Epson prints and was near the equivalent dye prints from the HP Designjet 130, with rich blues and reds that I haven't seen in a pigment printer prior to now. Black and white prints were very neutral with no bronzing to be seen. There is a bit of gloss differential in pure white areas--this is one area that Epson has improved with the Gloss Optimizer in the R1800. I was unable to detect any metamerism, or shifting of color, in different lighting situations with color or black and white prints.
The Photoshop plug-in takes much of the guesswork out of printing to the B9180. I found that prints from the plug-in matched the quality of the Print with Preview and driver settings normally used in Photoshop, but it was much quicker and easier to navigate.
Where the B9180 pulled away from the competition was in the level of detail seen in prints. In many cases, I was able to see more fine detail than any previous printer has shown, and the HP was able to pull more detail from dense shadow areas than any printer I've used to date.
Conclusion
Overall, the HP B9180 is hard to beat. The image quality is first rate, and with the move to pigment inks the print life and media options are excellent. I do wish the printer had a roll option as many of the fine art papers I buy are on a roll. To be fair to HP, only Epson offers this option at this size.

HP has clearly put a great deal of effort into their new Vivera pigment inks to give the user more color and dynamic range from their prints than what was previously available. If you've been holding off on moving to pigments for this reason, the wait is over.

For more information, contact Hewlett-Packard Company, 3000 Hanover St., Palo Alto, CA 94304; (650) 857-1501; www.hp.com.