High Tech Hits The Affordable Models...And A New Leica RF
Although camera manufacturers are still devoting most of their resources to developing digital equipment, we're starting to see more new 35mm SLR models. The trend toward lighter and smaller bodies continues, and the latest entries are also affordable, thanks to the use of technology and components developed for earlier high-end cameras. That's good news, particularly for budget-minded photographers who want a camera with an advanced autofocus and/or flash metering system.

At the other end of the spectrum, we find the new Leica MP, a 35mm rangefinder camera that is both expensive and fully manual in all respects. Intended by the designers as "an antithesis to the trend toward digitization and automation," this camera will appeal to those who appreciate fine engineering and proven mechanical performance.
"World's Smallest" SLR Camera
Said to be the "world's smallest 35mm AF SLR" the new Pentax *ist is certainly petite (4.8x3.3x2.5") and weighs a mere 11.8 oz. While this may seem to be an entry-level camera at first glance, it does include some sophisticated capabilities and a metal lens mount plus advanced technology. In addition to seven program modes, the *ist includes two semiautomatic modes and a fully manual mode for serious shooting. Experienced photographers will also appreciate the depth of field preview control. The oversized, illuminated LCD panel on the camera back is great for quickly checking camera settings. Other noteworthy features include a fast 2.5 fps framing rate, a 16-segment multi-pattern metering system, exposure overrides including auto exposure bracketing, eyepiece diopter dial, plus a full 17 custom functions for tailoring the camera to your own preferences.

The 11-point autofocus sensor--using the new SAFOX VIII system with advanced continuous tracking focus--will be great for off-center subjects. The active AF point lights up in the viewing screen to indicate the area in sharpest focus; for pinpoint control, you can also select a single sensor. When used with the AF360FGZ flash unit, the *ist can provide wireless, off-camera TTL flash, very useful for achieving professional lighting effects. Because the camera is compatible with all K-mount lenses--including manual focus lenses, with some limitations regarding high-tech capabilities, of course--it would be a fine choice for anyone who is already invested in a Pentax system. (List Price: $399, including a remote controller unit.)
Affordable, Mid Range Nikon
Positioned between the Nikon N65 and the semiprofessional F100, the new Nikon N75 is designed for photo enthusiasts who want an advanced camera that's easy to operate. This is not one of the smallest models but it's not overly large or heavy, in spite of the metal lens mount (5.2x3.6x2.6"; 13.4 oz). The N75 includes some advanced technology developed for the more expensive Nikon cameras. The Multi Cam 900 autofocus system employs a five-point sensor for broad coverage and includes some of the same features as the F100: Dynamic AF, Center-subject-priority Dynamic AF, Closest-subject-priority Dynamic AF. Tracking focus is activated automatically when subject motion is detected while Lock-On ensures that focus is maintained if you momentarily "lose" the subject. Manual focus point selection is also available.

The N75 has many exposure control options, starting with the 25-segment 3D Matrix metering system that analyzes complex lighting conditions. In Manual operating mode, center-weighted metering is automatically selected; press the AE Lock button and spot metering is provided. Exposure compensation and bracketing are available, too, for personalized control. The flash system, with five-zone sensor meter and monitor pre-flash, is similar to that of the F100 although the top sync speed is only 1/90 sec. With certain accessory Speedlights, the following options are available: Automatic Balanced Fill Flash with TTL Multi-Sensor; 3D Multi-Sensor Balanced Fill Flash plus Standard TTL in Manual mode.

The list of other features is very long and includes full information data panel in the viewfinder, eyepiece diopter correction dial, 12 custom functions, six program modes plus manual and two semiautomatic modes, 1.5 fps film advance, and even a depth of field preview button. Although it is priced to compete with some entry-level models, the Nikon N75 includes enough capabilities to satisfy the experienced photographer and it would make an ideal back-up for F100 owners who need a second camera body. (List Price: $360.)
Ultralight Maxxum
Also a very compact camera, the new Minolta Maxxum 3 is slightly larger (5x3x2.38") than the Pentax model but it's one of the lightest SLR cameras (10.9 oz) on the market, thanks in part, to a polycarbonate lens mount. Designed for point-and-shoot picture taking, the Maxxum 3 features a very simple control layout for ease of use in any of its six program modes, using 14-segment evaluative metering. To avoid confusing the novice, the camera includes few other options. In Sports Program, Multi-Dimensional AF and 1.7 fps film advance are automatically activated; the Maxxum 3 is "almost twice as fast" as the Maxxum QTsi in tracking focus, useful for moving subjects. Thanks to a high-power motor and a high-speed microprocessor, the three-point autofocus system--with a selectable Spot AF option--should be highly reliable in general. Its focus acquisition is 1.7 times faster than that of the Maxxum QTsi.

Although this is clearly a camera for SLR novices, the Maxxum 3 allows for advanced flash photography techniques, when used with certain flash units. Incorporating technology developed for the Maxxum 7, the new camera employs the sophisticated ADI (Advanced Distance Integration) system when used with D-series lenses, employing distance data to prevent underexposure with highly reflective subjects. As a bonus, wireless off-camera flash photography is also possible when using one or more accessory Maxxum flash units. These flash capabilities may be too advanced for most Maxxum 3 buyers, but they will allow the camera to grow as its owner's skills and photographic intentions expand. (List Price: $229, Maxxum 3 Date Kit, with 35-80mm zoom.)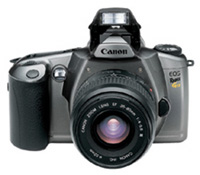 Rebel With A Cause
Canon takes a different approach with its most affordable SLR camera, the new EOS Rebel G II, which is actually competitive with some mid range cameras. The G II includes many program, semiautomatic, and manual modes plus overrides, allowing for extensive control over the images. Less expensive than the Rebel Ti, the Rebel G II employs a three-point AF sensor (instead of seven-point sensor), a less advanced six-zone evaluative metering system, and is missing a depth of field preview button. Otherwise, it includes all essential capabilities: automatic switching into continuous tracking focus, partial area and center-weighted metering, exposure compensation and bracketing, and 1 fps film advance. Because most features are selected with a single dial, the camera remains uncomplicated in its operation.

When used with EX-series Speedlights, the Rebel G II employs the Advanced E-TTL flash system originally developed for the EOS 3, with Flash Exposure Lock option, and supports wireless off-camera E-TTL flash. High-speed flash sync can also be selected, allowing flash to be used at shutter speeds faster than its standard 1/90 sec sync speed. This is a lightweight camera (12.35 oz) with a polycarbonate lens mount and is quite compact (5.7x3.6x2.5"). Even at its list price ($249) the Rebel G II offers excellent value, and it would be an ideal entrée into the vast EOS system of lenses and accessories.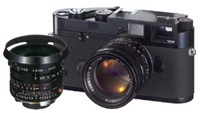 Back To The Future
Intended for conservative photographers, the new Leica MP (for "Mechanik in Perfection") should certainly please anyone who feels that Leica departed from the straight and narrow path with the automated M7. Unlike that model, this is a fully mechanical and manual rangefinder camera that will operate at all shutter speeds without batteries (without metering). The handsome body, available in black lacquer and in silver-chrome finish, with sure-grip leather cover, employs a brighter and more contrasty finder than the discontinued M6, for faster, more accurate focusing. Constructed for durability and maximum longevity, the MP boasts a die-cast aluminum body and housing, and a top cover milled from solid brass; all controls are also made entirely of metal. The body weighs 19.3 oz and is available in black with 0.72x viewfinder magnification or silver-chrome with 0.58x, 0.72x, and 0.85x magnification, and comes with a special five-year warranty. (List Price: $2795.) Two lenses are also available in black lacquer finish: the Summicron-M 35mm f/2 and the Summilux 50mm f/1.4. New accessories include a mechanical (retro) LEICAVIT-M winder for rapid film advance ($950) and a small metal crank for fast film rewinding ($199).

Manufacturers/Distributors'


FEATURED VIDEO