High School Senior Photography: Four Top Photographers Share Tales Of The Craft
High school senior photography has changed dramatically in the last few years. With looser yearbook standards and the ability to see what you get with digital cameras, many photographers who previously did major business in the senior market are now seeing sharp declines. With this in mind, I decided to ask four of the top names in the business about how they maintain a strong presence in the senior market. All have their own style and way of doing things and all are exceptional photographers.
Rod Evans (www.evansportraits.com) from Sioux Falls, South Dakota, is known for his cutting-edge senior photography and beautiful classic portraiture. Scott and Adina Hayne (www.theseniorexperience.com) from Norfolk, Virginia, are relative newcomers to the scene but their contemporary style has already gained them national attention. Jen Hillenga (http://momentoimages.com) from Savage, Minnesota, creates one-of-kind images that combine beautiful lighting with hip clothing and posing.
Shutterbug: How has senior photography changed in the past 10 years?
Rod Evans: Almost everything is different, but some things never change. The cameras and workflow are so different than they were 10 years ago. Today we shoot more fashion, more color, and edgier images and we do more to show off our skills with great lighting and cool posing. We try to make seniors feel like models and direct them in a way that makes their experience exciting. Just because we shoot with digital cameras and have Photoshop does not mean the rules of photography don't apply. They apply more now than ever; knowledge is what is going to make you stand out from others. You must have more than one or two lighting setups. Each person has their own unique personality, look, and style and you must be able to bring that out with multiple lighting scenarios. This is what will make you stand out from the crowd, seeing the beauty in everyone and knowing how to bring it out in each person.
Scott and Adina Hayne: Well, seeing that we have only been doing photography since 2008, our perspective is a bit skewed. In our local area it has been a process of education. Most parents believe that senior portraits consist of the yearbook picture and that's about it. Over the past three years we have seen parents and seniors alike begin to embrace more creative photography, especially the more editorial/fashion style. We are still educating the parents but the kids (who usually do the research) are calling us first and they know the scoop with our photography.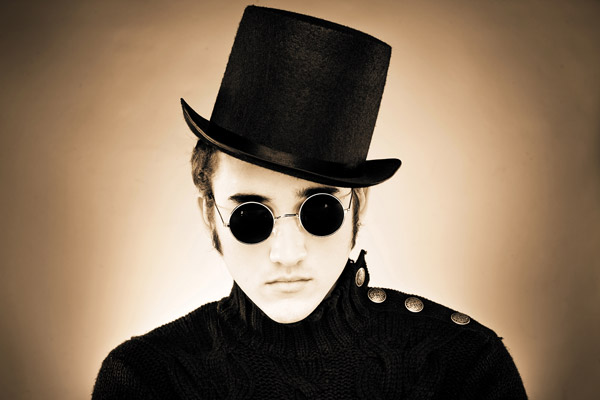 Jen Hillenga: Senior portraits are always evolving. I think with the onset of digital photography, senior portraits have become exponentially more creative. With the power of Photoshop, we now have the tools to fully create anything we can visualize. Digital imaging has given us the power of vision, but it has also leveled the playing field quite a bit. Just a few years ago, it was more difficult to get into photography, more difficult to achieve such levels of creativity, and more difficult to know your results. I believe that more and more it has become about really pushing yourself to create images that go above and beyond the competition and to provide the best experience possible to your clients.
SB: Why are some senior photographers thriving while even many established studios are struggling?
Rod Evans: There could be a variety of internal or external factors that make some studios struggle, but the ones I know that are flourishing have several things in common. They have a positive attitude and work to create better images every year. They have a willingness to change and are marketing everywhere, in every way.
Scott and Adina Hayne: The old way of doing photography is changing. What used to work year after year now must evolve into what the senior is surrounded with—edgy advertising, music videos, pop culture, etc. Many studios are slow or unwilling to change what has worked for so long. It used to be that the photography studio was competing with other like studios but now we are competing with everyone with a D-SLR. This results in studios not being in sync with the senior culture while their friend with a camera gets them, understands them, relates to them—studios need to be there, too.
Jen Hillenga: With the leveling of the playing field in terms of technology and the influx of so many new photographers, combined with the slower economy, it's not quite as easy as it used to be to have a boutique, high-end studio that seniors flock to. It has become more and more important to pursue varied marketing strategies, keep up with the new technologies such as social media, and up your game in general. It is no longer an option to rest on your laurels and know that the business will come to you because of your reputation. You have to work harder to get clients in the door. I also believe that keeping ahead of the curve and pushing yourself to stay current in terms of changing technology and trends is more important than ever. The kiss of death to a senior studio is "everything they photograph looks the same." You have to keep your work fresh, your marketing aggressive, and your clients happy in order to maintain growth.
SB: Take us through a typical senior session—how long, how many locations/outfits/images.
Rod Evans: A typical senior session starts with our makeup artist. Then we do the headshot for the yearbook, and then the real fun begins. Every outfit gets a different background and lighting. If it's a glamorous outfit we may use fashion lighting or perhaps use an urban setting with strong fashion lighting, depending on the senior's personality. You can tell a lot about the person by the clothing they bring. We will do about six outfits in two hours and two to three locations that are near the studio. It could be an urban alley, tall fields of flowers, or a downtown look. No parks for us. They are too manicured and perfect; I prefer wild and natural areas. There is art in imperfect locations.
Scott and Adina Hayne: We do provide a broad array of sessions but the vast majority of shoots are 60 to 90 minutes. We find that our sales do not increase past the 90-minute shoot so we try to guide them there. Since our sessions are time based, the amount of outfits is simply based on how fast the senior can change. Our studio is in downtown Norfolk so we generally shoot half inside and half around the studio. If they want remote locations then they must book at least a 120-minute shoot. The amount of images remains the same for all of our shoots: 40 to 50 images no matter how long the shoot is. This is an easy way to get them to book a 60- to 90-minute shoot.
Jen Hillenga: I have several sessions available to my clients, from Basic sessions to Urban sessions in which we travel to the downtown area. My sessions are based on outfits and travel rather than time. My Basic sessions include two outfit changes and are taken in the studio and on studio grounds. They are photographed by associate photographers in my studio, but we have smaller options so that we have a session available for those seniors who may be on a tighter budget.
All the other sessions that I offer include four outfits. I have a Classic session that photographs two outfits indoors and two outfits in local locations up to 10 minutes from my studio. The Urban session photographs two outfits in the studio with the remaining two outfits downtown in the city, which is about 25 minutes from my studio. I also offer a My World session that is photographed on location at the senior's home or a location of their choosing.
We schedule extra time for all our sessions, putting them about three hours apart on our calendar for the larger sessions and two hours for the Basic sessions, but I am typically able to photograph them with time to spare.
I typically shoot 150 to 200 images per session and edit down to 50 to 70 that the client will choose from. It seems like a lot of images, but it really is about giving them a full experience and taking the time to capture their personalities. There are also images that you take to sell, and there are images that you take that sell you! Some images that are edgy and not your typical traditional senior portrait may not sell as the wall portrait, but they are the images that get the senior talking and they are the images that get posted on Facebook and your website that spread the buzz and get other seniors coming in the door.
SB: Describe your workflow.
Rod Evans: We set up an order appointment at the same time the session is booked so we can sell to them immediately after the session or the next day, if possible. The closer these two events are together, the better the sales results will be due to the excitement level. We shoot Raw and JPEG in camera; JPEGs are shot using picture style, correct exposure, and color temperature and are ready for viewing in ProSelect software, where we have an action to pretouch the images. After the order, the Raw files are processed in Lightroom and final retouching done in Photoshop CS5, then off to the lab. Orders are normally fully completed within 10 days from order date.
Scott and Adina Hayne: We are really focused on Lightroom 3 with very little work done in Photoshop. We shoot in Raw and import to Lightroom where we run various presets, remove noise, sharpen, and smooth skin. With Lightroom we can now treat specific areas with the Brush tool, which I used to have to do in Photoshop. The only Photoshop work would be to add a texture to the image. That's about it!
Jen Hillenga: My workflow is pretty streamlined and I am blessed to have a great team behind me to facilitate it. Typically, I photograph three seniors a day during our busy senior season and my associate photographer will photograph one to two sessions. The cards are handed off to our retoucher who downloads, archives, and pretouches the images using Lightroom. I will then choose my favorite five to 10 images from the session and fully retouch them so they "sing." These are the images I really want the client to choose, and they typically do. My retoucher then creates the slide show for the client using ProShow Producer and the images go to our sales area to await the client presentation.
SB: What do you do to ensure a sale that justifies the time you've invested in the session and marketing to seniors?
Rod Evans: I don't have a minimum order, but our session fee is a qualifier of sorts at around $275. Not offering proofs and having their orders ASAP gives us a great average.
Scott and Adina Hayne: We create our collections with products that they are not going to find anywhere else. H&H Color Lab (www.hhcolorlab.com) provides us with very innovative products that they are not going to find when they leave the sales appointment. We figure out what products will entice people to purchase higher collections and we use those as "carrots." Every region is different on what those products are. Of course, our images are what make us stand out—they know that these are not images that they can go to another studio/friend/parent and get. They must get our look here and our unique products here.
Jen Hillenga: I believe that sales start in the camera room. It is important to raise the excitement level by being excited about the images in camera, sharing a few with the senior and the parent during the session, and talking about images as they are taken. Our sales process wows them with their images in a ProShow Producer slide show and then we use ProSelect projection software to walk them through the ordering process. We also use ProSelect to build other products like wall storyboards and graduation announcements so we can add on those products to their orders. Our pricing structure is set up in à la carte fashion, but also collections designed toward what seniors normally purchase. Most often our clients will choose one of those collections and then add on other products.
Products Mentioned
• Adobe Lightroom: www.adobe.com/products/photoshoplightroom
• Adobe Photoshop: www.adobe.com/products/photoshopfamily.html
• ProSelect: www.timeexposure.com/portraitstudiosoftware.php
• ProShow Producer: www.photodex.com/products/proshow/producer