Here's How to Get Great Photos of Comet Neowise with Simple Gear (VIDEO)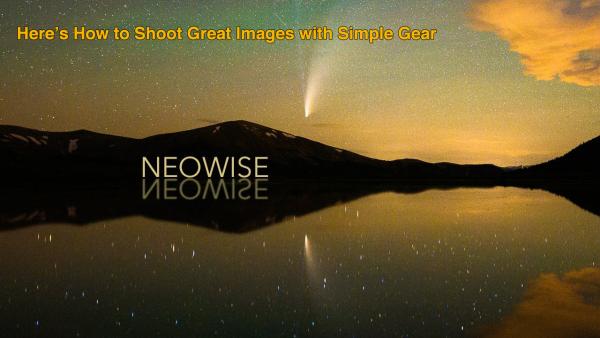 Unless you've been living in a cave for the past month, you've probably heard a lot about Comet Neowise and viewed some beautiful images online. And if you haven't photographed the comet yourself, the following tutorial provides some great tips to get you started.
Typically when we post how-to tutorials we feature a photographer who has specific expertise with the task at hand. But in this behind-the scenes video you'll learn a lot by watching a accomplished pro experiment while shooting a comet for the first time. Neowise only comes around once every 6,800 years, so this is an opportunity you don't want to miss
Denver based Spencer Cox is an award-winning landscape and macro photographer who says watching Comet Neowise, "Is the coolest thing I've ever seen." And he's equally enthusiastic about figuring out how to capture great images of the experience. You'll watch him shoot with lenses of various focal lengths, while demonstrating composition and exposure techniques., an explaining the best time to shoot.
After a bit of experimentation, Cox decided to shoot 53 images at high ISOs with relatively short three-second exposures. He then uses a $39 app you can find in Apple's App Store called Starry Landscape Stacker, to auto align the stars while keeping the land stationery. And you'll see how to reduce as much noise in the image as possible. He also suggests an appropriate software package for PC users.
You can find more great tips on Cox' YouTube channel, and in an earlier tutorial in which he provides a complete guide to lens filters for landscape photography.