The Goods: Our Favorite New Premium Photo Gear
New Classic
Old meets new with the wonderfully retro Olympus PEN-F mirrorless digital camera. A direct descendent of the original PEN-F "half-frame" film camera from the 1960s, this new version features a 20-megapixel Live MOS Micro Four Thirds sensor combined with Olympus' 5-Axis Image Stabilization, a built-in 2.36 million-dot OLED electronic viewfinder, and a front Creative Dial that accesses a range of controls. The most striking thing about the digital PEN-F though might be its sleek classic design, which recalls the original analog model from 1963. As a nod to that film camera, the new PEN-F offers Monochrome and Color Profile Control functions that allow photographers the ability to emulate classic film looks in-camera. In a more modern twist, the PEN-F features a vari-angle, touch-enabled LCD monitor that lets you compose Live View shots from low or high angles. The camera's fast shutter lag time of just 0.044 seconds comes courtesy of the latest TruePic VII processor.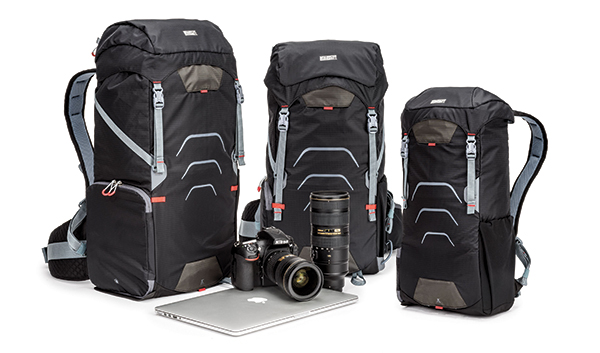 Lighter Loaders
These just might be the lightest photo backpacks ever. Called the UltraLight series, MindShift Gear's packs include the UltraLight Sprint 16L (weighing in at just 1.9 pounds, including rain cover!), UltraLight Dual 25L, and UltraLight Dual 36L models. The side-panel designs of the three packs give you fast access to cameras, lenses, and accessories without first having to take off the bag. The UltraLight backpacks also offer ample space for personal belongings, zippered storage, a hydration reservoir, and room for all your gadgets. Additional features include an integrated tripod mounting system and breathable shoulder straps. Each UltraLight backpack offers slightly different capacities for photography gear but most users will likely gravitate to the UltraLight Dual 25L ($169), which is the middle model. It can fit one standard-size DSLR and one standard zoom lens or two primes or one large (un-gripped) mirrorless body and two to three lenses. To protect your equipment from the elements, all of the exterior fabric in these bags has a durable water-repellent coating, while the underside of the fabric has a polyurethane coating.
Smart Optics
Let's face it, the lens quality of your smartphone's camera is pretty poor. But what if you could put a Zeiss lens on the front of your phone? That's the idea behind ExoLens' new attachable smartphone lenses, which offer quality optics from the respected Zeiss brand. The first three Zeiss mobile lenses, which are slated to go on sale in mid-2016, include a wide angle, a telephoto, and a macro and are designed to add excellent image quality to your smartphone's camera with crisp edge-to-edge contrast. The macro lens features a zoom function, which is unique for accessory lenses of this type, to give you more versatility when composing images. The new attachable smartphone lenses feature a snazzy design with smooth surfaces made of black anodized aluminum and white labeling. When they launch, the ExoLenses with Zeiss optics will be available for the Apple iPhone 6/6s and iPhone 6 Plus/6s Plus, but other device compatibility is expected in the future.
Stealth Suit
The problem with photographing nature and wildlife is that sometimes the animals see you pointing a big lens at them and run for the hills. But what if you could blend in with the landscape and shoot with all the stealth of an Army sniper? (Minus the bullets, of course.) Enter LensHide, a clever camouflage covering that conceals both the photographer and his or her camera gear for undercover nature photography. Made in the USA from a lightweight, breathable camouflage material with a large camo mesh-screen, LensHide lets you see and photograph your subjects while you are covered and out of sight without obstructing your peripheral vision (or your camera lens). When not in use, the LensHide folds into its own integrated storage/carry pouch that features handy belt hoops. It comes in Realtree Snow and Realtree Max4 designs.
THE GOODS is a new feature in Shutterbug that spotlights the hottest premium photo gear out there. If you have a product you'd like considered for The Goods, e-mail images and info to editorial@shutterbug.com.
FEATURED VIDEO