Fujifilm Introduces the X-H2S Mirrorless Camera and 2 New Zoom Lenses
The long awaited and fiercely rumored replacement for the Fujifilm X-H1 has been announced, along with two new Fujinon zoom lenses. The Fujifilm X-H2S is an APS-C format mirrorless camera that features Fujifilm's all-new 26.16-megapixel X-Trans CMOS 5 HS stacked BSI imaging sensor. The also-new X-Processor 5 empowers enhanced autofocus, 7-stop image stabilization, high-speed burst photography and significantly improved video performance.
Expected in early July 2022, the new Fujifilm X-H2S will retail for $2,499 (body only). The two new zooms are the Fujinon XF18-120mm f/4 LM PZ WR power zoom lens ($899 with September availability anticipated) and the Fujinon XF150-600mm f/5.6-8 R LM OIS WR zoom lens ($1,999 and July delivery).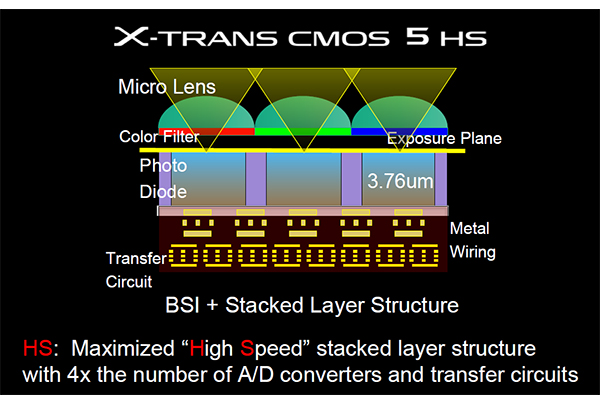 Key Features of the Fujifilm X-H2S
• 26.16-Megapixel X-Trans CMOS 5 HS, a stacked BSI imaging sensor that is reported to have signal reading speed up to four times faster than Fujifilm's previous X-Trans CMOS 4.
• All-new 5-axis, in-body image stabilization mechanism that offers up to 7-stops of image stabilization.
• X-Processor 5 digital image signal processor, said to double the camera's processing power (compared to X-Processor 4).
• Subject-detection AF that leverages an AI processor.
• 5.76-million-dot panel electronic viewfinder with a magnification of 0.8x.
• Dual memory card slots that support one CFexpress Type B and one SD card.
• AF/AE tracking in blackout-free continuous shooting conditions of up to 40 frames per second.
• Improved autofocus performance developed with Deep Learning technology.
• Enhanced subject detection and tracking includes animals, birds, cars, motorcycles, bicycles, airplanes and trains.
• Shutter life rated at 500,000 actuations.
Key Video Enhancements
• 10-bit 4:2:2 video in resolutions up to 6.2K/30P and frame rates as fast as 4K/120P and FHD/240p.
• Support for Apple ProRes HQ / Pro Res 422 / Pro Res LT.
• F-Log2 feature that provides dynamic range of up to 14+ stops.
• Heat-dissipating design delivers 4K/60P continuous video recording time up to approximately 240 minutes.
• Innovative optional accessory FAN-001 cooling fan accessory for high-temperature conditions.
• Standalone video recording button.
Several features are inherited from the predecessor X-H1 including the LCD display on the top panel, large grip and sturdy body. Some new accessories were introduced as well, including the Vertical battery grip (VG-XH), File transmitter (FT-XH), Cooling fan (FAN-001) and Cover kit (CVR-XH).
Conspiracy theorists may latch onto the "S" in the model name and speculate that there is an S-less version called the X-H2 waiting in the wings, perhaps to be unleashed at the Fujifilm X-Summit event which is scheduled for later today, or possibly later this summer. Nothing of this nature was revealed at the recent Fujifilm press briefing attended by Shutterbug.
New Zoom Lenses
The Fujinon XF18-120mm f/4 LM PZ WR power zoom lens is a first for Fujifilm: it's described as a "Hybrid Broadcast/Video/Photo Lens" and is the product of collaboration between Fujinon optics engineers and their counterparts in the Fujifilm X series' production division. The wideangle 18mm to telephoto 120mm zoom range is equivalent to 27mm – 183mm in 35mm equivalency. The largish f/4 aperture is available at all focal lengths.
Certain to delight videographers, the 6.7x power zoom features a non-extending barrel for convenience when shooting video. Compact at 4.9 inches (123.5mm) long, she weighs barely more than one pound (460g) and has a filter thread diameter of 72mm.
Fujinon XF18-120mm f/4 LM PZ WR power zoom lens MSRP is expected to be $899, and September availability is anticipated.
On the long, long end, the Fujinon XF150-600mm f/5.6-8 R LM OIS WR zoom lens covers the equivalent of 229mm to 914mm and is compatible with Fujifilm's XF1.4X TC WR and XF2X TC WR teleconverters. It features an Optical Image Stabilization system said to deliver up to 5-stops of improvement.
Fujinon XF150-600mm f/5.6-8 R LM OIS WR zoom lens will be available in July; the MSRP is predicted to be $1,999.
Visit your local camera store. Ask them about Fujifilm products or other products from your favorite brand. The global pandemic hit all retailers very hard, and camera stores need your support.
—Jon Sienkiewicz
(As an Amazon Associate, Shutterbug earns from qualifying purchases linked in this story.)
FEATURED VIDEO