Flashpoint II AC/DC Monolights: Battery Powered For The Photographer On The Go
A monolight is a self-contained studio flash that consists of a power supply, flash head, and modeling light wrapped up inside a single housing. Monolights are typically powered by AC current but there are times on location when an electrical outlet may not be so conveniently located and long extension cords can create safety hazards, even when securely fastened down. I've had people trip over taped cords and believe me, it can ruin your day. That's why a new breed of monolights, such as Adorama's Flashpoint II monolights, offer a DC option with a battery pack when you might be out standing in a field or, at one time during my tests, in a big parking lot. A switch lets you choose between AC or DC power provided by a dedicated Ni-MH battery pack that measures 7x7x3" and weighs 2.65 lbs.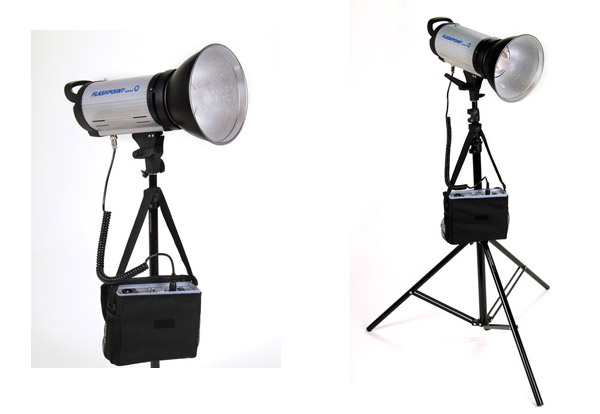 Flashpoint II AC/DC monolights are available in three versions: the 320M, a 150-watt second unit; the 620M, a 300-watt second unit; and the 1220M, a 600-watt second unit. You can see a comparison in the Instant Links section of our website for this issue (www.shutterbug.com and click on Instant Links and then Flashpoint). The 320M delivers up to 180 full-power flashes from a battery charge, the 620M provides up to 100 full-power shots, and the 1220M can produce up to 65 full-power pops. If you dial back the power settings you can expect more flashes and extra batteries ($60) can be swapped in and out of the power pack as needed. A bundled charger/adapter can recharge the batteries using your car's accessory socket while you're on the road.
To achieve precise lighting ratios, all Flashpoint II units offer continuously variable output from full down to 1/32 power. The rated recycle time for the monolights under battery power is less than 1.5 seconds (depending on model) and shorter when AC current is used. All three monolights have a built-in optical slave that can be turned on for cordless triggering and a 100- or 150-watt modeling light with proportional control for maximum output when used under AC power. Each Flashpoint II monolight has a metal housing and the 620M and 1220M models have a cooling fan. All units accept a full range of affordable Flashpoint attachments, including softboxes, snoots, and beauty dishes.
The rear control panel of the AC/DC monolights is similar to their AC-only lights with the exception of a power switch that has three settings: Off, AC, or DC. Another difference is that the 320M has the same sound off-on switch present in the other models, but Adorama tells me this feature will be added to AC-only versions in the future. Bucking a trend of digital readouts, the monolights use a simple knob to adjust power output and, to tell the truth, I find this method easier than having to push "up and down" buttons to achieve ideal lighting ratios. Simply turning a knob is faster and easier and just as repeatable as using Chiclet-style up and down buttons because there's one control, not two.
You can check prices on the Instant Links section, but the monolights are also available in a variety of kits, including a "wedding" kit ($560 with 320M models) that includes two monolights, two battery packs, two 10-foot air-cushioned light stands, two 40" white umbrellas, a snoot, and a carrying case.
For my test, Adorama provided two 300-watt second Flashpoint II 620M monolights ($189.95/each) each with a portable battery pack. Along with the monolights I received a white Flashpoint 16-rib 64" umbrella ($44.95), 36x36" Flashpoint softbox ($79.95), and 28x28" PZ softbox ($74.95). The 36x36" softbox includes a speed ring that the PZ doesn't, but the same speed ring ($16.95) works for both light banks.
In The Studio & On Location
Unlike more expensive monolights I've tested, the Flashpoint II units come with a bayonet mount reflector with a slot so they're ready to use with umbrellas right out of the box. There's even a locking screw on the monolight's housing to hold an umbrella firmly in place. The accessory bayonet mount release is a metal pin with a rubberized cover, but every time I used it the cover jumped off. I'm going to stick it on with some Loctite or just take it off.
The Flashpoint II units connect to your camera using a sync cable that has a phone plug-type connection for the monolight, allowing it to be triggered from your SLR's corresponding PC (Prontor-Compur) outlet. These days few digital SLRs have a PC connection, so a radio-controlled system, such as my Flash Wave 2 Pro Kit (www.boothphoto.com), was used to wirelessly trigger the monolight without requiring a cable, and that's what I used for this test. It performed admirably in the studio as well as for outdoor portraits when triggering a single Flashpoint II operating under battery power.
Setting up the 36x36" softbox was not quick and easy for someone like me, who's a bit of a klutz. Have you ever wondered why you always see photographs of Mary putting these light banks together? Now you know why. After some help from Mary (she suggests "patience") I used the 36x36" softbox as key light and was blown away by the image quality, even when used as the only light source.
Tip: One of the four rods that provide the light bank's structure is different than the others. The first three rods are easy to install but the fourth is not because of increased tension. Installing that "different" one last makes the process go quickly and smoothly.
For my initial bridal portraits of Courtney I used a single 620M monolight and it produced simply amazing results when it was placed just outside camera view, but was enhanced notably by using the 64" Flashpoint umbrella attached to a second 620M at camera left at a relatively lower power setting to provide additional lighting for the veil.
The PZ softbox is faster and easier to assemble due to its use of softer fabric and zip-up construction, making the 28x28" PZ softbox an excellent choice for event shooters who have to quickly set up and knock down.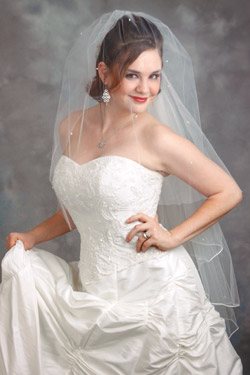 Before you could say "Victor Skrebneski" it was assembled. While the PZ softbox comes in sizes up to 36x48", I discovered why the 28" square would be perfect for the wedding shooter working in a bride's home. When moving the light bank/monolight combination around on location to make the high-key "French Doors" shot, I discovered that even fully assembled it easily fits through doorways!
While the Flashpoint II 620M's recycle time is rated at 1 to 1.2 seconds when AC powered, at maximum output only, I would occasionally outshoot it after the beep sounded, indicating full recycle. I sometimes missed a shot and because the capacitor was not fully charged I slightly underexposed a few photographs when shooting quickly with a subject, like Kimber, who can change poses as fast as I can click the shutter. During a 400+ shot session it happened 10 times under battery power and at full power it occasionally happened as well. The moral of the story is to use the recycle beep as a guide and if you simply take a breath before snapping the shutter after it sounds, you'll be OK.
When making the "French Doors" shot the backlight was DC powered and even when working slowly, the second monolight wouldn't always fire, which to be fair could be caused by the inability of the optical slave to see when the key light (because the model had slightly shifted position) was fired.
When shooting on location, the battery-powered Flashpoint II monolights make lots of "dollars and sense." In my area, a Honda power generator rents for $57/day. If you set up to do photography at an outdoor event, the Flashpoint II units will pay for themselves the first time you don't have to rent a generator. For transporting on location, the two monolights fit inside the optional ($94.95) Flashpoint Air heavy-duty lighting system case that has room for two lights, battery packs, and accessories, including the reflectors, something that won't fit in the case I use with my other Flashpoint monolights. The Flashpoint Air case is made of black ballistic nylon, measures 13x19x18", and is rated at a capacity of 30 lbs. It has pockets to hold documents, such as the instructions for lights and battery as well as small accessories.
Be aware that when shooting outdoors the optical slave might not and, in my case, would not fire. This is not uncommon to optical slaves in high ambient light. In one outdoor location Mary and I moved the main light all around trying to find a position where it worked, to no avail.
The lesson is that if you want to use more than one light for a portrait or an outdoors wedding group you'll need a way to trip them. The Flashpoint 8 Channel Radio Remote Control Set with Transmitter and Receiver ($29.95) has a range of 90 feet and is unaffected by ambient light. Because it uses radio it will also keep Uncle Harry from firing your lights with his point-and-shoot camera at a wedding. There are eight channels so each channel can avoid interference from multiple lighting setups that sometimes occur at proms or large charity events. An additional receiver for the system costs only $19.95.
Flashpoint II AC/DC monolights are ruggedly built, dependable, and easy to use, and if the longevity of my AC Flashpoints is any indication, they should give many years of faithful service. During this series of lighting tests I've tested many more upscale monolights that cost three to four times the cost of these new Flashpoint II AC/DC monolights but I haven't found one that I like as much.
For more information, contact Adorama Camera, Inc. at: www.adorama.com.
FEATURED VIDEO