Five Photo Backpacks Priced $35 to $199 Reviewed by The Bag Man
Perfect for holiday giving or for the camera gear you receive as a gift, here are five photo backpacks priced at $35, $79, $99, $149 and $199.
There's an old saying, "Never choose a bride or a rowboat by moonlight." It means some decisions require careful consideration, objective examination and suppression of emotion. The same might be said about photo backpacks. It's easy to be attracted to a bag because of cosmetic appearance or price. But the educated buyer – or reviewer – places greater value on linear mass density of fabric fibers, slider lock holding strength of zippers (yes that really is an evaluative measurement) and internal volume capacity.
Because photo backpacks typically carry more equipment than the average gadget bag, it can be more serious when they fail. And when a backpack fails it's nearly always at the worst possible time – like when you're hiking miles from humanity or stumbling through a sketchy urban environment. You cannot get a $100 bag for $50, but you can look for value regardless of the price.
Here are five photo backpacks that I believe are solid representations of products available at their particular pricing tier.
USA Gear UBK DSLR Photo Backpack, $35
For thirty-five bucks you get a no-frills bag that is surprisingly well made. In my judgment it's on par with the camera-branded backpacks you sometimes see bundled with mirrorless or compact cameras. The inside is fitted with easily moveable padded dividers. Outside is an attractive, durable gray fabric. It will carry a compact DSLR and (by my count) five lenses. On the front flap there is a small zippered pouch deep enough to hold most phones and a large utility pocket for small accessories. There are lash straps and inverted-U flap pockets on either side.
Exterior Dimensions: 13.5 x 10.5 x 6.5 inches (34.3 x 26.7 x 16.5 x cm)
USA Gear UBK DSLR Photo Backpack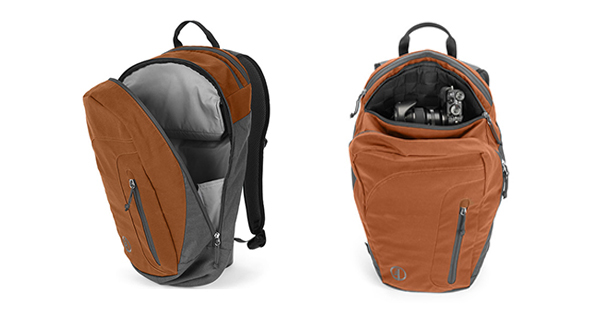 Tamrac HooDoo 18, $79
There's a lot to like here. Available in black, green, orange or blue, this is a very well made backpack which I hope was named for the Oregon ski area, not Louisiana black magic. The exterior is constructed of water resistant, waxed canvas and it's fitted with high quality YKK zippers. Bonus – there's a built-in 13-inch laptop sleeve. Designed to hold your personal gear (e.g., jacket, snacks) and a camera with lens, I like the aerodynamic profile and attractive price.
Exterior Dimensions: 19.0 x 10.5 x 6.5 inches (48.5 x 27 x 16.5 cm)
Tamrac HooDoo 18 Photo Backpack
RVCA Zak Noyle Camera Backpack, $99
Zak Noyle is a pro who lives in Hawaii and specializes in surf and wave photography. Here is his description of this one-hundred dollar photo backpack:
"We wanted to create fashion yet major function throughout. Everything has a reason on size or the way it closes. The camera compartment on the bottom was selfishly sized to fit my exact cameras as I have the largest height of any Canon camera body made so you know every DSLR camera will fit without being too tall. And yes my full size SPL Waterhousing with two handles on the sides fits in the top and closes! The top features a roll down and clip-to-close function; this allows you to have more or less room as you need for different items packed."
Exterior Dimensions: 18.5 x 11.0 x 6.8 inches (47.0 x 27.9 x 17.2 cm)
RVCA Zak Noyle Photo Backpack
Solo New York Cameron Rolltop Backpack, $149
This is not a photo backpack per se; i.e., it does not have padded dividers or such. But it is a very cool bag and has a lot to offer. Part of Solo New York's Highland Collection, this handsome bag is constructed of waxed canvas (exterior) and features a fully padded 15.6-inch laptop pocket and an internal pocket for a medium-size tablet. On the top there is a secure roll-up flap; the bag can be fully unzipped once unrolled. Inside is richly lined. There are generously-sized water bottle pockets on either side and an extra large web for secure attachment to a rolling bag handle. Also, the haul handle is quite robust and the bottom is covered with a durable waterproof material. Once again, it was not designed to carry photo equipment especially, but it's long on looks and feels good in the hand.
Exterior Dimensions: 19.0 x 17.0 x 6.0 inches (48.3 x 43.2 x 15.2 cm)
Solo New York Cameron Rolltop Backpack
Hex Medium DSLR Photo Backpack, $199
I had never heard of Hex before an unsolicited white box appeared with the daily UPS delivery. Shame on me. Hex Brand offers dozens of bags, computer and phone cases, and some very cool camera cases and backpacks. The Hex Medium DSLR Photo Backpack is large but comfortably flat and will hold a pair of DSLRs with 28-70mm size zooms attached plus four more lenses and accessories. The exterior is water-resistant coated canvas and the inside is fleece lined and subdivided by repositionable partitions. The cushioned back panel and the posterior padding on the shoulder straps are yellow. The yellow back plus the very dark, mottled camouflage outside color combine to resemble a turtle—but somehow it works and looks great. This bag thoughtfully provides top access and a tripod lash on one side. And my 17-inch MacBook Pro fits inside like a glove. I like this bag – a lot – because it's very well made and it's really quite flat, unlike most photo backpacks that are more like chunky pillows. This is a covert bag that does not immediately suggest it holds valuable contents.
Exterior Dimensions: 20.0 x 12.0 x 8.0 inches (50.8 x 30.5 x 20.3 cm)
Hex Medium DSLR Photo Backpack
Conclusion
Which to buy? Can't help you there. Each offers a ton of features and is a standout within its pricing tier. Remember the proverb about rowboats and moonlight and enjoy your backpack.
—Jon Sienkiewicz