The Finer Things: Our 7 Favorite Pieces of Gear for Fine Art Photography
One of the hallmarks of fine art photography is the production of archival prints. Which begs the question, does the social media generation care about a print's longevity or photographic prints at all? Maybe that changes when you drop five figures on a fine art print or hire a high-end photographer to create a portrait you expect to last as long as a traditional silver-based print.
To get started, the aspiring fine art photographer requires information about image stability and that quest begins with Wilhelm Imaging Research, where Henry Wilhelm and Carol Brower Wilhelm's investigation of silver- and digital-based prints makes their website, wilhelm-research.com, the go-to source of information on longevity.
But enough with the intro: here are my 7 favorite tools for fine art photography.
It Starts with the Printer
Creating archival prints begins with inks and papers with some combinations producing prints that will last three months while others will survive 200 years. Serious fine art photographers also need to be serious about the printer and inks they use. Epson's 24-inch SureColor P7000 Standard Edition large format inkjet printer ($3,350) handles cut sheets and rolls up to 24-inches wide and can produce panoramic prints 529-inches long. It features Epson's PrecisionCore TFP Print Head with PrecisionDot Screening Technology along with 11-color UltraChrome HDX pigment-based inks with auto-switching black ink.
The printer uses a Light Light Black ink for smoother gradations between light and dark areas. Pigment inkjet prints made using UltraChrome HDX ink sets have Wilhelm Imaging Research permanence ratings of up to 200 years, with the caveat of depending on the specific paper used.
I think the P7000's price point is impressive for a printer of this quality but I don't like spending my reader's money, so a more affordable alternative might be the 17-inch-wide SureColor P5000 Standard Edition ($1,795) that produces prints at resolutions up to 2880x1440dpi via a 10-color pigment-based UltraChrome HDX ink system that includes orange and green inks. It features a three-level black ink system, including Light Light Black, to provide smooth gradations.
The P5000 has auto-switching media handling, which lets you change from a top-loading roll to a front cassette for sheets. Options include single-sheet top loading and a straight-through path for media up to 1.5mm thick.
Who's It For: Fine art photographers and aspiring artists who want to make high-quality prints at one of the best, maybe the best, price points for 24- or 17-inch-wide printers.
Why I Like It: In 1994 Epson started this ball rolling with the Epson Stylus Color inkjet printer and have continued to make innovative and inexpensive printers since.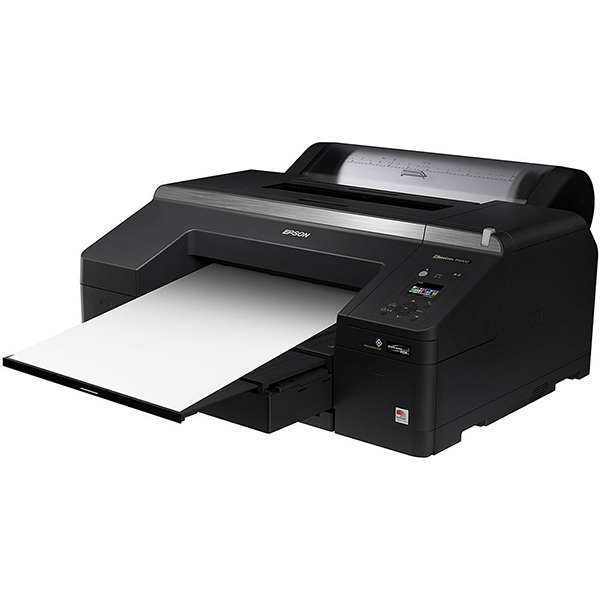 Canon's 24-inch imagePROGRAF PRO-2000 large format inkjet printer ($2,695) handles media up to 24-inches wide with a maximum resolution of 2400x1200dpi. A 44-inch-wide version, the imagePROGRAF PRO-4000, is $3,995. Both printers have a 1.28-inch-wide 12-channel print head and a 12-color Lucia Pro pigmented ink set with Chroma Optimizer to improve color consistency on coated papers and reduce differences in ink droplet height to ensure a smooth ink layer, reducing metamerism.
The PRO-2000 uses a Sub-Ink Tank system to squeeze out every last drop of ink and no switching is required when working with matte black or photo black inks. The printer has a built-in color densitometer with a three-color LED and condenser lens. An integrated 320GB hard drive allows it to work with large documents. With Ethernet and Wi-Fi connectivity the printer has wired and wireless networking along with USB 2.0 for a computer connection.
At $1,299, Canon's imagePROGRAF PRO-1000 17-inch inkjet printer offers an 11-color Lucia Pro pigment ink set and Chroma Optimizer. The ink set includes four monochrome inks to reduce bronzing, increase black density, and expand dynamic range in the shadows. The PRO-1000 makes prints up to 17-inches wide and can print borderless at up to 17x22 inches as well as work with 27.6 mil thick media.
Who's It For: Much as there are Nikon and Canon camera shooters, there are Epson and Canon printer enthusiasts. This is for the latter.
Why I Like It: The buzz around the water cooler is that the Canon large format printers are easy to set up and get running so you can make nice-looking prints quickly.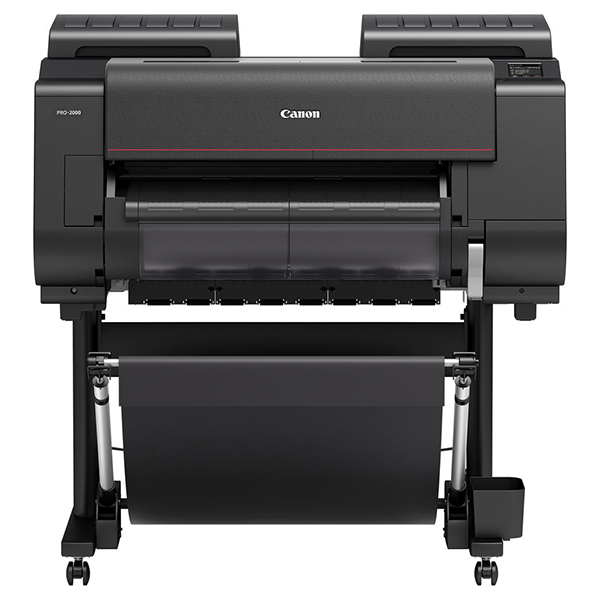 Paperback Writer
When this Geared Up column was first gearing up, I wrote an in-depth look at papers for the June 2015 issue. While that may seem old in Internet years, the paper world is slow moving, which is not unexpected when one of the major players, Hahnemühle, is 400 years old. Because of space constraints, here are a couple of picks for 2017.
All of the previously mentioned printers have the ability to print with roll paper, such as Hahnemühle's Photo Rag 308 Matt FineArt Paper. It's available in a 24-inch by 39-foot roll ($164) and comes on a three-inch core. This is a smooth matte paper made from 100 percent cotton rag with a 308 gsm and is 18.9 mil thick. Its rated opacity is 99 percent along with a whiteness of 92.5 percent that's achieved with minimal optical brightening agents. This acid-free paper is calcium carbonate buffered, water-resistant, and dries instantly.
Who's It For: Fine art photographers who are perfectionists and more often than not, they are one and the same.
Why I Like It: To me, Hahnemühle is like the Alpa of Switzerland of fine art papers. Product quality is the overriding concern for both companies.
When I was working in the traditional wet darkroom, I was a big fan of Ilford's Galerie papers. You can do the same with your inkjet printer by using Ilford's Galerie Prestige Gold Fibre Silk that features an inkjet layer coated directly onto a baryta layer and photographic fiber base just like a silver-based print. It produces images with an extended tonal range and excellent archival properties.
For black-and-white images, you can create the look of chemically toned sepia, gold, selenium, and blue images. Gold Fibre Silk is compatible with both pigment- and dye-based printers but Ilford recommends pigment ink printers for optimum results. The paper is available in sheets from A4 to 17x22 inches ($139) and in rolls from 17 inches by 39 feet ($96) to 50 inches by 39 feet ($384).
Who's It For: Photographers who favor the hard-edged Group f/64 look of traditional silver-based photographic paper.
Why I Like It: It produces prints that remind me of all the days I spent working in the film-based wet darkroom, without the smell.
Archival Storage
After you make these beautiful archival prints, don't stick them in that cabinet you bought from Scratch n' Dent Used Office Supply. You need some sort of archival storage box, such as the ones available from Print File, a company that's been in the archival photo business for more than 50 years. Their Drop-Front Metal Edge Archival Storage Box measures 17.5x22.5x3 inches and costs less than $25.
The box is made from scuff-resistant 60-point board, which is pH balanced between 8.0 and 9.0. It's PAT (Photographic Activity Test) safe and suitable for long-term storage because the cardboard is lignin- and acid-free. Both front corners of the box are metal reinforced to prevent it from being crushed when boxes are being stacked on top of one another. It has a drop-front edge for insertion or removal of contents without damaging the contents.
Who's It For: Photographers beginning to make archival prints and need a solid place to keep them that maintains the archival quality they started with.
Why I Like It: I've been using Print File's storage products since I started processing my own film back in the 1970s and they have never let me down.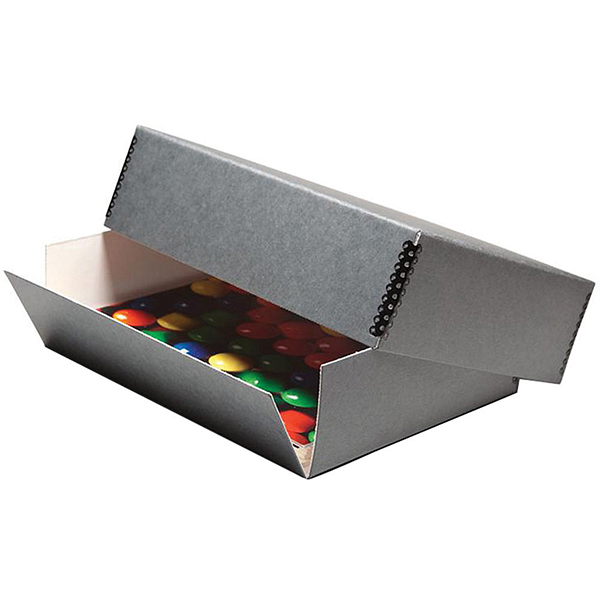 Having the Proper Framework
After you've gone through all the making and storing of archival prints, you need to follow though to the final step: using preservation matting and framing materials to limit environmental risks from light, water, humidity, airborne pollutants, and dust. That's why all of the materials used in the framing package should be chemically stable.
Mat board for both window and back mat should be four-ply minimum, 100 percent cotton rag or chemically purified, lignin-free wood pulp stock, and pH neutral or slightly alkaline (pH 8.5). Tip: Overmatting provides more protection than floating a print. Light Impressions' hand-cut, five-ply beveled exhibition Exeter Pre-Cut Mats are hinged with acid-free linen tape on the long dimension and pass the PAT test. They come in packs of three or five in sizes from 11x14 inches ($38) to 22x28 inches ($79).
If you cut your own mats, use nonadhesive hinging or rice paper applied with refined wheat starch paste. Alternatively, use water-activated gummed linen tape and the print should not touch the tape. Light Impressions' Acid-Free Linen Tape ($16) is available in rolls one-inch wide and 50-yards long. For wider widths you can use Tyvek tape available in rolls of one inch by 50 yards ($13). It's made from white nonwoven polyethylene, resists tears, and is ideal for mat hinges.
Who's It For: Any fine art photographer who wants a museum-quality presentation that not only provides the best way to preserve their work but adds value for potential buyers.
Why I Like It: Light Impressions has been around since 1969 and supplies the Library of Congress, the Getty Museum, the Smithsonian, and the Metropolitan Museum of Art, and that's good enough for me.
Frames can be metal or wood, but if wood, the rabbet should be lined with a barrier film, such as aluminum or polyester tape with acrylic adhesive, to prevent acids in the wood from migrating into the mat. Glass should be UV filtered in thicknesses from 2.0mm to 2.5mm; 2.5mm is standard for most framing glass, including coated glass that protects your artwork from fading, such as conservation and museum glass.
Like many photographers, I've been using Nielsen's aluminum frames for many years. Aluminum construction offers two main benefits, including lightness and strength, plus the modular design of frame sections makes it easy to inexpensively assemble a great-looking frame. Nielsen frames are available in different profiles to provide a subtle or bold look, depending on your images. Like any frame, custom sizes are available via chop services from frame shops and some wholesalers.
Who's It For: Fine art photographers looking for a clean, dynamic yet archival way to present their framed images with enough variety in available profiles to fit the most demanding application.
Why I Like It: High-quality frames, modular design along with relatively affordable prices make it the go-to frame for fine art photographs.
My experience with fine art photography goes back to years spent working in a traditional wet darkroom and I created a digital "workroom" in my Daisy Hill home for making prints with an older Epson large format printer. You can see some of my fine art images on my blogs, joefaraceblogs.com and mirrorlessphototips.com. To some, black-and-white imagery is also an important aspect of fine art photography and the October Geared Up column will focus extensively on that topic.
FEATURED VIDEO