FinePix S9100 Digital Camera
Fujifilm has announced the launch of the FinePix S9100, the latest model in Fujifilm's SLR-styled digital camera line-up and successor to the FinePix S9000. The FinePix S9100 features a 10.7x Fujinon optical zoom lens, nine MegaPixel Fujifilm Super CCD sensor and ISO 80-1600 capabilities.
The camera's high sensitivity range, made possible by Fujifilm's Real Photo Technology, enables FinePix S9100 users to capture images using natural light in a wide variety of lighting conditions. In addition, Fujifilm's Picture Stabilization technology uses the heightened sensitivity of the FinePix S9100 and high-speed shutter settings to reduce blur caused by camera shake and subject movement. This easy-to-access feature is selectable on the mode dial and allows the FinePix S9100 to choose the correct light sensitivity and best-matching shutter speed automatically for the highest quality digital pictures.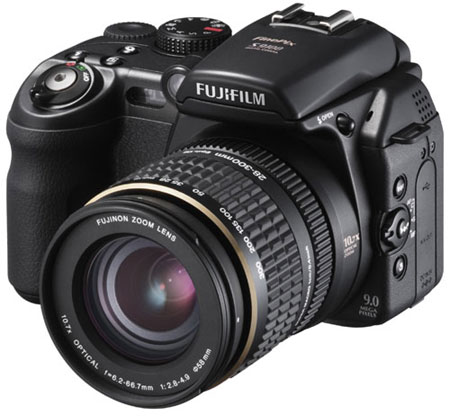 Fujifilm's intelligent flash system fine-tunes output for shooting with high sensitivity settings. i-Flash recognizes scene conditions and adjusts flash intensity accordingly to ensure superb results. With i-Flash, subjects in the foreground appear natural and background detail is bright and clear. The difference is especially noticeable in portraits with subjects that exhibit true-to-life skin tones.

The FinePix S9100 features a 10.7x wide angle optical zoom with a focal range equivalent of 28mm - 300mm. In Super Macro mode, the FinePix S9100 can focus clearly as close as 0.4-inches, and the overall speed of focusing is much improved over the FinePix S9000. With the addition of a beam assist, the camera will focus automatically in low light conditions.

The FinePix S9100 has a tilting 2" LCD, making it easy to frame your shot from a variety of shooting positions. The LCD gain-up control allows viewing of the LCD in bright and low light conditions. The viewfinder is electronic with 235,000 pixel resolution and provides approximately 100% coverage.

The inclusion of Fujifilm's Hyper Utility Software HS-V2 version 3 software enables FinePix S9100 photographers to explore the full potential of the camera's RAW file format. By fully controlling the 18 million pixel RAW file from the FinePix S9100's Super CCD, photographers can enjoy the control and flexibility of working on a "lossless" file format.

Due to ship in September, the FinePix S9100 will sell at a price of $599.

www.fujifilmusa.com.

LATEST VIDEO