Film & Paper; New Life For Silver-Based Materials…And Inkjet Materials, Too Page 2
Another silver halide product comes from The Impossible Project, who are committed to reintroducing Polaroid integral instant picture technology. They are doing this in association with a number of former Polaroid engineers and with the support of Ilford, who perhaps remember that when Edwin Land first approached them about putting the original Polaroid peel-apart material in production in the 1940s, they replied that they did not see much future for it. As one of the more cynical observers of the project put it, "With Ilford's help, they've got a much improved product. Now it works."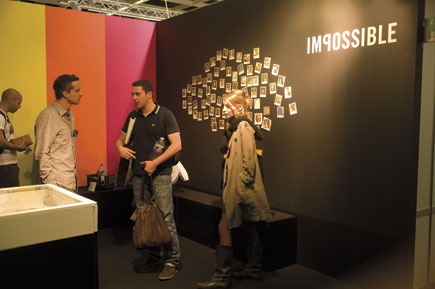 The Impossible Project is committed to reintroducing Polaroid integral film.
Still in the realms of silver halide, Adox's plans to reintroduce Agfa 400 black-and-white films are progressing well, and there is a good chance that Foma's excellent Fomapan 200 will return: there had been a problem with one of the ingredients, but according to Foma, these have now been surmounted. And Tetenal, who still produce an extraordinary range of photographic processing chemicals, actually introduced a new sulfide toner.
Of course, many labs still use silver halide paper for printing, even when they are working from digital originals (or from scanned film, for that matter), and a fascinating new product from China Lucky is double-sided silver halide printing paper. This is ideal for making photo books, one of the big trends of the show, and it's also quite a technical achievement. There must be a lightproof interlayer to stop the image printing through from one side to the other.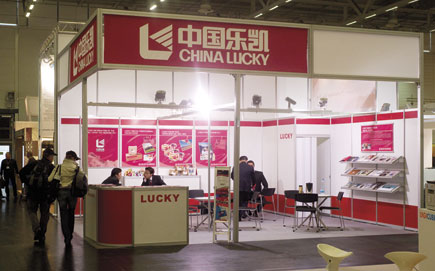 China Lucky seems to be conquering their historic quality control problems, as well as introducing double-sided paper.
Two other new crossover products from halide to digital come from Fotospeed (distributed in the US by Freestyle) and from Freestyle themselves. Fotospeed has a new series of dyes and pigments designed for retouching inkjet materials (quicker, easier, and cheaper than reprinting if there's a tiny blemish on the picture) but which can also be used for handcoloring both inkjet and silver halide. Freestyle's offering is still more hard core: proper transparent handcoloring oils, dubbed Arista, in direct competition with the long-established Marshall's Photo Oils brand from OmegaBrandess.
Asking around at the show, we were told that more and more inkjet media are suitable for handcoloring, and we have been promised samples to see how the new media (and some of the old ones, such as Marshall's, Peerless, and others, to say nothing of colored pencils, watercolors, and whatever else we can lay our hands on) will "take." The range of inkjet papers is simply bewildering, and there are some very interesting crossovers: Ilford/Harman inkjet papers (as distinct from the Swiss Ilford papers) are produced in association with Hahnemühle and are branded "Harman by Hahnemühle."

More and more manufacturers offer baryta surfaces (like "real" photographic paper), canvases, rag papers, matte surfaces, and more. One of the most attractive papers we saw came from Awagami and we begged a small sample at the show. These are traditional Japanese washi papers, with almost a rice-paper surface (though the papers themselves are much more substantial) and they may be very interesting to handcolor.
Another intriguing product, from PermaJet, is a matte paper (Ultra Pearl 295, 295gsm) that is all but impossible to scan: the scanned image goes flat and muddy. The advantage? Simple. All too many people copy wedding proofs and indeed portrait proofs in order to avoid paying the photographer for final prints. Printing COPYRIGHT or PROOF across the image spoils the aesthetics and leads to reduced orders, and watermarks aren't much better. A good print that won't scan is a much better idea.
Manufacturers/Distributors
Adox: www.adox.de/english/
Awagami: www.awagami.com
China Lucky: www.luckyfilm.com
Foma: www.fomausa.com
Fotospeed: www.fotospeed.com; distributed by Freestyle
Freestyle: www.freestylephoto.biz
Hahnemühle: www.hahnemuhle.com
Harman: www.ilfordphoto.com
Ilford: www.ilford.com
Impossible Project: www.the-impossible-project.com
Kodak: www.kodak.com
OmegaBrandess (Marshall's Photo Oils): www.omegabrandess.com
PermaJet: www.permajet.com
Tetenal: www.tetenal.com
FEATURED VIDEO