Fantastic Plastic: Photographer Ryan Roberts Transforms Designer Toys Into Wacky Works Of Art
Designer toys got their start in Japan and China but their uniqueness (and the fact that they are so freaky/cute) soon propelled them to red-hot global collectable status. Produced as limited editions, some of these vinyl creations can be worth thousands of dollars to dedicated collectors.
Nashville-based photographer Ryan Roberts began by creating whimsical images of vintage toys but he soon discovered the odd (and a bit warped) world of designer vinyl toys by artists such as Frank Kozik (Mongers Menthols series), Doma (Acid Sweeties series) and Pete Fowler (Monsterism series). It was then he knew he had the perfect photo subject for the fantastic scenes he saw in his head.
Not your average childhood plastic playthings, these unique toys are colorful little creatures with an big attitude. Roberts often integrates his older toys with the urban vinyl figures to create images that expertly harness color, form and humor in the most unexpected ways.
We recently interviewed Roberts about his designer toy photos and and learned that his whimsical work is not just fun and games.
Shutterbug: Could you give us some background on you as a photographer?
Roberts: I got into photography in college, in a black-and-white class with all the chemicals and darkroom stuff. As I got into color classes I was doing a lot of weird double exposures and that got me pretty into photography. I also loved getting out in nature and in the alleys shooting all kinds of random subject matter. When I went digital, I started shooting thousands of photos at a time. Lots of that was just riding around on my bike in Chicago shooting timed exposures or trees and skyscrapers. And then there were the crazy mannequins in Pilsen.
Shutterbug: How did you get started photographing toys and are you an avid collector?
Roberts: I started shooting my old childhood toys from the '80s (with my macro lens) for kicks but soon felt the need to inject humor into the shots and that spit-balled into full-on scenes and props and about a year into it I stumbled upon the collectible designer toys. Some of those toys are insane—as are the artists making them. Getting to meet those designers along the way has been pretty awesome. I also made a friend in Jeremy Brautman, a gnarly blogger in the industry who helped me get my art out and kept me motivated (and good stuff like that). And seeing Brian McCarty's work opened me up to a bigger picture of what toy photography could be. As for my toy collection, it's pretty fun and sizable but I wouldn't call myself an avid collector by any means. I have a pretty intense collection of toys I would love to own or photograph on rotocasted.com.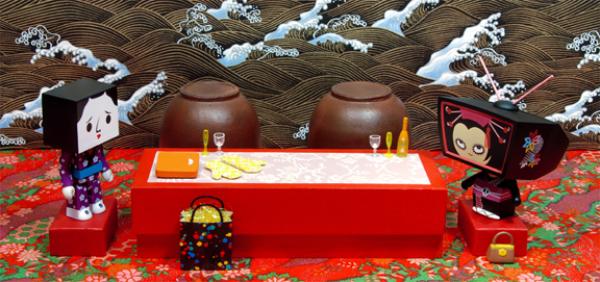 Shutterbug: Where do you find the toys (and the various tiny accessories) used in the creation of your images?
Roberts: At your mom's house. There's a few independent toy stores that have online shops that I'll hit up and some artists will lend (or sell) me hard to find toys from time to time. And eBay fills out the rest of it as far as the props go. I do scavenge garage sales and stuff like that for older toys and whatnot. Here in Nashville, there's no designer toy shops to frequent—sad face. Sometimes I have to build the props from weird stuff I have around the house and sometimes I'll ask my friend Dave to whip up something from his wood shop if I can't build it myself. And my Dad has built me a piece or two.
Shutterbug: Your sense of humor can be seen clearly in your work, how do you integrate it into your images?
Roberts: I try to find the humor in the figures I have to work with and then I try to capture that in the posing of everything in the scene. I enjoy making people laugh so it's fun creating art with that as the intent and end goal. If I can crack myself up then I know it's worth shooting. Sometimes it's hit or miss.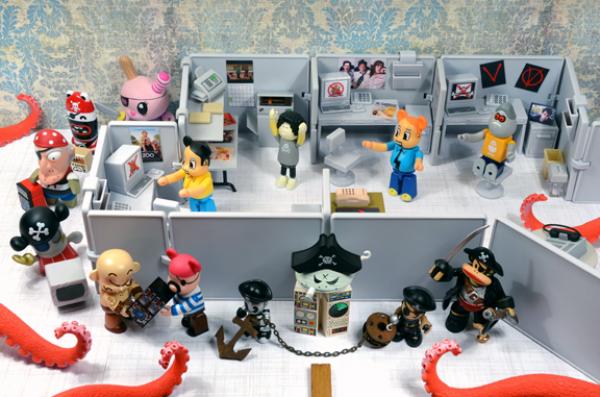 Shutterbug: What kind of gear do you prefer for these shots and what software do you use?
Roberts: I am a Nikon guy even though I have nothing against Canon. I recently went through some BS with Nikon that almost made me wanna jump ship. I've got some nice studio lights that I use mainly but I often use flashlights and clamp lights to fill in my shots. I have a cat that likes to jump up on my studio table (and pee on things) so that makes life interesting. And now we're living in this tiny townhouse so I've been not as productive lately—double sad face. Software, nothing too fancy, Photoshop does the trick. I'm probably missing out on some cool stuff but I've been pretty content or lucky hanging out a step behind.
Shutterbug: I see you have a collection of videos on your site as well. What goes into the creation of each video?
Roberts: Yeah, those are really fun to make and when they work they're quite fantastic. I recently watched them again and there's a bunch that really need some editing. I love editing video to music. The Nikon HD video is pretty tight. I'll sometimes shoot the video to the song I have in mind and that helps with the pacing and movement. It's fun finding songs from a bunch of various genres to pair the toys with. If I find the time I may edit them all down to 15 seconds—the faster they move the better.
Shutterbug: What other projects you working on these days?
Roberts: Well sadly I went from working from home for five years—which allowed me the time to shoot more frequently—to a full time j-o-b that I've taken quite serious. It's hard coming home from a creative job that's rewarding and exhaustive to then turn around and start pouring out focus and energy on my own creative ideas. Oh the struggle. I'm hoping this spring brings the inspiration I need, I've got a good feeling.
See more of Ryan Roberts' work here.
FEATURED VIDEO