Face Detection Technology Highlights Digital Cameras From Fujifilm
Fujifilm has announced the new FinePix S6000fd, the first digital camera with Fujifilm's Face Detection Technology. Also today, Fujifilm unveiled the FinePix F20, a sister camera to the FinePix F30.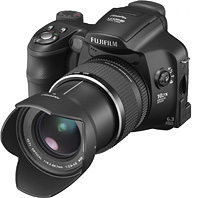 The newest component of Fujifilm's Real Photo Technology, Face Detection Technology operates exactly as its name implies, detecting up to 10 human faces regardless of their position in the scene. Once identified, Fujifilm's Face Detection Technology prioritizes the faces. Then, the FinePix S6000fd adjusts its focus and exposure automatically so the intended subject is sharp, clear and exposed in the most flattering manner. The photographer can easily disengage the Face Detection Technology at the touch of a button.
Face Detection Technology is a complement to the other components of Real Photo Technology, particularly the i-Flash system, which also is found on the SLR-styled FinePix S6000fd. After the detection system identifies faces and the camera sets focus and exposure, i-Flash adjusts its power intensity accordingly depending on scene conditions. The end result of the two features working in concert is a more life-like 'people picture' with natural tones and finer detail.
The FinePix F20 shares many of the same features as the FinePix F30. It has a compact design, a 6.3 MegaPixel Super CCD HR sensor, Real Photo Technology, and a 2.5-inch LCD display. It also has a convenient and helpful Picture Stabilization button that sends ISO sensitivities as high as 2000 at full resolution.

The FinePix F20 will be available in August at a retail price of $299.95. The FinePix S6000fd will be available in September at a retail price of $499.95.

www.fujifilm.com

LATEST VIDEO