The Evolution Of A New Rangefinder Camera
Is The New Zeiss Ikon Just Another Bessa Under A Different Brand Name?
The question posed above was the first reaction to the news about the new Zeiss Ikon rangefinder 35mm in Japan, and perhaps in the US and the rest of the world, when the new camera was unveiled at photokina 2004. But this was wrong, because it was a completely new camera proposed by Carl Zeiss AG.
The present appearance of Zeiss Ikon camera.
At photokina 2002 in Cologne, Dr. Scherle, Vice President of Carl Zeiss AG, told Mr. Kobayashi, President of Cosina, that Carl Zeiss was interested in the development of a rangefinder (Messsucher) camera system, complete with a full line of interchangeable lenses. Cosina had always been interested in manufacturing Carl Zeiss lenses under license in Japan, but had never thought of making cameras bearing the Zeiss brand name. This proposal from Carl Zeiss was a big surprise to Mr. Kobayashi, but it was later interpreted in his mind as a challenge.

"A new rangefinder camera": They both used this same phrase, but they envisioned different cameras. What Mr. Kobayashi and his staff at Cosina imagined would not go much beyond the prewar Dresden and postwar Oberkochen Contax, revived, but in different clothing. But what Dr. Scherle and his colleagues at Carl Zeiss had in mind was something completely new, and something that would not come close to the Contax, or any other cameras having Zeiss lenses.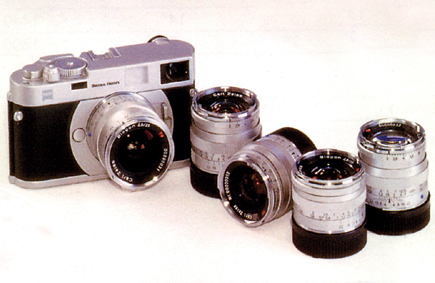 The candidate design in early stage.
Established in 1846, Carl Zeiss AG is a major contender involved in space development, medical instruments, semiconductor manufacturing, and all other opto-electronic systems, including photographic lenses. Carl Zeiss began lens manufacturing in 1890, and through the establishment of a subsidiary camera company in 1926, under the name of Zeiss Ikon AG, it amalgamated four companies in the German camera industry (Goerz, Ica, Ernemann, and Contessa-Nettel) and started to have a big influence in the photographic world. Zeiss Ikon AG, the largest camera company in the world at the time, had 220 different camera brands flooding the market. After Zeiss Ikon AG withdrew from the camera business in 1971 due to the onslaught of Japanese products in the market, Carl Zeiss remained in the photo world merely as a lens maker.

Through its long history, Carl Zeiss always avoided being involved in the camera business, except through its subsidiary Zeiss Ikon AG, in order not to directly compete with its camera manufacturer lens customers. (The sole exception to this was Palmosbau, which existed as a camera department within Carl Zeiss from 1902-1909, but was spun off to become a part of Ica.)
The present appearance of lenses for Zeiss Ikon.
For many years, however, Dr. Scherle had wanted to strengthen the presence of Carl Zeiss in the photo market through a strategy of direct involvement in the camera business. To achieve this goal, Dr. Scherle had to convince the management of Carl Zeiss to make an important decision to change its traditional strategy, and he also had to find a partner who could make the camera body. If, however, this change in strategy was implemented without good execution, Carl Zeiss would become a competitor to its client camera makers, which could jeopardize their successful lens business. How could Carl Zeiss cope with this situation?

LATEST VIDEO