Epson Stylus Photo R800; "Archival" Prints And UltraChrome Hi-Gloss Pigment Inks
All Photos © 2004, Peter K. Burian, All Rights Reserved
Epson Stylus Photo R800 Quick Look
· Pigment based inks
· $399 (Street price)
· 8.3x10.7" prints
Further Information
Epson Stylus Photo R800
http://www.epson.com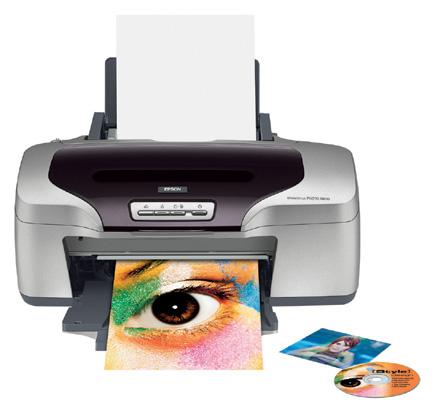 Epson makes a full line of Stylus Photo printers but until recently, only one of these machines employed pigment based inks, the large format 2200. ($700, street price.) Now, there's a second model, the R800. Although substantially more affordable ($399) this one can also produce archival prints with an 80-year lightfast rating using a new type of UltraChrome Hi-Gloss pigment ink. Designed for photo enthusiasts and digital artists, the R800 can make borderless prints as large as 8x10". Want larger prints with borders? Load letter size paper to make prints as large as 8.3x10.7", or roll paper to produce panoramic prints up to 8.3x44". As a bonus, the R800 also allows you to print images and text onto CD-Rs and DVD-Rs when using ink jet printable discs.
The R800 was intended to satisfy serious imaging enthusiasts and those who sell their work as prints, but it's just as useful as an all-purpose printer for family use. It's easy to use and fast, great for making beautiful (long lasting) prints for a family album or scrapbook or for printing reports, term papers and other documents. (Automatic printing mode in Best Photo quality; 8x10" print on Premium Luster paper.)
New And Upgraded Features
The Stylus Photo R800 incorporates the most advanced Epson technology yet. First off, print speed is faster, with what Epson calls "whisper quiet" operation with a noise level of 43dbA. The R800 uses six (vs. seven) inks for printing and applies a "gloss optimizer" coating to certain papers. Epson claims that the R800 produces vibrant color rendition and expanded color gamut (reproduction range) on most papers with new UltraChrome Hi-Gloss inks; red and blue replace the previous light cyan and light magenta inks. The maximum resolution is even higher, up to 5760x1440 optimized dpi (versus 2880x1440dpi) in "Photo RPM" mode; to me, however, this option does not produce a visible benefit and nearly doubles printing time. It employs the ink jet industry's smallest ink droplets (1.5 picoliter vs. 4 picoliter size) for making richly detailed prints.

Note: The Stylus Photo R800 is a preferred choice for printing on high gloss papers due to better ink absorption, more glossy looking prints with more vivid colors. The archival gloss optimizer coating eliminates bronzing: a shimmer in shadow areas that can appear to be brown and metallic in glossy color photos made with the Epson 2200.
The Printer software includes a broad range of options from fully automatic to semiautomatic with many user-selectable features for image enhancement, to fully manual for those who use advanced color management techniques.
The printer features eight slots for individual cartridges including seven High-Gloss inks; only six are used at one time, including either matte black or photo black, depending on the paper. The last slot is for the gloss optimizer that's applied to most types of paper. While the R800 does not accept thick or unusual types of media (such as watercolor) like the 2200, it's quite versatile, supporting Epson's most popular papers.
FEATURED VIDEO