Epson Stylus Photo 870, 875, And 1270 Printers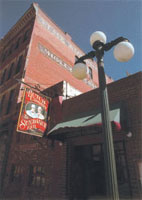 In the clear mountain air with bright sun and deep shadows this saloon sign in Deadwood, South Dakota, caught my eye. Fortunately my camera was loaded with a low-contrast color negative film, so detail was preserved throughout. I was then amazed that a scan of this negative could be printed with all of the full range of tones on Epson Heavyweight Matte paper with the Stylus Photo 1270.
Photos © David B. Brooks, 2000
If any single product category has been the motive force in the growing popularity of the digital darkroom it has been photo-realistic ink jet printers. The one factor that has inhibited unreserved enthusiasm by all photographers has been the relatively short life of ink jet prints compared to standard silver-based color negative prints. Epson, with their new series of Stylus Photo printers, has resolved that problem and added many new performance and quality features for this new set of printer models. This is not just an idle claim of "longer" print life but independently tested specific life expectancy figures published by the established archival research lab, Wilhelm Imaging Research, Inc. (www.wilhelm-research.com). In addition to this momentous advance, the new Stylus Photo printers provide even finer ink dot size, down to 4 picoliters, a faster print engine plus bi-directional printing for greater speed, as well as much quieter operation. Along with the new printers and inks are two new papers including a Heavyweight Matte which provides the longest print life, and a new Premium Glossy Photo stock.
Epson Stylus Photo Features. There are three distinct models, two of which (the 870 and 875) are letter-sized offering 8.5" wide printing. The third model, the 1270, prints on paper up to 13" wide. The 875 model is distinguished from the 870 by the addition of support for the popular digital camera storage media for access to print images stored by the camera directly. All three models utilize a new ink cartridge design which includes an embedded chip that interfaces with the printer to better control the ink supply and provides an accurate reading of each color in the print driver's status monitor. These new ink cartridges include built-in valves to shut off the ink flow when the printer is not in use providing more efficient ink management and preventing ink spill when cartridges are changed. And of course these cartridges contain new ink formulations that contribute largely to an extended print life in combination with Epson's new papers.
This study of successive generations of architectural style in Seattle's cityscape is reproduced in precise details and clear, brilliantly distinguished tones on Epson's new Premium Glossy Photo paper with their new Stylus Photo 1270 printer.
Two models provide both parallel and USB connections as well as software drivers for all versions of Windows and Macintosh OS 8.1 or higher. (The 875 model is a USB only model and requires use with Windows 95/98 and Mac OS 8.5 or higher and Rom 1.2.) In addition to the previous paper size selection and print configurations, there is a new 4" roll size available of the premium Glossy paper with support for borderless, edge to edge snapshot printing, resulting in output comparable to that produced by minilab printers. Estimated street prices for these new Epson Stylus Photo models are $299 for the 870, $399 for the 875, and $499 for the 1270.
Printing With The Stylus Photo 1270. Once the printer was set up, my next concern was the choice of images I would use for making my evaluation prints. I selected a variety of subjects from portraits to flowers to cityscapes; some with areas of strong shadow and highlight, some with most tones in the middle ranges, and others with strong primary colors and yet others with muted hues and neutral tones. I also selected some black and white (gray scale) images converted to RGB for printing as black and white. The next step was to make prints of each of these images with an Epson Stylus Photo 1200 using Epson Photo paper for comparison purposes.
I began with the new 1270 installed on my newest PC workstation and made a few prints while it still had Windows 98 installed. I was in the process of installing Windows 2000, which unfortunately was fraught with many problems, so it was only toward the end of my test print work that it was running properly. This was to no avail however, because I found the NT 4.0 driver supplied by Epson does not function fully with Windows 2000 and I did not trust that the results I'd obtained would be truly representative of what the printer should do. So, the bulk of my evaluation was based on prints made with my Mac G3.
This rare stand of California Coastal oak trees when photographed in black and white produced a negative that was always a challenge to print well in a wet darkroom. Once scanned and with the gray scale file converted to RGB and a hint of color added, the scene printed with all of the detail at every level of tone reproduced that was recorded on the negative.
In addition to making letter-sized images of each of the test subject files on the Epson Heavyweight Matte, as well as the new Premium Glossy Photo paper, I was supplied with a few sheets of these new papers in 11x17 and 13x19 sizes. So, I printed a different selection of images at these larger sizes, mostly personal composite/special effects images that were intended to be printed large. These larger prints provided a broader base for image quality evaluation, as well as an indication of how the print media works at a larger scale, and more experience to evaluate speed performance processing larger image files.
Evaluation And Recommendation. The actual print-making process involved a difference in the quality of the printing experience that I found would be sufficient alone to make the upgrade from the Stylus Photo 1200 to the 1270 a must. The new Epson Stylus Photo 1270 is a much quieter and subdued sounding printer, plus the fact it prints the same size and resolution with so many fewer passes of the print head, and so much faster, you're barely aware of it. and, making large 13x19 prints no longer seem to take an eternity. But of course, the print results are what it is all about. The Stylus Photo 1200 produces prints on Epson Photo paper which have been very satisfying and often better than I would expect from an average photo lab, so improving on that would be significant.
This model's fair skin and strawberry blonde hair are contrasted most naturally against her bright scarf and rich chocolate blouse establishing the portrait capabilities of Epson's Heavyweight Matte paper printed with the Stylus Photo 1270.
A part of the new model series of the Epson Stylus Photo printer involves new inks and papers, as well as a print head that puts down 33.3 percent smaller ink drops. So I did make a few prints with the 1270 using the older Epson Photo paper. There is a definite improvement in the apparent smoothness of even, flat tones, and the colors seem a little cleaner. Then when the same image is printed on the new Premium Glossy Photo paper, which has a much shinier, glassier surface and a heavier weight, the resulting image quite noticeably exhibits more brilliance. Again printing the same image using the new Epson Heavyweight Matte paper, the color intensity is about the same as the glossy, but the overall contrast is a shade less and the shadows are much more open defining the dark details better.
Overall, the combination of the new printer, the inks and the new papers, produces prints that have no telltale characteristics which make them identifiably the product of an ink jet printer. They are pure image and color and quite comparable to a photo lab print or even the best dye sublimation print I've seen. Relative to subject matter and how the prints made by the new Epson Stylus Photo printers are to be used, there is a basis for choosing between the two new papers in respect of image quality. From my experience I would choose the premium glossy for small prints and those which are of a commercial nature like product illustrations, architecture, and other subjects that are comprised of mostly mid-tone and lighter values. For landscapes, fine art subjects, portraits, and any image that is going to be printed larger than letter-size for display, the Epson Heavyweight Matte paper has superior qualities. I realize some photographers will, because the Heavyweight Matte has attributes that are less commonly photographic, find it not to their taste.
Epson's new Stylus Photo models 870, 875, and 1270 add new dimensions in photo-realistic print quality, longevity, and performance. These new Epson printers add a no compromise essential component to the digital darkroom.

However, I find the matte surface favors the ink jet medium more positively than using a matte surface traditional photographic paper, and is something that has been rarely available in a traditional photographic color paper. And, for me the clincher is the Epson Heavyweight Matte prints have a life expectancy almost five times that of the Premium Glossy paper.
Tallying up all of the improvement and feature attributes of this new series of Epson Stylus Photo printers based on my experience with the 1270 model, there seems to be little left wanting relative to the most stringent expectations a photographer might have. The only basis for disappointment I can imagine would come from attempting to print badly color corrected, poor quality image files. Because it reproduces the information it is given so well, the Epson Stylus Photo printer will make a bad photograph obviously so. In other words, this is a printer that cannot be used as an excuse for producing mediocre photo quality.
For more information, call (800) 463-7766, or visit Epson's web site at: www.epson.com.
FEATURED VIDEO