Epson Stylus Photo 820
You Can Not Afford Not To
The Epson Stylus Photo 820 ink jet printer.

Photos © 2001, David B. Brooks, All Rights Reserved
One constant with the past in this new digital world of photography is that it isn't quite a photograph until you have an image printed on paper in hand. The new Epson Stylus Photo 820 answers that need by offering the best in print quality at a price few can refuse. At an announced price of $149, it's a bargain for a six color photo printer. Figure in the factory rebate of $50 and the total purchase cost is just $99. Price, however, is not the only incentive for choosing this new Epson Photo model printer. The 820 also supports Epson's Print Image Matching (PIM) technology, which is enabled by a very effective Film Factory software application bundled with the printer. In addition to Epson's own Photo PC 3100Z 3 plus megapixel digital camera, which I used to test PIM, 12 other digital camera manufacturers have signed on to provide PIM technology in their new model cameras, many of which are currently being sold. To obtain the full, up-to-date list go to: www.printimagemaking.com.
Epson's ColorLife paper provides a new surface choice that is lustrous and finely textured, providing greater resistance to damage from print handling. ColorLife produces a somewhat softer look, although the density range and saturation is comparable to glossier papers. Its semigloss surface is particularly suitable for pictures of people.
New Printer Design
The Epson Stylus Photo 820 is also distinguished by a new design. The beige bread-box style is replaced by a new sleeker, more compact, and lightweight model. To accompany the printer Epson has also announced a new Epson ColorLife paper. This is a semigloss 10mil thick paper which closely matches the surface appearance of standard photo lab color prints, and also offers longer lightfastness and greater resistance to atmospheric contaminants (reference: www.wilhelm-research.com).
This newest Epson Photo printer features all of the specifications established as the highest standard for printing photographic images, including a 4 picoliter MicroPiezo print head and 2880x720dpi print resolution, supporting full borderless printing on standard photo-size paper (4x6, 5x7, 8x10). In addition, compared to the previous Epson Stylus Photo 780 model, this new 820 is significantly faster, outputting a 4x6" print in just 48 sec.
The prints made from the files captured with the Epson Photo PC 3100Z digital camera, and output using Print Image Matching via Film Factory, were consistently accurate in color fidelity to the original subject, utilizing the full range of tones and color saturation of the media.
Printing With The 820
The first order of business to prepare for making test prints was making images with the Epson Photo PC 3100Z camera. I used this camera so I could evaluate the effectiveness of the PIM technology. This did not involve anything other than just taking pictures with the camera. The camera then records vital image capture specifications in the JPEG header of each image file, providing specifics as to how the image was made. The images I made with the 3100Z were typical vacation snapshots. I worked under varied natural lighting conditions including midday sun, late afternoon and overcast skies.
Next I made a selection of images from my files of scans from both slides and color negatives, as well as a few gray scale (black and white) images. The subjects were chosen to test the limits in saturation, color balance, and tone range of the printer. I was curious if there were limits or exceptions to the 820's ability to reproduce a wide variety of image characteristics. In addition, I used the Epson Stylus Photo 820 for a lot of mundane daily chores, like printing out proof sheet pages, text documents, and proofs of newly made scans.
Although color ink jet printers have in the past been short on their ability to reproduce a black and white (gray scale) photograph with qualities comparable to color output, using Epson Premium Glossy paper and setting the 820 driver controls to black ink only and the resolution at 2880dpi, a very full range of image tones are reproduced, from a rich black through a long gamut of grays to white. The output rivals even the best silver-based wet darkroom glossy prints. Although providing a softer looking result, using black only ink and 1440dpi to print on a high quality matte paper is equally as effective.
From the outset--installing the printer and its software, making quick, lower resolution prints, setting the driver to maximum resolution, and using automatic, manual, and Colorsync/ICM image adjustment settings--the printer functioned easily, consistently, and reliably. Whether used for office document printing or as a photo printer, there was no sacrifice in either function. And, regardless of the kind of media printed on, from plain paper to Premium Glossy Photo paper, print quality appropriate to the function was uniform, as was printing efficiency and speed.
Evaluation & Recommendation
For the home computer user and photo enthusiast, the new Epson Stylus Photo 820 offers a complete printing solution at a very accessible price. It is particularly useful for anyone about to acquire a digital camera, as PIM technology yields ideally adjusted prints with very good subject fidelity. Besides the assurance of fine print quality from printing scanned images or camera capture files, there are also more choices in paper types from Epson that are designed for use with the printer that also provide improved print life.
If by now you are thinking my description of the Epson Stylus Photo 820 is too glowing to be true, there is at least one very noticeable downside. Compared to other Epson Photo model printers, the 820 is noisy, and not just a little louder than a 1280, my old 1270, an 1160, or a 2000P. It makes more auditory fuss than any of these. And, although faster than the 780 model it replaces, the Stylus Photo 820 is no match in printing speed compared to Epson's 1280/890 premium Photo printers. However, if you have a computer, and want to print both photos and documents, the Epson Stylus Photo 820 leaves few excuses not to enjoy photographs reproduced with the greater quality of a six color printer. For more information, call (800) 463-7766, or visit their web site at www.epson.com.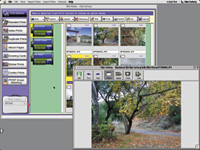 Epson's Film Factory application, bundled with the Stylus Photo 820 software, provides a number of easy to use capabilities. First, it stores image files downloaded from the camera, generating a set of thumbnails along with the file name and frame number. It provides an enlarged, pop-up viewing window to examine each picture. And it supports printing in a wide selection of configurations and print sizes, including an Index File print of all of the thumbnails in a "roll," and enables Print Image Matching.
Epson Photo PC 3100Z Digital Camera
Epson's latest digital camera uses a 3.34 megapixel CCD sensor with the added HyPict capability of yielding 4.2 megapixel files. It is a conventional camera design layout with a built-in 34-102 35mm equivalent zoom lens and built-in flash. The camera uses four AA sized batteries for power and stores image files on a CompactFlash card. All camera controls are easily and logically accessible, and provide a selection of automatic, programmed, and manual settings. This is facilitated by a Mode dial surrounding the on/off switch, and three buttons to select flash and image compression quality. A 1.8" LCD on the back is framed on two sides with buttons to select the remaining setup options. Two buttons on the back just under the Mode dial adjust the zoom setting from wide to long, and there is even a small lever next to the optical viewfinder window to adjust the diopter to accommodate user vision.
In addition, the Photo PC 3100Z has a built-in microphone and speaker, as well as the ability to capture video clips. A hot shoe on top of the camera offers sync connection for either an attached auxiliary flash or a PC adapter to use external electronic flash with manual aperture and shutter speed settings. A self-timer is included with an activation button, the third one on the top of the camera. The sensitivity is also adjustable providing the equivalent of ISO 100, 200, and 400 speeds. Connection to a computer is by USB, and the camera comes bundled with software supporting both the Microsoft Windows and Apple Macintosh operating systems, including Epson Photo File Converter, Image Expert and panorama stitching applications. The camera is a compact 4.25x3.5x2.56", weighs just 3/4 of a pound, and has a list price of $599.
FEATURED VIDEO