In Dreams; Dreams Are Wishes Your Heart Makes Page 2
www.paulshelaskyphotography.com
Don't let anybody tell you differently, film photography--especially black and white--isn't dead. Nowhere is this more evident than in the monochrome images captured by Paul Shelasky with rangefinder film cameras. Yup, the guy is seriously old school. Beyond the fact that Shelasky lives in Providence, Rhode Island, you won't learn much about this humble photographer from his website other than a good look at his work. That work is collected into five main galleries plus a couple of "PAW" collections that feature a Picture of the Week.

I started in the politically incorrectly named "Junkyard" (they're all salvage yards now) gallery to see not wrecked cars but actual "junk" captured in the no-nonsense photojournalistic style Shelasky applies to all of his work. His unblinking lens is on display in the "Ballpark" collection, featuring a local Little League diamond, not Kaminski Field. Some collections contain a single image, such as the Cartier-Bresson-esque "Downtown." I would love to see more of those and if you go to the "PAW" galleries, you'll find similar photographs displayed in a different format with healthy-sized thumbnails that open into screen-filling images. They all show the depth and character of Shelasky's vision. Time was, there were lots of American photographers working in the ironic reportage style exemplified by the best of Shelasky's work, but the siren song of instant digital gratification has seduced younger shooters. Look and learn.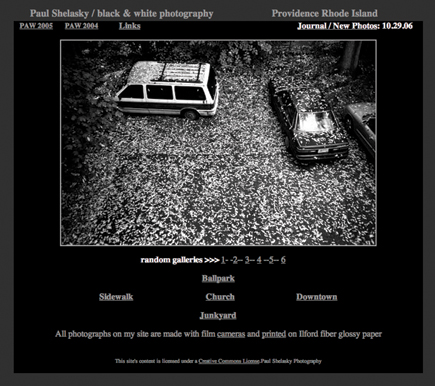 © 2006, Paul Shelasky Photography, All Rights Reserved
www.tarunkhiwal.com
Prepare--as they say--to be amazed. Tarun Khiwal is an Indian fashion photographer whose chic site design (that's easy to say but difficult to describe) takes you into a world that many of us never knew existed. Race your mouse to "Fashion in Palaces" to see fashion photography redefined in style and sense of place. The directness and universality of images in the "Chanel" collection is truly universal and could have just as easily been made in Paris as Delhi. You can even zoom the already large images to screen-filling sizes to appreciate Khiwal's craftsmanship and vision.

Unpredictability surfaces again in the "Neopolis" collection filled with jet-setter images that leap off your screen. The editorial fashion images in "Fashion" (which houses two collections) are nothing short of mind-blowing and represent a master's class in fashion photography. His masterful portraits combine color or monochrome that capture the subject in studio and on location, revealing a breathtaking sweep of talent that not only depict a person but also redefine the genre. Khiwal's personal work includes nature and abstract still life and realistic nudes done with a distinctly non-Western approach that in one case shows just a hand. While Khiwal works in monochrome and color, even his color work contains a strong black and white sensibility, infusing his images with a sense of gritty realism that's shaken not stirred with fantasy. Note: The site can be slow to load, even on a broadband connection but the impressive images and unique site design make it worth any delay.
© 2006, Tarun Khiwal Photography, All Rights Reserved

LATEST VIDEO