Digital Innovations: Entering The Millennium
Polaroid's DirectPhoto 2.0 software makes it easy to add images as attachments to e-mail messages and even includes image-editing capability.
Happy New Year! I'll leave to others to debate whether or not the next millennium actually begins at midnight December 31, 1999 or on December 31, 2000. For digital imagers, the new millennium is already here. It wasn't all that long ago that a 100MHz microprocessor was considered fast, but now companies are introducing computers with multiple 450MHz Pentium II chips that easily turn what were formerly hour-long projects into a few minutes work. Digital imagers, like race car drivers can never have too much power, so many of us will harness this horsepower to create new, exciting images without having to sit and stare at the screen while waiting for an action to complete or a filter to be applied. Instead, image manipulations can happen within literally a blink of the eye. Digital photographers can reallocate this extra time to work on other images or use it to refine and improve the project they are currently working on. My guess is that most of us will split the difference, producing more arresting images in less time. We're entering a millennium where the image itself--not the technology that created it--will be the focus of attention. For digital imagers, the old Chinese curse, "May you live in interesting times" has turned, instead, into a blessing.
The mouse that roared. IXMICRO's GyroPoint II mouse is a gyroscopically controlled, radio frequency mouse that frees users forever from the tyranny of the mousepad.
Where No Lens Has Gone Before. Combining elements of computers and traditional photography, a company with the intriguing name Be Here has created a system for producing sweeping panoramic images. Their Portal S1 Imaging System includes the S1 lens and computer software that decodes and reformats the raw image data into standard graphics file formats, including JPEG, PICT, and BMP. The S1 lens can be attached to any digital or film Nikon-mount camera and will capture an image with 360° horizontal and 100° vertical views with a single click of the shutter. Panoramic images can be viewed with software such as QuickTime VR, Live Picture's Reality Studio, and Be Here's Java PanViewer. For more information contact Be Here at (408) 873-1300 or visit their web site at www.BeHere.com.

New Scanners. Flat-bed scanners, once limited to only digitizing prints or other flat artwork, are shedding their cumbersome transparency adapters and are morphing into the hybrids that can scan film with dynamic ranges not possible a few years ago with dedicated film scanners. More and more moderately priced flat-bed scanners include the ability to also scan film. I predict that dedicated film scanners, except for high-end publishing applications, will be replaced with hybrid scanners, such as the new 36-bit DuoScan T1200 from Agfa. Like other members of the DuoScan family, the T1200 offers separate beds for scanning film or prints. Agfa calls this "TwinPlate" technology and feels it provides better control over the scanner's optical path, resulting in sharp scans with high color quality. The DuoScan T1200 flat-bed scanner offers 600dpi resolution for reflective scans up to 8.5 x 14" color and 2400dpi for transparencies up to 8x10". The film scanning bed can produce a dynamic range of 3.0 and an optional batch slide holder kit lets you scan more than one 35mm original at a time. The real news is the price point: The DuoScan T1200 costs $699.
The Agfa DuoScan T1200 uses the same TwinPlate technology that its upscale siblings do, permitting scanning of prints and film up to 8x10".
For affordable digitizing, Agfa produces the SnapScan line of scanners. The new SnapScan 1212u is a Universal Serial Bus (USB) scanner that can be used with any Windows 98 system with this capability as well as Apple Computer's new iMac. The SnapScan 1212u has a color depth of 36-bits and an optical resolution of 600dpi that can be interpolated up to 9600dpi. It has a retail price of $129. The 1212p is a 36-bit parallel port scanner with specifications similar to the 1212u and carries a price tag of $99. Other new SnapScan models include the 1236S and 1236 Artline. Both have identical hardware specifications with the difference being the software bundle that's included. The Artline scanner bundles graphics-oriented, image enhancement software package and is a gray instead of the white that's used for the other scanner. The new SnapScan 1236S scanners feature 36-bit color depth and a 600dpi optical resolution that can be expanded to 9600dpi through interpolation. Prices are $249 for the standard SnapScan 1236S and $299 for the Artline. For more information about Agfa scanners, call (888) 281-2302 or visit their web site at www.agfahome.com.

Canon Computer Systems recently introduced two new low cost flat-bed scanners. With a footprint of only 10.1x14.7x2.5", the $79 CanoScan FB 320P and the $99 CanoScan FB 620P have the smallest footprint of any flat-bed scanner currently available. The FB 320P delivers 300dpi optical resolution and can produce images up to 1200dpi with interpolation. The 30-bit FB620 offers 600dpi optical resolution with interpolations up to 2400dpi. Both feature a 30-bit color depth, a parallel port interface, and a software bundle that includes Adobe PhotoDeluxe, Scan-Soft's TextBridge Plus, and EarthLink Sprint Total Access, along with drivers for Windows 95, 98, and NT. For more information, call Canon at (800) 848-4123 or visit their web site at www.ccsi.canon.com.
With the optional Photo Cartridge, the HP DeskJet 697 can deliver photographic quality output.
Imacon, Inc. recently announced the FlexTight Precision II scanner, a new generation of the company's award-winning CCD-drum scanner. The FlexTight Precision II is the first scanner ever to incorporate an adaptive light source into its scanning design--it can scan dark originals with detailed shadow areas. It delivers a resolution up to 5600dpi and a density range from 0-4.1D. In addition, because of its compact vertical design, the FlexTight Precision II's footprint is only 9.7x13.8", which takes up considerably less desk space than a flat-bed scanner. The scanner has a list price of $16,995 and is available through Imacon's distribution channel worldwide. For more information, call Imacon, Inc. at (888) 462-2668 or visit their web site at www.imacon-usa.com.

New Digital Cameras And Accessories. Casio's new QV-7000SX digital camera comes with a swiveling lens along with a 1.32 million megapixel, square pixel CCD that lets you capture images at resolutions from 1280x960 pixel or 640x480 pixels. Other features include a 2x optical zoom and 2x/4x digital zoom along with an HTML file generator that lets you view thumbnails of images with your Web browser. A swivel mechanism allows the lens to rotate 270°. When the power is turned off, the zoom lens retracts into the camera. Video clips up to 12.8 sec long can be recorded and played back on the camera's built-in 2.5" high-resolution LCD screen. The camera stores images in JPEG format on a CompactFlash card. For more information visit Casio's web site at www.casio.com.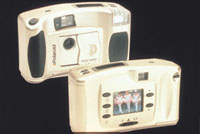 Polaroid's new PDC 640 is an excellent introduction to point-and-shoot digital photography.
Kodak's new DCS 560 pro-level digital field camera is built around a Canon EOS body that allows the creation of six megapixel images at a rate of one image per sec. The CCD chip provides a flexible ISO equivalent of 80-200 for 18MB image files that have a color depth of 36-bits. Image resolution is an impressive 3040x2008 pixels. The DCS 560 has a LCD display to provide instant review of your digital photographs. The suggested list price is $28,500. For more information call (800) 235-6325 or visit Kodak's web site at www.kodak.com.

Using rollfilm backs on 4x5 cameras is a time-honored tradition. Now Horseman brings this concept into the digital age by offering a Digital Back Slide Adapter that allows you to attach a Hasselblad digital back to most view cameras. The adapter allows you to make a quick changeover from ground glass to digital imaging.
Leica has introduced the digilux, a new digital camera available for a most un-Leica-like price of $995. The digilux has everything you expect in a Leica: a bright viewfinder, 7.6mm (equivalent to 35mm) f/3.2 lens, metal body, and leather trim. Image resolution is 1280x1024 at 24-bit color depth and a choice of five color temperature settings. Power is supplied by rechargeable lithium-ion batteries that power the camera's functions, including a 2" LCD monitor on the back. Depending on the resolution of your images, the digilux can store up to 11 JPEG images on a 2MB SmartMedia memory card. Images can be downloaded to a Windows or Mac OS computer via a TWAIN driver and the package includes Micrografx Picture Publisher for Windows and Eztouch software for Mac and Windows computers. For more information, call (800) 222-0118 or visit Leica's web site at www.leica-camera.com.
The Canon-based Kodak DCS 560 professional digital camera can create six megapixel images with a 36-bit color depth.
Polaroid's new PDC 640 digital camera has an affordable list price of $299. The handsome looking point-and-shoot camera offers 640x480 resolution images and 2MB removable SmartMedia cards that can store up to 64 images, depending on the resolution of the digital photographs. The camera has a built-in flash along an optical viewfinder as well as a 1.8" LCDD preview screen for more precise composition. The camera is bundled with PhotoMax Image Maker software, batteries, PC and TV cables, an AC adapter, and a wrist strap. For more information, call (800) 343-5000 or visit Polaroid's web site at www.polaroid.com.

Print Me Out. Hewlett-Packard has introduced several new ink jet printers that produce photographic quality output at bargain prices. The DeskJet 712C printer has a street price of $249 and can print six pages per minute in black and white and three in color. The DeskJet 712C uses HP's Photo Resolution Enhancement color layering technology to deliver photo quality output on any paper. When used with HP's own Premium Photo Paper the results are remarkable for an under $300 printer. The DeskJet 697C is expected to sell for $179 and can print five pages per minute in black and white and up to 1.7 pages in color. To produce photo-realistic output, you'll need the optional HP Photo Cartridge that costs under $40. Both printers feature software bundles that include PrintMaster Gold Publishing Suite, Professor Franklin's Instant Photo Effects, and Microsoft's PictureIt! Express. HP has also launched a new web site (www.deskjet.com) to provide tips on how to integrate photographs into your personal publishing projects. The site also includes space for users to display their work as well as a section for support, products, and supplies. For more information call (800) 752-0900 or visit HP's web site at www.hp.com.


Capturing some of the elusive "feel" missing from many digital cameras, Leica goes digital with the affordably priced digilux that produces megapixel resolution images.
For the past several months I've been using a device that's a scanner, copier, fax, printer, and answering machine wrapped up into a single peripheral. The industry buzzword is MFP for "multifunction peripheral." Brother International introduced its first laser-based MFP called the MFC-P2000, which features 600dpi laser printing with an output speed of 10 pages per minute. The MFC-P2000's copier function produces black and white copies with enlargement modes of 150 percent and 200 percent and reduction modes of 78 percent and 50 percent. The scanner function has an interpolated resolution of 600dpi and is TWAIN compliant. While a fax function isn't included, you'll find it in Brother's new MFC-7150C and MFC-7160C. Both can print 720dpi color output at up to four pages per minute, offer color copying capability, and have a 300dpi 24-bit scanner built-in. The fax function has a 20 page document feeder and a 14.4K fax modem. You can also plug a digital camera directly into an input port and print color output of still frames from a camcorder or VCR. The main difference between the two models is that the 7160C includes an answering machine function which has a 99 minute capacity and a full duplex speaker phone. The MFC-7150C has a street price of $499 and the MFC-7160C is $599. Additional information can be obtained at the Brother fax back line at (800) 521-2846 or by visiting their web site at www.brother.com.


Horseman's Digital Back Slide Adapter allows you to attach a Hasselblad compatible digital back to a 4x5 camera.
Plug-In Of The Month. This month's outstanding Photoshop compatible plug-in is Vivid Detail's Test Strip 2.0. If you've had trouble matching what you see on the monitor to what comes off your printer, you need Test Strip. It's the first color management software I've found that functions the way that photographers are used to working--by producing a test strip showing varying degrees of density and color. You can do this on screen, but printing a Test Proof lets you make the comparisons of how the printer has interpreted your on-screen image. Test Strip lets you work with color or density changes in one percent increments--on RGB or CMYK images--and has "before" and "after" screens that let you compare any changes to the original. Vivid details also includes 73 photographic and 115 special effects filters. For more information contact Vivid Details at (805) 646-0217 or visit their web site at www.vividdetails.com.


Vivid Details Test Strip plug-in lets you produce the same kind of proofs that you're used to doing in a traditional "wet" darkroom.
Photo E-Mail. Polaroid's new DirectPhoto 2.0 lets you capture, edit, merge, and e-mail digital pictures from scanners, digital cameras, or other sources. After installing the software, a DirectPhoto icon appears on your Microsoft Word or Power-Point toolbar. When you click the Polaroid button, DirectPhoto allows you to select an image and place it in any of your documents. When preparing an e-mail attachment, DirectPhoto offers image compression and a self-extracting viewer allowing the person who receives your photographs to double-click the attachment and view the image on screen. DirectPhoto is TWAIN-compliant and can open and save files in the imaging formats, such as BMP, JPG, and TIFF. To improve the quality of your digital photographs, the software includes image-editing tools, such as brightness, contrast, gamma, color balance, color saturation, resizing, sharpening, and cropping. DirectPhoto costs $29.95 and is available for Windows 3.1, Windows 95, or higher. For more information call (800) 343-5000 or visit Polaroid's web site at www.polaroid.com. For availability in Canada, contact (800) 268-6970.

New Imagebase Program. Sound Vision announced Album Builder, a Windows 95/98/NT program that allows you to build pages of digital pictures and text that can be printed or shared via e-mail or web applications. JPEG images can be placed on a full page and resized or cropped with simple mouse actions. Pictures can be re-positioned and resized over and over as you build a final page for printing. Captioning text can also be added, and the font, size, color, and other attributes are easily modified. Compiled album pages can be saved, printed, or exported as a composite JPEG file. When creating output, the full resolution of the original images is used for the print. Grid lines and page templates that can be customized are also part of the package. Album Builder makes it possible to build a photo album of hundreds of photographs in less than 10 minutes. For more information and to download a demo version of Album Builder, visit their web site at www.soundvisioninc.com/images/Ab.exe.

Now That's A Smart Mouse. IXMICRO recently shipped Gyro-Point Pro II--a "free space" mouse. Using a gyroscope design and Radio Frequency (RF) technology, the GyroPoint Pro II has a 75' range and has the ability to transmit through walls, allowing presentations to become a more relaxed and less structured experience. Inside the egg-shaped device is a tiny gyroscope that interprets wrist motion to move the cursor, with no need to point the device at the screen. A presenter can move freely around during a presentation with no cords or table-bound mouse tying them to a podium. Infrared-based mice, by comparison, require that they always be in the line of sight of the receiver. The GyroPoint Pro II has an easy to hold, symmetrical shape, that's equally comfortable for right and left-handed users. GyroPoint Pro II is also Plug-and-Play--simply plug it into your existing mouse port, use the driver you already have, and it's ready to go. The mouse costs $129 and an audio-visual version, bundled with presentation software and additional accessories, is $159. For more information visit IXMICRO's web site at www.ixmicro.com.
FEATURED VIDEO