Digital Innovations
Be Careful What You Wish For
What I Want And Don't Want In My Next Digicam!
Photos © 2004, Joe Farace, All Rights Reserved
"You live and learn. At any rate, you live."--the late Douglas Adams
In last year's Shutterbug's Photography Buyer's Guide (do you have the 2004 edition?) I suggested a few improvements to the current crop of digicams and some camera manufacturers may have been listening. I asked for a Black & White mode that emulates real film, and while nobody has quite done this yet, high-quality cameras, such as Leica's Digilux 2, let me shoot in black and white or color. I hit a home run when I said, "A digital Hexar using Konica's manual focus Hexanon lenses would be a wonderful traveling companion." Answering my plea was Cosina and Epson, who have teamed to build the first interchangeable lens digital rangefinder camera.
The Leica Digilux 2 lets you capture a raw image in color while simultaneously capturing a JPEG file in black and white! Using Adobe Photoshop CS' Layers and placing one image file on each Layer, I partially erased the color Layer to reveal the monochrome beneath it. This puts the focus on the classic blue Ford convertible that would have been lost in the busy background in a full-color photograph.
All digital cameras suffer from an advanced case of featureitis, but it's not too late to save the patient with some feature cutting. Let's start with video clips. If I want to shoot video, I'll use a DV camcorder, such as Canon's ZR80 (www.canondv.com). A digicam that records 3240x480 video, even at 30 fps, is still a novelty, not a capability we need for a still camera. I think Electronic Viewfinders are the result of camcorder envy, too. They may let you see 100 percent of the image, but can be "mostly useless" when wearing Polaroid sunglasses and add needlessly to the cost of the camera while adversely affecting usability.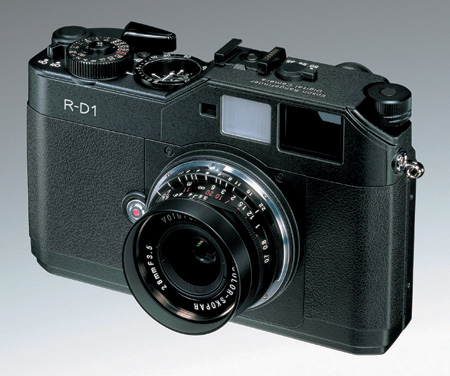 A few months after my appeal for a digital rangefinder camera, Epson showed a prototype of the R-D1 at PMA 2004 and will be shipping production cameras by the time you read this. Or was it just a lucky guess?
Pixels On The Half Shell
More and more I'm shooting raw image files to squeeze the maximum image quality out of each pixel. Hamrick Software's (www.canondv.com) VueScan 8.0 is not only the Swiss Army Knife for 100 different scanners but now supports raw files for 109 digital cameras. VueScan automatically adjusts images to optimum color balance, eliminating the need to do this manually inside Photoshop and includes built-in color calibration, plus supports more than 100 kinds of negative film. It also offers options for scanning faded slides and prints and batch scanning. The Mac OS and Windows Standard Edition of VueScan costs $59.95, but the Linux version is free for personal or educational use. A Professional Edition costs $79.95 and can create raw scan files and ICC profiles. This edition also supports multiple color space and IT8 color calibration. A fully functional trial version can be downloaded from Hamrick's website.
Hamrick Software's VueScan 8.0 is the Swiss Army Knife for 100 different scanners and now supports raw files for 109 digital cameras. It's available for Linux, Mac OS X, and Microsoft Windows and automatically adjusts images to optimum color balance.

LATEST VIDEO