Digital Innovations
A Myth Is As Good As A Mile
Wash And Wear Memory Cards
Here Mary Farace removes a sock containing the 32MB Lexar Media 4x CompactFlash card from a Maytag dryer after the first round of my "wash and wear" tests. When sheets and towels were washed, a sock was used to hold the CompactFlash card to keep South Park's "underwear gnomes" from stealing it. When shirts and pants were washed, it was placed in a pocket, much like you might do accidentally.
Photos © 2003, Joe Farace, All Rights Reserved
"It takes a licking and keeps on ticking."--John Cameron Swayze on Timex
A story oft told in photofinishing circles and one that is, perhaps, apocryphal goes like this: A customer walks into a minilab with a roll of 35mm film. He gives it to a clerk who holds the film in his hand while writing the order and then, suddenly, drops it onto the counter top. Now, the customer shouts, "All the pictures will be blurry."

One of the joys of writing this column is that readers provide me with anecdotal information on solving imaging problems that I pass on to you. An old friend relayed a story about how he washed and dried a Lexar Media (www.lexarmedia.com) CompactFlash card that had been inadvertently left in the pocket of his jeans. It was a remarkable story and one I shared with you in these pages. That's why I was surprised when another photo magazine labeled it a "myth." I've known this photojournalist for more than 20 years and his reputation and ethical standards are beyond reproach, so I knew it was true, but if it wasn't a myth, maybe it was a fluke? So I decided to try a test.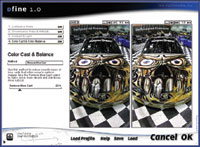 The nik multimedia Dfine plug-in lets you perform noise reduction, JPEG artifact reduction, and enhance color and light to produce better digital files at four different levels. You can use a simple QuickFix approach, or work with sliders to solve specific imaging problems. This image of a Mazda racecar, made with a Canon EOS D60, uses a combination of both techniques.
I started a photo session with a 32MB Lexar Media 4x card and captured 14 large JPEG files using a Canon EOS 10D before using a larger card for the rest of the shoot. Shortly thereafter, I ran the 32MB card (hey, I wasn't going to wash a 512MB card, just in case...) through as many normal wash loads as I could during the time this column was being prepared. Sometimes it was hot water, sometimes cold, other times liquid bleach was added, and the CompactFlash card was dried at whatever temperature the clothes required.

Legendary camera repairman and computer guru Vern Prime told me the dryer would create the most problems. "If the card gets too hot to hold," he said, "chances are it's cooked," and often the cards emerged from the dryer warm. After each wash and dry cycle, I inserted the card into a Belkin (www.belkin.com) card reader and successfully opened each of the files. Then I copied one of the images onto my Power Macintosh G4's hard disk--#13 for good luck--to see if there was any degradation. There wasn't.
My engineer friends will tell me that there are many variables in these ad hoc tests beginning with the water's Ph, kind of soap used, type of machines, and lastly the brand of card. But here's what I found: After 10 complete wash and dry cycles in a state of the art Maytag machine, this particular Lexar Media CompactFlash card still displayed all of the images originally stored on it without any problems and I've continued to use the card without incident. You may not want to try this at home, but if it accidentally happens the chances are darn good the CompactFlash card will emerge dry, maybe warm to the touch, but unscathed.
Connecting a digital camera to a computer is the slowest way to transfer data from memory cards. One of the faster ways is Belkin's Hi-Speed USB 2.0 8-in-1 Media Reader/Writer that transfers data from your digicam's memory card at speeds of up to 480MBps--40 times faster than USB 1.1.
Plug-In Of The Month
Previewed at photokina, nik multimedia's (www.nikmultimedia.com) Dfine is now shipping. Noise, like film grain for film photographers, is a part of the digital imaging process but Dfine lets you control it and redefine the finished image details. Dfine lets you perform noise reduction, JPEG artifact reduction, and enhance color and light to produce better-looking digital files at four different levels. At each step, you can use a simple QuickFix approach, like most nik plug-ins, or work with sliders to solve specific imaging problems. Dfine costs $99.95 and is compatible with Adobe Photoshop and Photoshop Elements for Windows 98/Me/NT/2000/XP and Mac OS X.

This is a two-part plug-in. The second is a profile (really a plug-in for the plug-in) that's created for your specific digital camera. Profiles cost an additional $14.95-$59.95 and provide precise control over the noise reduction process. The Camera Profile Controller, part of the profile, lets you selectively reduce noise against different color ranges, while taking into consideration the type of noise generated by the camera at a given ISO setting.
You don't have to carry a laptop computer to download digital camera files while shooting on location. The SmartDisk FlashTrax is like a slightly oversized PDA and does the same thing, while packing a 3.5" LCD screen for you to review the photographs.
Mac OS X Utilities Of The Month
Unsanity (www.unsanity.com) develops hacks, or haxies, that provide features missing in products for Apple's Mac OS X. WindowShade X adds a customizable WindowShade effect so you can quickly "roll up" a window on your screen and peek behind, or make it transparent. FruitMenu lets you customize the Apple menu and add frequently used drives and folders. My favorite is Xounds that adds the Appearance sounds found in OS 9 to Mac OS X. It has a $10 shareware fee. Unsanity's other products include Echo, a high-end audio media player for Mac OS X, and Mint Audio, a clever audio player that works with OS 9, too. Some freebies such as Silk, ShadowKiller, and Dock Detox (respectively) enable text rendering for Carbon applications, remove shadows from Mac OS X, and keep dock icons from bouncing up and down to get your attention, which is something Shutterbug contributor Rick Sammon (www.ricksammon.com) will find useful.
Digital Stuff You're Gonna Want
The linchpin of my "wash and wear" tests of the Lexar Media CompactFlash card was Belkin's Hi-Speed USB 2.0 8-in-1 Media Reader/Writer that lets you transfer image data from memory cards at speeds of up to 480MBps--40 times faster than USB 1.1--to your computer's hard drive. The $39.95 Belkin device has four slots dedicated to eight types of media, including CompactFlash I, CompactFlash II, SmartMedia, Secure Digital, MultiMediaCard, IBM Microdrive, (purple) Memory Stick, and (white) MemoryGate Memory Stick. Alas, xD-Picture card is not among them. The 8-in-1 Media Reader/Writer installs easily, is true plug-and-play, has hot swap capability, and since it draws power through the computer's USB port, requires no additional power supply.

Anti-Viral Software: One of the worst things that can happen to your computer is a virus attack that leaves dead and wounded files all over the hard drive. Symantec's (www.symantec.com) Norton Internet Security 3.0 for Macintosh is the latest version and includes Norton AntiVirus 9.0, which now finds and repairs Windows compatible viruses, offering protection from the most common type of viruses and helping prevent infecting your friend's and colleague's computers. Norton Personal Firewall 3.0 maximizes security by blocking inbound and outbound web traffic and features a setup assistant for easy installation and setup. If you have broadband access through a cable modem--it's on all the time--this is must-have protection. The package also includes Aladdin Systems' iClean to remove cookies, cache, and history files. A parental control feature blocks web sites you decide might be inappropriate for your children.

SmartDisk's FlashTrax: Somebody once told me that digital photographers take less gear on shoots than film shooters, but nobody's told my back. Even though my Apple iBook is relatively lightweight, it's still another piece of gear to schlep. At PMA, Editor George Schaub pointed me at a device that's going to make my back happy. For a few weeks I've been using SmartDisk's (www.smartdisk.com) FlashTrax to store images from memory cards on a built-in 30GB hard drive and display them on a folding 3.5" LCD screen. FlashTrax lets you select an image, zoom in and out, scroll and pan, or choose a slide show function--without using a computer. Images can also be viewed on any TV using a remote control. With USB 2.0 transfer speeds of up to 480MB/sec, FlashTrax can act as an external hard drive for transferring, storing, and accessing image data.
Confessions Of A Plug-In Collector
Recently Alien Skin Software's (www.alienskin.com) Xenofex 2, one of my favorite packages of plug-ins that includes the way cool Rip Open filter, stopped appearing in the Filter menu. In older versions of Photoshop, Adobe allowed 26 Filter categories with each one having a 255 filter capacity. While this limitation was fixed for later versions, the current Mac OS X version has a limit on the total number of folders that can be stored in the plug-in folder. If you have too many folders, a plug-in named Xenofex would never load because it was last in the alphabet. A workaround is to change the name of the Xenofex folder--just put an underline in front of the name--and it loads in a second. My problem was still too many folders, so I went through and tossed a bunch of folders containing plug-ins I seldom use. Not an elegant solution but it works until Adobe fixes the problem or the plug-in industry unites behind their own set of standards.

LATEST VIDEO