Delsey Introduces Seven New GOPIX Bags
Delsey has cut out the bulk and crafted its line of GOPIX bags and cases around the evolving technology and the user, providing carrying solutions that make it easier to get up and go without being weighed down by a larger than necessary bag. The new GOPIX 50 is suitable for compact digital cameras, video cameras or even a CD player. The GOPIX 50 has enough storage for six CDs and features external zippered side pockets and an opening for an earphone connection. The bag is very light, weighing approximately .60 pounds and, like the entire GOPIX line, features a compact design with measurements of 4" (L) x 2 3/4" (W) x 6" (H).
The new GOPIX 77 is ideal for a digital still, a 35mm SLR with multiple lenses or a video camera. All exterior zippers are designed with a reverse closure system creating an external and internal water-resistant cover. The GOPIX 77 also features exterior zippered side pockets, an internal zippered mesh pouch and a zippered back pocket. The GOPIX 77 has external dimensions of 6 1/2 "(L) x 5" (W) x 10" (H) and internal dimensions of 6 1/4" (L) x 4 3/4" (W) x 8 1/4"(H). With a comfortable padded hand grip and shoulder strap, the GOPIX 77 is great for the photographer on the go, weighing approximately 1 pound.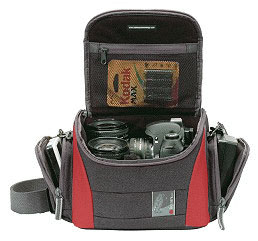 The GOPIX 82 and the GOPIX 92 are two new backpacks introduced by Delsey. The backpacks allow more room for gear, but still remain compact and easily carried. Both the GOPIX 82 and GOPIX 92 are designed to carry a 35mm SLR with an attached 80-200mm f/2.8 lens, additional lenses and accessories or a digital still or video camera. Both backpacks have multiple dividers and front organizer sections perfect for a PDA, cell phone or any other item. The GOPIX 82 weighs only 1.5 pounds and features external dimensions of 9 3/4" (L) x 6" (W) x 11 3/4" (H) and internal dimensions of 9 3/4" (L) x 3 3/4" (W) x 10 1/4" (H). The GOPIX 92 weighs 3 pounds and features external dimensions of 15 3/4" (L) x 4" (W) x 11 3/4" (H) and internal dimensions of 14" (L) x 1 1/2" (W) x 11" (H).
Delsey is also introducing a new line of cases specifically designed for the compact digital camera user, the GOPIX 2, GOPIX 3 and GOPIX 4. Each case features a mesh pocket perfect for holding extra media cards, batteries or other accessories and features a shoulder strap and belt loop. The GOPIX 2 is perfect for the smallest of digital cameras measuring only 3" (L) x 3/4" (W) x 3 1/2" (H). The GOPIX 3 and GOPIX 4 are slightly larger measuring 3" (L) x 2" (W) x 4 1/4" (H) and 3" (L) x 2" (W) x 6" (H), respectively.

LATEST VIDEO