Delicious Photography & Web Design; Having Your Cake And Eating It, Too
Photographing a cake can be art.
--Irving Penn
Although I am probably better known for eating cakes than photographing them, my late brother Michael Farace not only photographed cakes that were delicious examples of edible art, he baked them as well. You can see some of these delightful examples of sugar art in his book Cakes by Design, co-authored with his partner Scott Clark Woolley (www.cakesbydesign.cc). The book is now available in an affordable ($15.75) paperback version from Amazon.com.
© 2006, Scott Clark Woolley, All Rights Reserved

www.jerrygeistphotography.com
Born in Colorado, Jerry Geist moved to Cheyenne, Wyoming, when he was 2 months old and has lived there ever since. Geist's Wyoming images are collected into nine galleries, including New Additions, Landscapes, Sky Photos, Wildlife, Yellowstone, Other Places, Wildflowers, "Wyoming - Still Wild," and Buffalo, dedicated to his favorite large animal. Clicking on any of the galleries' names either opens the collection or displays another--sometimes long--list of sub galleries, each one filled with images of subtle natural beauty that are embodied in Geist's landscape and nature photography.
© 2006, Jerry Geist - Images of Wyoming, All Rights Reserved
I especially like his misty image of Devil's Tower (OK, it's a Close Encounters thing...) in the Landscapes gallery. Get this: Not only can you view Geist's images, but you can digitally frame them using a pop-up menu that shows the four basic frame types that he offers. Forget what the words "Sky Photos" connote and look at the images and learn about the secret beauty of Wyoming. The classic stylings and drama of "Northern Light over Great Fountain Geyser" would make Ansel Adams jealous--if he were still alive. Depending on size, Geist's prints can be expensive, but posters in the "Wyoming - Still Wild" gallery are more affordable. Take a look at "Tower Falls Yellowstone" and you'll want one. Before you leave, go back to the start page and click "The Teton/Snake River Panorama" (www.wyomingpanorama.com). This print is available in two sizes, either 5x24" or 8-feet wide. If you think it's unusual to have a separate website devoted to a single image, take a look. It's worth it.
www.buckmanphoto.com
Sheldon Buckman knows how to work the system. With a Yahoo! e-mail address and web hosting from SmugMug (www.smugmug.com) he's marshaled these Internet resources to serve a single purpose: To let the world see his arresting images. The photographs are arranged in eight galleries, covering topics from "Traditional Black & White" to "Beyond the Camera's Eye." Naturally, I went to the Infrared gallery first to see a small but tasty assortment of IR images, including the scrumptious "Garden chairs under Japanese oak, Providence, RI." Yes, kiddies, Uncle Sheldon includes detailed captions with his photographs.

The Beyond the Camera's Eye collection includes a doggone cute faux (monochrome) Polaroid manipulation of Beauregard a.k.a. Beau-Beau Buckman, a Canine-American. Yet, I think it's the Flowers collection that's most special. The exquisitely crafted, subtly manipulated and oh-so-beautifully composed images are magical. OK, I didn't think that "Yellow Iris" was up to the standard of the others, but like all of the images on Buckman's website, it was unexpected. Buckman says, "I believe an image should be visually entertaining." I was entertained and, hey, I love the ducks.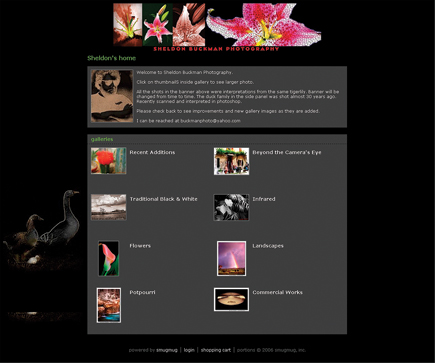 © 2006, Sheldon Buckman, All Rights Reserved
FEATURED VIDEO