Covering The Photo Beat
Thin Light Panel Displays, Cleaners For Video And Laptop Screens, And More
Satchel Bag For Laptops
New from RoadWired is the Skooba Satchel for laptop computers and more. This slim profile case will safely transport most laptops having up to 17" screens along with many gadgets and accessories. It features a patented "Air Square" protection system that completely surrounds the laptop with literally hundreds of shock-absorbing, air-filled pouches. Around the laptop compartment are over a dozen pockets to hold everything else. The bag also incorporates "Rivet Ready" attachment points, which readily accept optional Rivet micro clip system items. The bag is made of Ballistic nylon and has an interior lined with smooth nylon pack cloth. There are dual handles with padded grips and a removable shoulder strap. The Skooba weighs 44 oz and is offered in four different, contrasting color combinations at an MSRP of $99.95. Contact: RoadWired, Division of Three Point Ventures, LLC., 2180 Brighton-Henrietta Townline Rd., Rochester NY 14623; (877) 435-5679, (585) 697-3444;
fax: (585) 697-3447; www.roadwired.com.
Cleaning Products For Video And Laptop Screens
VidiMax is a new cleaning product from the makers of the LensPen that's intended for cleaning computer monitors and TV screens, scanner and copier beds, and similar types of specialized glass surfaces. A dust brush at the base of the holder easily removes dust while a soft cleaning pad (impregnated with the non-liquid LensPen cleaning material) safely removes any oily residues and smudges such as fingerprints. The base has a pad holding more of the cleaning compound for automatic replenishment. It's specifically designed for larger screens. Also new is the LapTop-Pro, an all-in-one laptop screen and keyboard cleaner. A brush is first used to remove dust and grit from under the keys. Next a super-soft brush is used to remove dust from laptop screens. Finally, a soft chamois pad containing the patented LensPen cleaning compound is used to remove dust, smudges, and fingerprints from the LCD screen. Both new products have an MSRP of $30. Contact: LensPen, Suite #1030 - 999 West Hastings St., Vancouver, B.C., Canada V6C 2W2; (877) 608-0868; www.lenspen.com.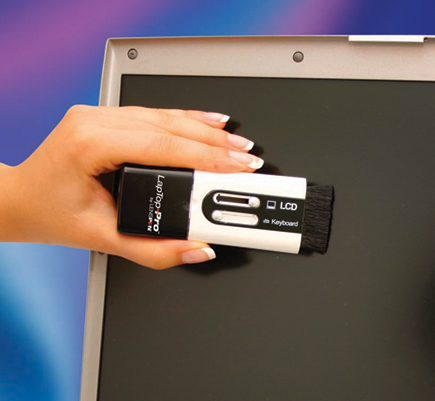 Lightweight, Thin Light Panel Displays
Two sizes of thin profile light panel/light box units have been introduced by Gagne. They are offered in both 5x7" and 81/4x111/2" versions that fit easily into a briefcase, portfolio, or storage drawer. The lamps provide 20,000 hours of light and are color corrected. A small AC adapter is included. They have a bidirectional stand for use in horizontal or vertical display, and can be hung on a wall. The top is Plexiglas, which is removable to insert transparencies for permanent installations. They are also suitable for drawing, tracing, and scrapbooking uses. Model LP-A4 (81/4x111/2") has an MSRP of $75 while model LP-A5 (5x7") is $40. Contact: Gagne, Inc., 41 Commercial Dr., Johnson City, NY 13790; (607) 729-3366; fax: (607) 729-7644; www.gagneinc.com.