Covering The Photo Beat: Lights, Lenses, Adapters & More
GiSTEQ Flashmate LED Light
Said to be the ideal lighting solution for use with HD-SLR or video cameras, the Flashmate F-198C uses LED "Matrix Lighting" technology to provide quality color as well as warm and soft lighting to enhance your subject matter. Compact, lightweight, and nearly heat-free, the unit features 198 soft-light LED bulbs, a color temperature adjustment function, a brightness control adjustment wheel, and a battery power indicator. It is eco-friendly, power saving, and expandable up to nine panels.
Contact: www.gisteq.com.
Photogenic ION Pure Sine Wave Inverter
The Photogenic ION Lithium-ion Pure Sine Wave Inverter is a compact, lightweight, and affordable AC power supply unit for use in the studio or on location. Weighing only 3.5 lbs and measuring 7.5x4.4x3.3", it features two AC outlets for two monolights and gives you over 3500 flashes at 320 watt seconds. The built-in USB port allows you to power-up your phone or other electronic devices. The ION comes complete with the inverter, lithium-ion battery, charger, carry strap, and adjustable multi-clamp.
Contact: www.photogenic.com.
Phottix Umbrella Swivel US-A3
The Phottix US-A3 model is an affordable umbrella swivel for use with off-camera flash units. Redesigned and crafted from durable aluminum alloy and fireproof PA66 plastic, the ball head design is easy to use and accepts most standard sized umbrellas. It has an 8mm locking mounting hole, a locking ring, and a metal cold shoe for mounting flashes. The US-A3 3/8" threaded female lug mounts onto many light stands. A 1/4" to cold shoe adapter is included to mount it to a hot or cold shoe accessory; this makes it easy to mount small monitors or other items to the flash shoe of a D-SLR as well. The suggested price is $24.99.
Contact: www.omegabrandess.com.
Tokina AT-X 12-28mm F/4 Lens
Designed for use with D-SLR cameras with APS-C (DX) sized sensors, the versatile Tokina AT-X 12-28mm F/4 lens has a super-wide to standard zoom range. The new optical design uses aspherical elements and super-low dispersion glass to focus marginal light rays and maintain sharpness at the edges while correcting distortion. The AF "GMR magnetic precision" control sensor is capable of fast autofocus and the "SD-M" (Silent Drive-Module) greatly lowers sounds created by the AF drive system. The Canon and Nikon mounts have a built-in AF motor to make them autofocus compatible with all current camera bodies. The lens weighs 18.70 oz and measures 3.31x3.54". The suggested price is $599.
Contact: www.kenkotokinausa.com.
Cotton Carrier Camera Vest
Neck and shoulder strain caused by the use of a traditional camera strap has long been an issue with photographers. The Camera Vest was designed to eliminate neck and shoulder strain as well as the nuisance of a swinging camera. Crafted from durable 1680 denier polypropylene, this one-size-fits-all vest features a rugged Lexan camera mount receptacle, machined anodized aluminum hubs, and a fiberglass-reinforced camera tether, hand strap, and universal tripod adapter plate. There are two versions of the Camera Vest and the 2 Camera Vest includes a detachable side holster for a second camera.
Contact: www.cottoncarrier.com.
9x13" Inkjet Photo Paper
Red River Paper is now offering 9x13" inkjet photo paper, a standard size for many inkjet printers. The size is available in glossy, luster, satin, matte, and fine art inkjet paper surfaces in boxes that contain 20 to 50 sheets. Prices start at $19.99.
Contact: www.redriverpaper.com.
jAlbum 11 Software
A fast and easy way to share your media files on the Internet is jAlbum 11. Simply drop your photos, videos, and folders into jAlbum and it creates web galleries for you. The files are downscaled by about 90 percent for faster uploads and the built-in FTP uploader lets you publish the albums on your own hosting and domain. Note that jAlbum does not claim any rights to your images and the commercial features make it easy to sell your images as prints or by digital download. It can handle a large volume of images. The software features include a wide variety of album skins; filters; a drag-and-drop
user interface; and batch watermarking, downscaling, and uploading. It comes in 32 languages with a built-in translator tool and the software works on Windows, Mac OS X, and Linux systems.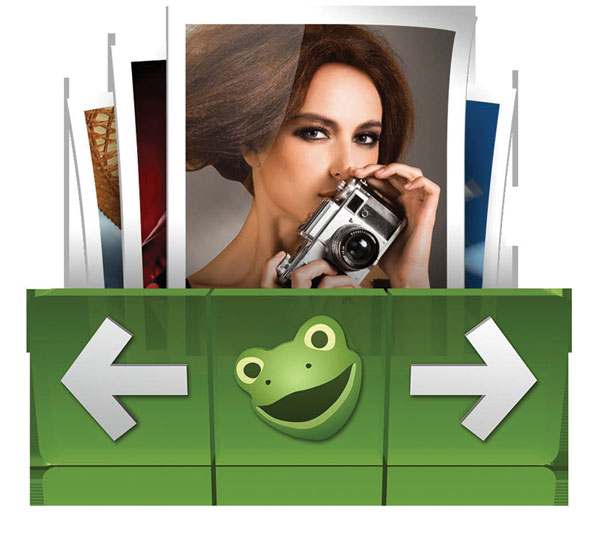 Contact: http://jalbum.net.
FEATURED VIDEO