Covering The Photo Beat: Lighting Kits, Controllers, Cases & More
Rogue Master Lighting Kit
Designed for advanced speedlight photographers who want to create multiple lighting setups using various accessories, ExpoImaging is now offering the versatile Rogue Master Lighting Kit. It includes a large FlashBender reflector, large diffusion panel, small FlashBender reflector, bounce card/flag, universal gel kit, 3-in-1 honeycomb grid, and grid gel kit. The suggested retail price is $199.95.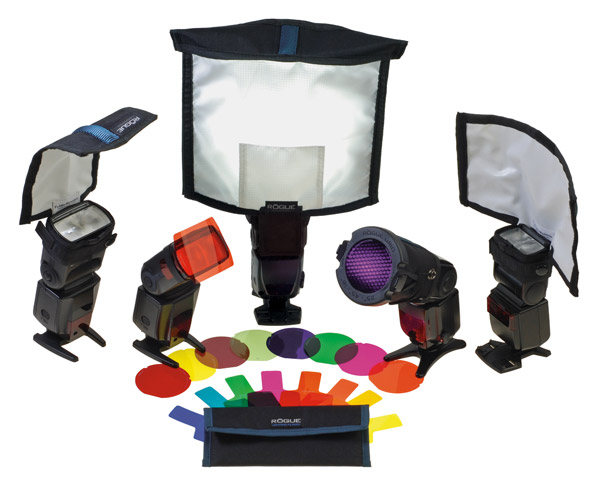 Contact: www.expoimaging.com.
The Quantum CoPilot
The CoPilot is a compact, lightweight, user-friendly wireless TTL flash controller with autofocus assist. It allows you to easily set ratios for three groups of radio-controlled flashes (Qflash TRIOs or QF5d-Rs and/or any non-Quantum flash connected to a Quantum FreeXwire receiver) right from your camera. The infrared autofocus assist helps your camera to focus indoors or outdoors in low-light conditions. Simply mount the CoPilot to your camera's hot shoe and adjust the dials as you work. The device measures 3.6x1.8x2.3", weighs 5.2 oz, and has a range of 300 feet. The model QF91C is for use with Canon and the QF91N is for use with Nikon D-SLR cameras.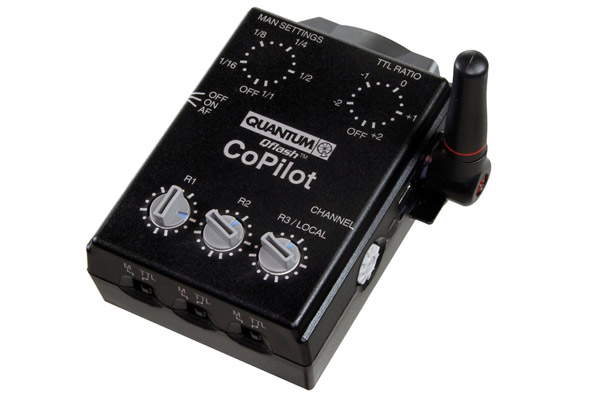 Contact: www.qtm.com.
Calumet Pro Series Speedlight Powerblock 900
Compact and portable, the Pro Series Speedlight Powerblock 900 is ideal for wedding and other location shoots. Measuring just 4.2x5.8x1.8" and weighing 1 lb, this device can be easily clipped to your belt or carried with a shoulder strap to power most Canon, Metz, Nikon, Quantum, and Sony speedlights. It features a high-quality 9.6v/2000 mAh, Ni-MH battery to provide up to 500 full-power flashes from a two-hour charge and it recycles in 1 second. It has a four-LED power monitor that allows you to keep track of how much energy remains and the low power indicator blinks when the energy is low. The Powerblock 900 comes with a belt clip, shoulder strap, universal charger, car charger, and instruction manual. Other cables are sold separately.
Contact: www.calumetphoto.com.
New Kits From LumiQuest
LumiQuest is now offering three kits designed and created in the U.S.A. for specific photographic applications. The Strobist Kit ($76.95) features flash modifiers from David Hobby (www.strobist.com) and includes a LumiQuest SoftBox III, FXtra, and two UltraStraps. The Wedding/Event Kit ($68.95) includes a LumiQuest Quik Bounce, FXtra, and UltraStrap. The Location/Portrait Kit ($99.95) includes a SoftBox III, Snoot XTR, FXtra, and two UltraStraps.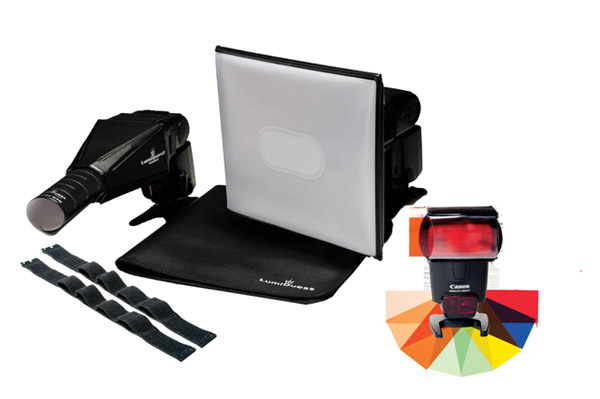 Contact: www.lumiquest.com.
Chimera Studio System Kits
Perfect for use in a small home studio, these lightweight kits are portable and easy to store. The Chimera Studio System Kit Basic includes three 42x82" frames, one 42x42" frame, four frame joiner sets (three clips each), two 42x82" white/black panel fabrics, one 42x42" white/black panel fabric, and a duffle bag to store it all. The suggested retail price is $775. The Chimera Studio System Kit Plus includes everything in the Basic Kit, plus the following: one 42x82" frame (total of four), two 42x82" white/black panel fabrics, one 42x82" shoot through Chimera panel fabric, one 42x82" reflective silver/black panel fabric, one 42x42" reflective silver gold zebra/soft white panel fabric, two grip heads, and one frame joiner set (three clips each). The suggested retail price is $1400.
Contact: www.chimeralighting.com.
The XP PhotoGear AirBox
XP PhotoGear's AirBox is a unique 24x32" studio softbox that utilizes wind tunnel and light dispersion technology to create a wind-resistant light modifier. It features an internal airflow system that guides air through the box and out through the open holes in the front. The flow can be regulated by opening or closing the air vents as needed, and the open vents also regulate the light value.
Contact: www.xpphotogear.com.
Lightware Rolling Cargo Case
Measuring 51.5x15x14" and weighing 22 lbs, the rugged Rolling Cargo case is built with a rigid inner core covered with a padded, soft tricot, touch-fastener-compatible fabric. The wheel system features machined T6061 anodized aluminum housings made in Colorado and the high-speed skate wheels with Abec bearings provide a smooth ride over nearly any terrain. The case's flip lid zippered top can be securely shut while the molded ergonomic end handle allows for comfortable steering. The strong side and end grab handles are bolted through the superstructure of the case and aid in the ease of lifting and loading. The case's interior lid features two sleeved compartments large enough to accommodate light boxes, umbrellas, or small fabric backgrounds, and the included dividers aid in organizing all of your gear. The suggested retail price is $963.95.
Contact: www.lightwareinc.com.
LaserSoft SilverFast 8
LaserSoft Imaging has announced SilverFast 8 support under Mac OS Lion for the Microtek ArtixScan M1/F1. The demo version, which can be turned into the full version after purchase, can be downloaded from their website.
Contact: www.silverfast.com.
To submit information for Roundup, please contact our New Products Editor by e-mail at: Cynthia.Boylan@sorc.com or regular mail at: Shutterbug Magazine, 1415 Chaffee Dr., Ste. #10, Titusville, FL 32780.
FEATURED VIDEO