Covering The Photo Beat; Fast Telephoto For Leica Rangefinders, Calendar Frame, Portable Studio, Plus More
Calendar Frame For Photos Or Printed Data
This thin, decorative contemporary-designed Calendar Frame from manikken will hold up to 16 standard letter size (8.5x11") drop-in calendars, photos, or similar planning and coordination documents for businesses and families. It's offered in three colors--lime green, misty blue, or milky pink--and mounts easily with included magnets and hook for placement onto a refrigerator, wall, or partition. Purchasers can download functional, ready-to-print documents (such as calendars, action planners, directories, message boards, etc.) from the firm's website. They have an MSRP of $20. Contact: manikken, 6340 Sponson Ct., San Jose, CA 95123; (408) 362-1001; www.manikken.com.
Connectors Adapt Popular Strobes And Hot Lights For Use With Photoflex Softboxes
Three new connectors offered by Photoflex are intended for use with various models of strobes and hot lights made by Novatron, JTL, and Lowel. All are made of heat-resistant cast aluminum for durability and long life. They make it easy to use large softboxes such as Photoflex's 7-foot diameter OctoDome, SilverDome, WhiteDome, HalfDome, MultiDome Q3, and LiteDome Q3. The Novatron standard connector mounts onto a Novatron strobe inside a softbox. It has a MSRP of $63. The JTL version for their strobes and hot lights use a three-point, bayonet-style fitting and lists for $80. The Lowel Omni connector is used with Lowel's Tota and DP tungsten lighting fixtures and has a rotation system for easier softbox positioning. The MSRP is $80. Contact: Photoflex Products Inc., 97 Hangar Way, Watsonville, CA 95076; (800) 486-2674, (831) 786-1370; fax: (831) 786-1371; www.photoflex.com.
Fast, Medium Telephoto For Leica Rangefinder Cameras
The Leica APO-Summicron-M 75mm f/2 ASPH lens is for use with Leica M bayonet-mount cameras. It is the first Leica rangefinder camera lens to incorporate a floating element that changes position during focusing. This allows this fast lens to focus down to just 27", making it excellent for portraits and candid reportage subjects in addition to general available light photography. Even at maximum aperture this lens is said to produce high-contrast images. The MSRP is $2695. It includes a built-in telescopic lens hood. Contact: Leica Camera Inc., 156 Ludlow Ave., Northvale, NJ 07647; (800) 222-0118, (201) 767-7500; fax: (201) 767-8666; www.leica-camera.com.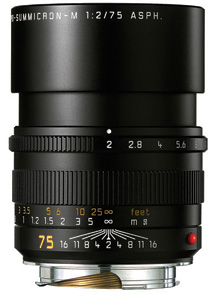 Camera Cell Phone Tripod
Cell phones with built-in cameras are a rapidly growing trend but until now there was no decent method to steadily hold the device other than handheld when taking a photo. The small and lightweight Cellpod is a sturdy, tiny tripod that easily attaches to any cell phone camera using only the standard attachment used to hold the cell phone to a belt. When attached, it can be swiveled to the proper framing position and locked there for taking a shake-free photo. It has an MSRP of $25. Contact: Joy Innovations, Inc., 1966 Tice Valley Blvd. #415, Walnut Creek, CA 94595; (866) 943-1800, (925) 943-1800; fax: (925) 947-5625; www.joyinnovations.com.