Covering The Photo Beat: Battery Grip Sampler, Wi-Fi Card & Camera Carriers
Battery Grips
A trio of new battery grips is on offer. The Pixel Vertax series (Argraph) gives you a firm handle on your camera while providing a power boost. Features include a vertical shutter release, shutter and aperture control wheels (Nikon models or a single wheel for Canon), exposure lock, multifunction control buttons, and more. The grips accept AA batteries (alkaline or rechargeable) or camera batteries for added shooting capacity. The grips offer excellent dust and moisture seals and a rubber handgrip for slip-free control. They are made for use on current and newer model Nikon and Canon cameras. Prices start at $79.
Phottix battery grips (OmegaBrandess) are made for use with Nikon cameras. Model BG-D800M ($199) gives D800 users a grip that holds one EN-EL15 battery pack or eight AA batteries. Features include a vertical release, dual control dials, a multifunction controller, and an AF-ON button. Model BG-D600 ($139) for the D600 is similar but it runs on six batteries and provides an AE-L/AF-L button.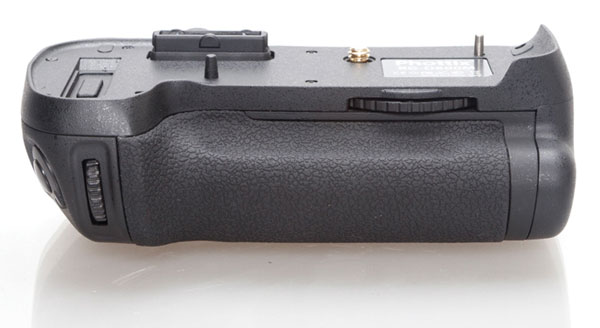 The Xit Group offers a series of battery grips for use with Nikon and Canon cameras. The Nikon D600 model (XTNG600, $99) features a vertical shutter release. Xit offers a choice of using either a battery cartridge that holds an EN-EL15 lithium-ion battery (sold by Xit) or a cartridge that holds six AA batteries. The Canon EOS 6D model (XTCG6D, $99) is similar but it uses the six AA battery cartridge or a cartridge that holds two LP-E6 lithium-ion batteries.
Contact: www.argraph.com, www.omegabrandess.com, www.xit-group.com.
Transcend Wi-Fi SD Card
The Wi-Fi SD memory card instantly adds wireless capability to an SDHC-compatible digital camera. Simply install the Wi-Fi SD card and download the free app to deliver images to your smartphone or tablet. The SD card has two modes: Direct Share and Internet mode. The Direct Share mode activates as soon as the camera is powered on and allows peer-to-peer connections between the camera and the mobile device. You can switch to Internet mode and connect to a nearby hotspot or use the personal hotspot on your smartphone or tablet. This allows you to browse and download photos from the Wi-Fi SD card and e-mail them to friends or upload them to a social network website. The app's Shoot & View feature takes advantage of the advanced capabilities of digital cameras and the large screens of mobile devices for more efficient postproduction. The Wi-Fi SD card is available in 16GB ($69) or 32GB ($99) capacity.
Contact: www.transcend-info.com.
ECBC Bags
ECBC recently introduced their new K7 line of backpacks and messenger bags. Crafted with puncture- and tear-proof Kodra material, these bags are strong, functional, and fashionable. The Thor Laptop Backpack ($119.99, MSRP) features plenty of organizational and top zippered pockets for various gear or personal items, an ergonomically designed shoulder strap system, and a comfortable breathable back padding design. The Hercules Laptop Backpack ($139.99, MSRP) features a removable padded TSA-compliant back panel compartment for your computer. The Poseidon Messenger ($99.99, MSRP) can hold a 13" laptop and various accessories. It has multiple interior pockets for items such as power cords and memory devices or other supplies. The Zeus Messenger ($119.99, MSRP) is larger and fits a 15" laptop plus a tablet and accessories.
Contact: www.ec-bc.com.
Print With GigaPan Systems
Now you can purchase and print HD, interactive gigapixel images created with GigaPan technology directly from the GigaPan website. There are hundreds of images in the public gallery or you can take advantage of the service to print your own or allow others to print them. Sizes include 6", 8", 13", and 24" heights. Mobile users can now enjoy HD, interactive images on the go with GigaPan's new viewing capability that allows images to be embedded on all external websites accessible via iOS devices.
Contact: www.gigapan.com.
Carry Speed Sling Pouch
The Sling Pouch offers protection for your camera while adding extra functionality to any sling strap. Made from a heavy neoprene material that will protect your equipment when not in use, the Sling Pouch includes a belt loop clip to prevent your camera from swinging during heavy activity. It will be available in four sizes—small, medium, large, and extra large—and will fit a range of smaller mirrorless cameras to full-sized SLRs with or without a battery grip attached. The Sling Pouch includes a small pocket to carry spare media cards, spare batteries, or other small accessories and is compatible with a variety of existing sling straps on the market, including the entire line of Carry Speed's Professional Sling Strap Systems.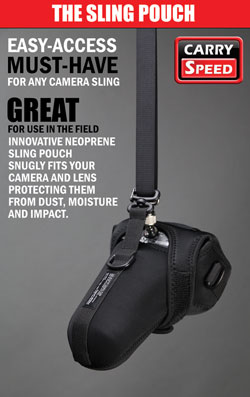 Contact: www.carryspeed.com.
Submit!
To submit information for Roundup, please contact our New Products Editor by e-mail at: Cynthia.Boylan@sorc.com or regular mail at: Shutterbug Magazine, 1415 Chaffee Dr., Ste. #10, Titusville, FL 32780.
FEATURED VIDEO