Covering The Photo Beat: Backpacks, Lens De-Creepers & Smartphone Remotes
Tamrac Evolution Speed Roller Backpack
This versatile rolling backpack allows you to roll your heavy photo gear on smooth ball-bearing wheels, but converts to a backpack when needed. The bottom compartment holds a D-SLR with a 70-200mm f/2.8 lens attached (up to 8"), several extra lenses, and a flash. The top compartment is completely foam-padded and also features adjustable, foam-padded dividers to hold a second D-SLR with a 6" lens attached and two small lenses. When a second camera kit isn't needed, the top compartment holds personal items. A foam-padded pocket holds up to a 15.6" screen laptop. Tamrac's QuickClip tripod attachment system holds a professional tripod centered and balanced on the front of the pack. The Tuck-A-Way harness system keeps the backpack harness out of the way when used as a roller.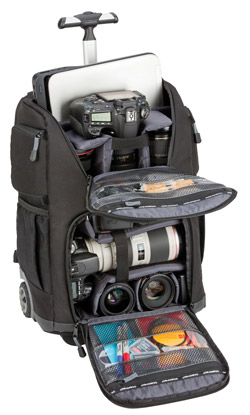 Contact: www.tamrac.com.
ioShutter For The iPhone, iPad, And iPod touchEnlight Photo is now offering the ioShutter, a cable and an app designed for use with your iPhone, iPad, or iPod touch that lets you fire a connected camera. The cable connects to the headphone jack of your iOS device and to the camera's remote input. The ioShutter is compatible with Canon, Pentax, and Hasselblad models with a 2.5mm remote port, plus N3 socket Canon cameras as well. The app provides several operating modes, including a Countdown Timer, Timelapse, and Bulb, as well as activating the camera by sound or shaking your iOS device.
Contact: www.ioshutter.com.
The Lens Band
The Lens Band is a simple, durable, and inexpensive way to prevent the problem of lens creep. When pointed up or down the weight of a zoom lens will cause it to extend or "creep" out of position. This tough silicone rubber band stretches over the zoom ring of the lens and locks it securely in place, solving this annoying problem. The Lens Band fits many popular zoom lenses and is available in a variety of colors.
Contact: www.lensband.com.
Digital Display Box
Midwest Photographic recently introduced the Digital Display Box. A unique and safe way to store your albums and photos, the box currently comes in 10x10" and 12x12" sizes with more choices coming soon. It includes a remote control and an 8" video screen with sound. The box can be displayed upright or the screen can be folded down for easy transport and protection.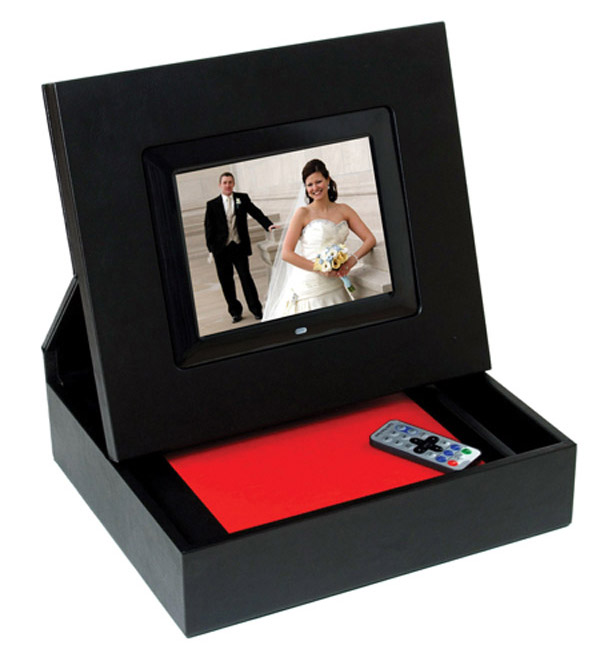 Contact: www.midwestphotographic.com.
Series 5 Equipment Cases
BETA Shell is now offering the Series 5 line of cases for photo and video equipment. These rigid cylindrical cases are shock-, water-, and dust-proof. Strong yet lightweight, they feature a patent-pending memory foam support system to protect against impact and a heavy-duty O-ring to seal out moisture and dirt. The twist lid provides fast access and the Series 5 includes Fit & Trim kits that let you customize the case to your gear.
Contact: www.betashell.com.
One Bag Version 2
The stylish, lightweight One Bag is crafted from ultrahigh-quality wetsuit-grade neoprene. It can easily accommodate a 15" to 17" laptop, photography equipment, and assorted electronics. It features an ultra-soft lining and four pockets, and the Photo Insert allows you to change the laptop bag into a camera gear bag with three pockets for lenses and other gadgets. The designer neoprene strap features leather bindings and stretches to conform to your body. The swappable designer covers are sold separately and allow you to transform your bag for any occasion. Version 2 is 1" wider than the original and offers more accessory pockets. It comes in Black Leather, Midnight Web, and Smokey Damask covers. The suggested price is $128.
Contact: www.undfind.com.
Album Jewelry
Album Jewelry was recently introduced for the award-winning Kingston Flush Mount Album line. Designed to add unique flare to the cover, these embellishments raise custom photography albums to the next level of creativity.
Contact: www.albumsunlimited.com.
To submit information for Roundup, please contact our New Products Editor by e-mail at: Cynthia.Boylan@sorc.com or regular mail at: Shutterbug Magazine, 1415 Chaffee Dr., Ste. #10, Titusville, FL 32780.
FEATURED VIDEO