Compact Digicams A Pro Could Love; Canon's PowerShot G10, Nikon's COOLPIX P6000, And Panasonic's Lumix DMC-LX3: Which One's Right For You? Page 2
G10 Evaluation: Considering its size/weight, this is the least portable camera of the three, but it's the most versatile in terms of the zoom range. Wider maximum apertures would be useful but the lens is very good in all aspects: high edge-to-edge sharpness, little distortion, and minimal chromatic aberration. While the Continuous Drive mode is not super fast, the G10 provides excellent burst depth even in Raw Capture mode. In my estimation, this 14.7-megapixel PowerShot model is the most likely to attract long-time photographers due to its classic styling, some traditional controls, convenient manual focus, and a feature set that targets the experienced shooter.
All three cameras offer a Macro mode for very close focusing but this type of photography really benefits from a 100mm or longer focal length available only with the Nikon and Canon models tested. (This ISO 800 JPEG was made at the Nikon COOLPIX P6000's longest focal length, using the widest available aperture: f/5.9.)
Nikon's COOLPIX P6000
Boasting a built-in GPS device and Ethernet compatibility, this 13.5-megapixel model with a magnesium-alloy shell is surprisingly compact. When not in use, the COOLPIX P6000 fits nicely into a very small shirt pocket or purse. The 2.7" LCD screen is a tad low in resolution at 230,000 dots but there's also a small (zooming) optical viewfinder. It's only acceptable in terms of scene coverage (about 75 percent), sharpness, brightness, distortion, and framing accuracy, but still useful in difficult lighting conditions.

Manual focus is available but it's not as convenient as with the other two cameras. The Nikkor 28-112mm lens is versatile, but its maximum apertures are small at telephoto (a mere f/5.9 at 112mm). That can be a problem in low light. A P6000 user will need to use a higher ISO level (for a fast shutter speed) than owners of the other two cameras; that will mean lower image quality in such conditions.

Feature Set: This Nikon camera is loaded with all types of features, making it useful for both novices and D-SLR owners. It's particularly versatile with accessories, especially the 0.76x converter for a 21mm focal length equivalent. Raw capture is available but the new NRW format is not supported by Nikon's optional Capture NX software. In camera conversion to JPEG is possible and Nikon supplies View NX—for Windows only—for raw photo conversion. (Note: Adobe Camera Raw supports all three of the cameras discussed in this report.)

Geotagging: One of the very few digicams on the market with a built-in GPS, the P6000 allows for geotagging images with data about the latitude/longitude where they were taken. It takes about 10 minutes for the initial fix as to its geographic location the first time the GPS feature is turned on. In subsequent use, that process usually takes less than 3 minutes. The GPS works fine in many outdoor locations except when surrounded by tall buildings. It does lose contact with the satellites when you go indoors. When that occurs, the camera can use the last known position (the entrance to the building) to tag the subsequent photos. To maximize the value of this feature, set the "valid storage period" to the two-hour option.

The GPS must be turned off when the P6000 won't be used for a while; otherwise, it will constantly attempt to keep a fix on the satellites, draining the battery even when the camera is turned off. During my tests, accuracy was usually very good, within about 5-10 yards of the exact location. While the GPS feature required study of the Owners Manual, and only worked sporadically in some urban locations, it was fine in other respects. Geotagging is particularly useful while traveling extensively. After returning from a trip, it's easy to identify each photo location; the Nikon View software can plot the locations on a map for convenient reference.

Speed and Quality: The P6000 is quite fast. Start up takes about 1.5 seconds; autofocus is quick outdoors, rarely taking more than 0.5 seconds. In dark locations, AF slows only a bit with nearby subjects (within range of the focus-assist beam) but sometimes struggles with distant subjects at long focal lengths. The lens—with two ED elements—is capable of high resolution but chromatic aberration (purple fringing) is visible in telephoto images. That was easy to fix with the relevant Adobe Camera Raw tool in Photoshop CS4. Barrel distortion is obvious at wide angle but that's easy to prevent with the camera's Distortion Correction (processing) feature.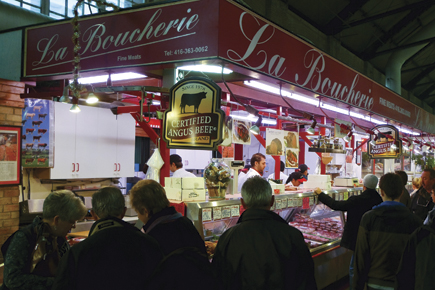 The Panasonic Lumix DMC-LX3 is equipped with an unusually "fast" lens, with maximum apertures of f/2-2.8. Shooting at such wide apertures provides fast shutter speeds, minimizing the need for higher ISO levels to freeze subject movement or minimize blurring caused by camera shake. Image quality is very good at maximum apertures, thanks to the four aspherical elements and the automatic aberration correction processing. (This ISO 100 JPEG was made at f/2.4 and 1⁄10 sec at a 40mm equivalent.)
Images made at ISO 64-200 look very punchy: clear and very crisp with vibrant colors and snappy contrast that emphasizes sharpness. My best photos made for very good 11x14.7" prints. By ISO 400, a fine but tight "grain" pattern is visible; these images were suitable for very nice 8x10" glossies. At ISO 800, JPEGs made in dark locations exhibit obvious speckling exaggerated by the strong in camera sharpening; they're also a bit "mushy" because of aggressive NR processing. Both aspects get worse at each higher ISO level. Slightly better results are possible at ISO 800+ by using raw capture and setting just the right level of sharpening and NR in a versatile converter program.

P6000 Evaluation: While the P6000 is not really intuitive in some aspects of operation, the instruction manual provides useful guidance. If considering this camera, I would be more concerned about the lens' small apertures, the high ISO issues, and the slow speed in Raw Capture mode. On the other hand, many of my images look great even before adjustment in Photoshop; the zoom range provides adequate versatility; the camera's feature set is quite comprehensive; and the built-in GPS is a definite bonus. This combination of benefits should certainly attract families and some experienced shooters who need a small camera with the features required for serious photography.
Because it's equipped with an Ethernet port, the Nikon COOLPIX P6000 allows for uploading data to your page at www.mypicturetown.com with wired connection to a home computer network's router. This photo storage/sharing website is free (with 2GB of storage space); it allows the user to set up albums and organize photos, to e-mail images, to publish them to Flickr, and to link photos to blog sites. Additional storage (to 200GB) is available for an extra fee ($3 per month per 20GB).
Panasonic's Lumix DMC-LX3
Smaller than the COOLPIX P6000 but thicker due to the protruding lens barrel, this 10.1-megapixel Lumix model boasts a 24-60mm equivalent Leica D lens, targeting those who love wide angle photography. The maximum apertures (f/2-2.8) are unusually wide, providing faster shutter speeds that minimize the need to use high ISO levels. While the DMC-LX3 is not impressive in terms of sensor resolution, Panasonic intentionally minimized the number of pixels. Hence, each of the photodiodes is slightly larger and more sensitive, for wider dynamic range and better high ISO quality. The lower resolution also allows for faster processing and hence for an unusually fast burst rate.

This a very stylish camera with a magnesium-alloy shell and a moderately large grip but no viewfinder; an optional (non-zooming) accessory finder is available, with the field of view provided by a 24mm focal length. Although the lens barrel protrudes by 0.8", the DMC-LX3 fits into an average size shirt pocket or a moderately small purse. There's a large mode selector dial and plenty of other analog controls, including a Quick Menu joystick for convenient access to nine functions. Although the buttons—and their markings—are very small, this Lumix camera is very intelligently designed; it's the most intuitive of the three tested in terms of overall operation.

Feature Set: The DMC-LX3 is remarkably well specified and includes some unusual options such as three aspect ratios: 4:3, 3:2, and the long/narrow 16:9 format. Resolution is also a bit lower at 3:2 and 16:9—9.5 megapixels and 9 megapixels, respectively. The 16:9 format will appeal to anyone who will display their photos or high-resolution videos on an HDTV. HDMI output is available with an optional cable for high-definition connection to a widescreen TV. Note, too, that Panasonic markets a 0.75x converter that will cause the camera to provide an incredibly wide 18mm equivalent focal length.

High-tech features include Intelligent ISO mode. When selected, the camera detects subject motion; it automatically boosts the ISO as necessary to achieve a shutter speed that's likely to freeze the subject. Intelligent Auto mode is even more impressive. It activates a series of functions that should allow even a novice to get great pictures in most circumstances. The combination includes the Image Stabilizer, Intelligent ISO, Intelligent Exposure (dynamic range expansion), automatic Scene mode selection with Continuous AF or Face Detect AF when appropriate. Any of these functions—or the very convenient Manual Focus mode—can also be selected individually for more personalized control.

Performance and Quality: Thanks to the Leica D lens with four aspherical elements—plus automatic in camera aberration correction during JPEG processing—the DMC-LX3 holds the potential for excellent image quality even at f/2 or f/2.8. In the Standard Film mode, JPEGs exhibit moderate color saturation, fairly low contrast (for plenty of highlight and shadow detail), and slightly low sharpness. I would recommend boosting saturation and sharpness—as well as contrast in flat lighting—by about +1 for more pleasing JPEGs. That's not necessary in raw capture of course, since numerous image parameters can be adjusted in the SILKYPIX converter program.

At the default NR level, digital noise is not obvious at ISO 80-200 and dynamic range is very wide, perhaps because of the large pixels. After a bit of sharpening, my best photos made 11x14.7" prints that look great from a typical (3 or 4 foot) viewing distance. Under closer scrutiny however, it's obvious that higher resolution would be useful. Panasonic's NR processing is gentle so there's little loss of texture even at ISO 400; that's a better than average performance. At ISO 800, the images are unusually smooth but fine details are quite well maintained; after some sharpening in Photoshop, I made some decent 8x10" glossies. At higher ISO levels the quality deteriorates noticeably, but ISO 1600 is still quite acceptable for 5x7" prints.

LX3 Evaluation: This was my favorite camera of the three tested in several aspects: styling, convenience of operation, framing speed, the superb lens' ultra-wide apertures, and the sophisticated raw converter software. While high ISO quality is better than average, it was great to shoot at f/2 or f/2.8 in low light, using a lower ISO than I could with the other two cameras. This would be my first choice in a high-grade digicam if the lens extended to at least a 110mm equivalent. On the other hand, photographers who prefer wide angle image-making should be perfectly happy with the 24-60mm equivalent zoom.
The Bottom Line
All three of the cameras are full-featured; check the Specs to find the one with the functions that would best meet your personal needs. The Canon PowerShot G10 does have an edge in terms of its 5x zoom range, but the Panasonic Lumix DMC-LX3's lens offers wider angles and apertures. The Panasonic is also much faster in framing rate, although the Canon model provides much greater burst depth. In terms of low ISO quality in large prints, the G10 was the leader, partly because its sensor offers almost 50 percent more pixels. The DMC-LX3 provided the best image quality for letter-sized prints at ISO 400 and above because of its larger pixels, aspherical lens, and aberration control processing.

The Nikon COOLPIX P6000 came in third in terms of lens and image quality aspects—as well as framing speed and burst depth—but it was competing against two of the best digicams on the market. Let me emphasize that the COOLPIX model is very competent in many respects and its ISO 64-400 images produced very nice letter-sized prints. Frankly, those are the most commonly used ISO levels and print sizes. My daughters and their friends (all in their 20s) selected the P6000 as the
one they would buy, primarily because of its compact size and the built-in GPS feature.
View Chart (883 KB)

For more information, contact Canon U.S.A., Inc. at: www.usa.canon.com; Nikon Inc. at: www.nikonusa.com; and Panasonic Corporation of North America at: www.panasonic.com.
A long-time "Shutterbug" contributor, stock photographer Peter K. Burian (www.peterkburian.com) is the author of books such as "Mastering Digital Photography and Imaging" and a series of "Magic Lantern" guides to Pentax and Sony D-SLR cameras. He is also an online digital photography course instructor with BetterPhoto.com.
LATEST VIDEO