Classic Domke Shoulder Bags in Chic Denim Nylon: Fashionable Meets Functional (REVIEW)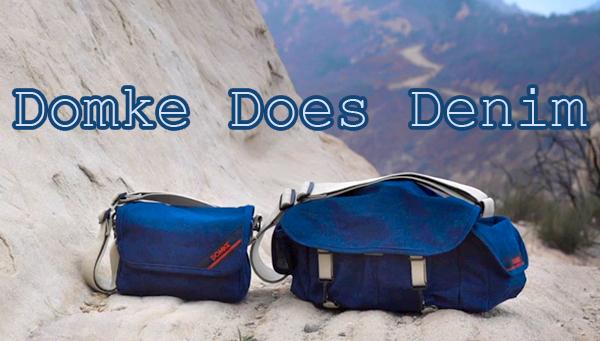 There's something about denim that says comfort with style. And the Domke F-5XB and original F-2 shoulder bags have been favorites of photographers since their introduction. Put this all together and you have a combination of Denim Domke that is bound to make you smile. Available now—and of course made in the US of A.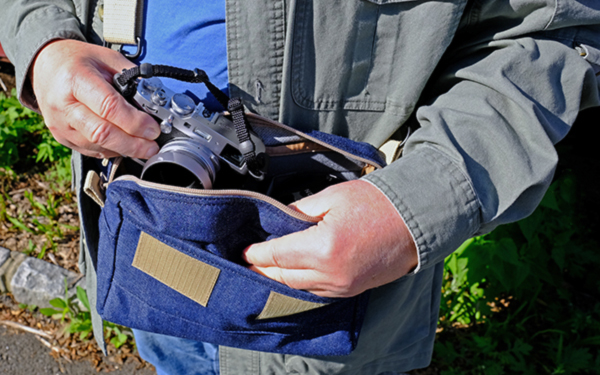 It's denim-color nylon, not cotton denim. Nylon is much more scratch and soil resistant, so we welcome that. The size, shape and high quality tailoring of the new limited-edition denim bags match their canvas counterparts, and the retail prices are comparable.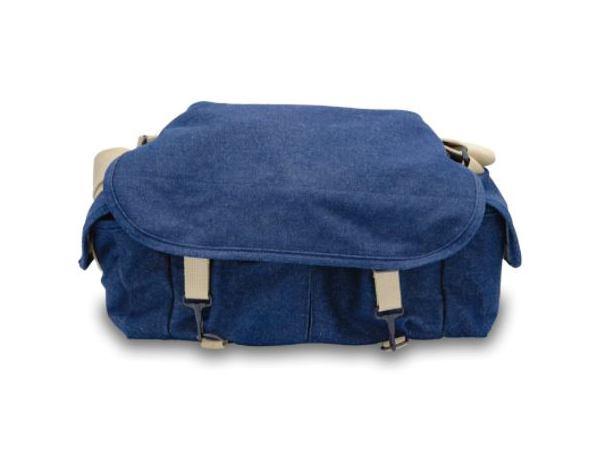 Domke F-2 Original Shoulder Bag
The original F-2 is the Domke bag that started it all. By now you've heard the story of how Philadelphia Enquirer photographer Jim Domke conceived and created the iconic Domke bag. If not, click here and take a look at the piece we ran a while back: The Bag Man Looks at Domke as they Approach One Million Bags Sold.
The F-2 bag has room to spare, and includes a padded insert that keeps four lenses and two cameras separated. Other configurations are possible, of course. Bottom is padded, too. There are six pockets including two large billow pockets on the front that can stow a large shoe mount flash, Platypod tripod, etc., and one large flap-covered pocket on either end.
By happy accident I discovered that the end pockets on the Domke F-2 bag accommodate a 16-ounce US Military-issue fighter pilot pocket canteen ($6.36 from Amazon). Easier to carry than a round commercial water bottle, and since the canteen can be used for years it's much kinder to the environment. This cargo choice never entered the mind of the bag designer, of course. You could also carry a light meter, lens, flash, gob of microfiber cloths, Popeye's Chicken sandwich or other drier things in these pockets instead.
Domke F-5XB Shoulder Bag
The Domke F-5XB bag has long been my personal favorite for casual shooting excursions. It holds "just enough" and is on the small side, so it never gets in my way. It's also the perfect car bag, with the strap looped over the headrest on the (empty) passenger seat. Usually I carry or wear the camera on my body and use the Domke F-5XB to tote three or four lenses or a couple lenses and a compact point-and-shoot like my Fujifilm X-100F.
From the photos I've included here you can see that the flap cover can be folded back so that it's entirely out of the way. If you don't need such freewheeling access, you can keep the flap closed but loose. The flap is held shut by hook-eye pads. For more security or to keep the dust out, the main compartment can be zipped shut (YKK zipper, naturally).
The F-5XB bag has a wide, strong shoulder strap that's studded with a gripper strip that really works—the strap stays put. There's also a long, wide loop on the bag through which you can thread a belt for waist wear. I've never seen anyone wear the F-5XB this way, but I tried. Once. Personally, I'd get more use out of another pocket on the back instead of the belt loop.
Here are more detailed specifications for the two models available in denim color.
Domke F-2 Shoulder Bag
17 x 9 x 6.7 inches (43.2 x 22.9 x 17 cm)
Weighs about 3.1 pounds (1.4 kg)
Holds 1-2 DSLRs, 4-6 Lenses, Accessories
Removable Padded Bottom
Six Compartments
Six Pockets
Gripper Shoulder Strap with Steel Snaps
Removable Hand Carry Strap
Unique Denim Nylon (Limited Edition)
Other Colors: Black, Olive, Sand, Ripstop Nylon, Camo
Made in the USA
Distributed by Tiffen, the people who made camera filters famous
Domke F-5XB Shoulder Bag
10 x 7.2 x 4.5 inches (25.4 x 18.3 x 11.4 cm)
Weighs about 1.0 pound (0.5 kg)
Holds DSLR or Mirrorless and 1-2 Lenses
Use as a Shoulder or Belt Bag
Five Compartments and Pockets
Gripper Shoulder Strap with Steel Snaps
Belt Loop – Converts to Belt Pack
Unique Denim Nylon (Limited Edition)
Other Colors: Black, Olive, Sand, Black Nylon, Camo
Made in the USA
Distributed by Tiffen, the people who made camera filters famous
Beware of Knockoffs
Less common than it was a few years ago, I still occasionally see cheaply made Domke clones online at prices that defy reality. I ordered a counterfeit once, just to check it out. It arrived after a few weeks but didn't look nearly as nice as it had in the auction listing. The strap was permanently sewn in—and it was backwards—the grippy side faced away from my shoulder instead of riding it tight. The seams were uneven, sewing was substandard and the canvas had a weird recycled appearance. I'm not a materials engineer, so I can't guess what the fabric contained, but it didn't look like cotton to me. If you want a Domke but are short on dinero, buy a used one. Some new models go on sale from time to time (as mentioned below). But whatever you do, don't waste your dough on a knockoff.
Price and Availability
The Domke denim F-2 costs $179 and can be ordered directly from Tiffen. Domestic ground shipping is free.
The Domke denim F5XB costs $99 and can be ordered from the Domke section on the Tiffen website. Domestic ground shipping is free.
Check out the Outlet store on Tiffen's website. The inventory changes constantly, but right now you can score a Domke F-5XB Rugged Wear should bag for $52. Unbeatable deal!
Also, Amazon does not currently offer the Domke duo in denim but they have some great prices on the F-5XB in camouflage (order from Amazon for $66.87) and the Domke F-2 original shoulder bag in olive green (order from Amazon for $119.90).
Which Domke Is Your Favorite?
Ever since I coined the phrase, "I've been taking pictures so long that I've nearly worn out my first Domke bag," people ask me to name my favorite Domke overall. Although I use the F-5XB often (including the leather-trimmed Fujifilm version I received as a gift at a Fujifilm press event), and the Domke F-2 Original is indispensible when I need to lug a ton of gear, neither is my honest-to-goodness everyday favorite model.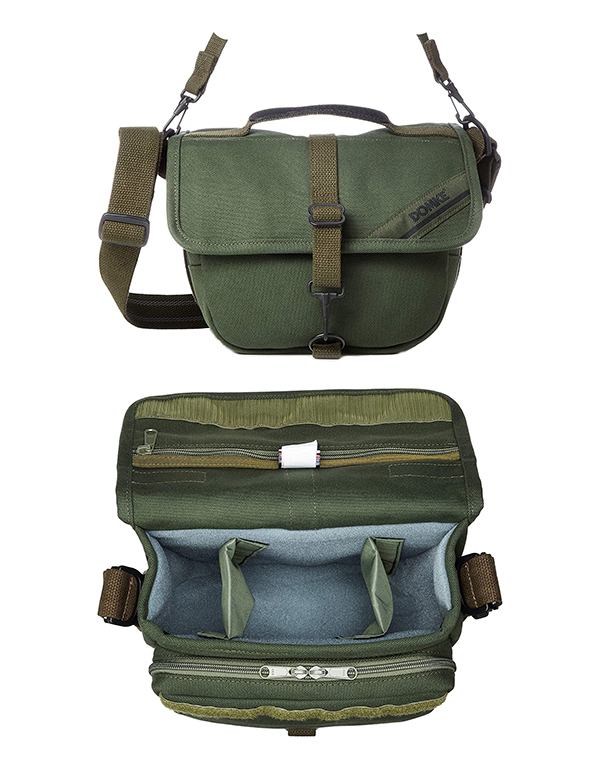 I like the less popular Domke F-10 most of all. It's just a little larger than the F-5XB but holds much more, has a very useful large pocket on the front that closes tight with a zipper, an open pouch-pocket on the back, and one sturdy steel snap that holds it closed (in addition to a strip of hook-eye fabric). There's also a zippered pocket on the back of the front flap. I added a Domke accessory shoulder pad to aide my aching back, but the wide strap has gripper strips along the full length so slippage is never an issue. I paid more than $100 for mine several years back. You can order one today from Amazon for $92.
—Jon Sienkiewicz
(As an Amazon Associate, Shutterbug earns from qualifying purchases linked in this story.)