Cecilia, Peak Design and UPstrap Camera Strap Review
Many people still use the wide camera strap that came with their digital camera, but I'll never understand why. You wouldn't wear the same shoes for all occasions and all weather conditions, would you? High heels to play softball? Moccasins with a tuxedo? Here are three unique straps from three excellent companies because one is not enough.
We can deride the camera straps that manufacturers provide because they are embroidered billboards that advertise a brand and scream "Expensive Camera!" for all to see. That's reason enough to store them with the empty camera box. I understand the attraction. Those straps are generally high quality, cost you nothing extra and—for some—flaunt a logo that validates the seriousness of their photographic addiction.
Here are three camera strap alternatives (three and a half, actually, as you soon shall see) worthy of your consideration. I own and use all three, and as my family will attest, I may sometimes wear boots that have holes them, but my camera strap is always in perfect condition and appropriate to the circumstances.
Cecilia Leather Mirrorless Camera Strap
When Michael Fleisch, managing director of a family-owned leathercraft dynasty that has spanned five generations, asked me if I wanted to take a closer look at their best-selling camera strap, of course I said yes. Two days later when the Cecilia Leather Mirrorless Camera Strap arrived I was shocked. It's the exact same strap I selected last year to secure my Fujifilm X-Pro2.
It's easy to understand why I had chosen that particular strap for my X-Pro2, and why it's Cecilia's best seller. It's strong—never have to worry about it breaking. It's exceptionally well made—right down to the oversize O-ring pads that protect my black camera from the chafing of the connection hardware. And it's damn good looking.
Meticulously crafted in the USA from full-grain cowhide leather, it features neoprene shoulder padding and reinforced nylon webbing for comfort and durability. It can be adjusted from 37 to 50 inches to accommodate any carrying style and it's supple enough to be stowed easily when the camera is packed in a shoulder bag. The adjustment sliders are metal, not plastic, and everything else about it is topnotch.
You can read more about Cecilia products in my Shutterbug review from last year.
Peak Design Leash and Cuff
Perhaps best known for their photo bags and backpacks (and phenomenal, multimillion dollar Kickstarter campaigns) Peak Design recently introduced upgrade revisions to their neck and wrist straps, products that are marketed under the labels Leash and Cuff respectively.
The key to Peak straps is the ease of attaching and removing them, thanks to their proprietary Anchor Mounts. Now in their third generation, the improved Anchor Mounts are low-profile and have thinner cords manufactured from ultra-strong Dyneema. Billed as the world's strongest fiber, Dyneema is the brand name for premium grade Ultra-High Molecular Weight Polyethylene (UHMwPE). It's so strong that even spiders are envious.
The Leash is available in black or grey (ash) and features all aluminum hardware. The nylon webbing is twist-resistant and sports a more durable weave. The thinner diameter cords make it easier to attach the Leash to more camera brands, including those that have very small eyelets.
The half-strap (wrist strap) alluded to in the opening paragraphs above, better known as the Cuff, similarly features the newer, more svelte Anchor Mounts, more durable nylon webbing and aluminum hardware. The new one-hand-adjustable design makes it easier to wear as an open loop at the end of your arm or snug around your wrist. Same color choices as the Leash and also available now.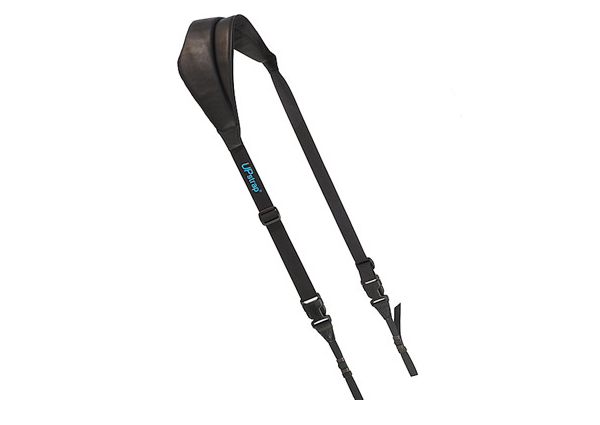 UPstrap Sling
UPstrap camera straps solve what I consider to be a major problem with many camera bags and straps: shoulder slippage. Maybe it's the way I walk, but most typical camera straps slide off my shoulder like water off a duck's butt. That's one reason why I use UPstraps most of the time on my DSLRs.
The other reason is their extreme high quality. Made using 99.99% USA parts like Kevlar and other high-grade materials, UPstraps are built to last. Period.
So I was particularly eager try out an UPstrap Sling. As the name indicates, the Sling is not a Sure-Grip shoulder strap. It's a bandoleer-style cross-body sling. That's what is says on their website, but I have news for you: it's also an excellent over-the-neck strap.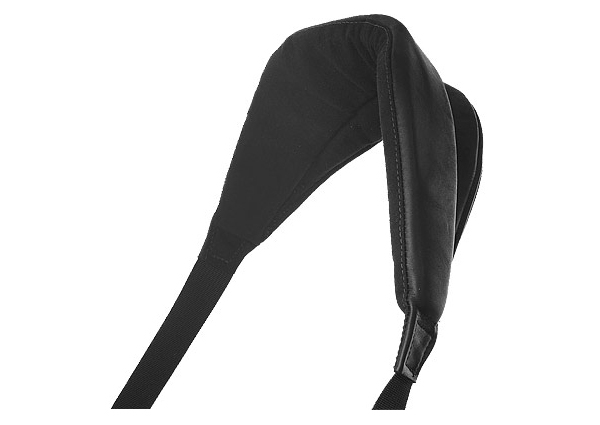 The UPstrap Sling comes in two sizes, Large for 8 to 12 pound outfits and Medium for loads in the 6 to 10 pound range. There's little difference, frankly, so I use the Medium because it's a tad smaller. The suede padding is very comfortable on my neck and the black trim is real leather. High quality webbing runs through the entire pad for maximum strength.
Because the ends of the Sling are terminated with a military-style, quick release connection system, I can swap the Sling quickly and easily with a regular UPstrap without unthreading the short sections from the camera eyelets. So when I am carrying my Nikon D2X with a heavy zoom attached, I use the Sling. When I'm out with just a short prime attached, I can use the lighter strap to save bulk.
—Jon Sienkiewicz
LATEST VIDEO