The CanoScan FB 1200S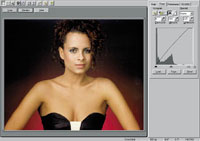 The ScanGear CanoScan driver interface has a large preview window and easily accessed logical controls for image adjustment. In my tests once I had the image adjusted to look the way it should, it opened after scanning just as expected in Photoshop.
Photos © 1999, David B. Brooks, All Rights Reserved
For the many photographers who are setting up a digital darkroom, and have medium and large format film to scan, Canon has a very attractive scanner solution. The CanoScan FB 1200S offers high 1200dpi optical resolution with professional-level film scanning quality at a fraction of the cost for this type of scanner last year. Canon has accomplished this by using a two-pass technique to achieve the 1200dpi optical resolution, using what they call a Variable Refraction Optical System. In essence this is an adoption of pixel shift technique found in conventional video cameras. This method uses larger CCDs than a conventional 1200dpi scanner providing a higher CCD element sensitivity.

Besides a true optical resolution of 1200dpi, which can be interpolated to 9600dpi, the CanoScan FB 1200S has a 3.3 dynamic range, scans at 36-bit color depth, and outputs 36 or 24-bit data. This new CanoScan model features a SCSI interface including a SCSI card for PC Windows users, and it also supports the macintosh platform. In addition to Canon's CanoScan Toolbox with a very effective ScanGear scanning control interface, the FB 1200S includes Adobe photoshop 5.0 LE, and Zerox Text Bridge software. A ADF-S9 document feeder and FAU-S10 film adapter are available accessories.
A print scan subject has a relatively low tone range, and this pastel portrait contained extremely subtle color variations. The CanoScan with ScanGear was able to make the scan adjustments preserving the delicate values in the subject resulting in a scanned image actually superior to the original.
Using The CanoScan FB 1200S With Film Adapter. The compact and lightweight CanoScan FB 1200S, even including the transparency adapter lid with its illumination source, was quite easy and straightforward to install and set up. Likewise the Canon software was equally smooth and easy to install, even though the transparency scanning software for the film adapter is separate and called FilmGet. So first of all, of the three types of media I used for testing, color prints including a 5x7 IT-8 target, color transparencies including a 4x5 film IT-8 target, and 120 size color negatives, I began my tests using ScanGear to scan prints. Scanning from within Photoshop on a PC with Windows 98 using the TWAIN driver provides a generous window with large preview and logically designed easy to use adjustments for all of the primary attributes of image quality.

The FilmGet interface is similar excepting different controls of scan formats to accommodate different film sizes, and with equally effective controls to adjust image quality. When you add the FAU-S10 film adapter you also get some simple black plastic film holders. These are essential and designed to block any extraneous light coming from the area illuminator in the scanner lid, except that which comes through the film. The 120 size film holder is almost the entire length of the scanner, so every format even including panoramic sizes can be accommodated, and the 120 film window length is adjustable with the remainder of the aperture blackened by a mask provided with the holder. Both drivers offer Canon ColorMatching and largely automated adjustment or manual control including an eyedropper cursor to select the highlight and shadow area from the preview image window.
This 120 film color negative had always scanned with difficulty in the past, so when I obtained a very true representation of the scene with the CanoScan FB 1200S I was convinced photo enthusiasts should be pleased with the performance of this very affordable scanner.
Evaluation And Recommendation. The obvious question I'm sure is how does the CanoScan FB 1200S compare to conventional more expensive 1200dpi scanners. Fortunately I recently tested and reviewed such a scanner, so I was able to compare the results. First off the Canon ScanGear and FilmGet software is not as sophisticated with features like selective color adjustment, but applied to my tests that did not make a significant difference because nothing is lost by making selective color hue or balance adjustments post-scan in Photoshop with a 3.3 dynamic range the FB 1200S is quite adequate for film scanning, although it is not as great a range as some more expensive scanners. However, I was very pleasantly surprised to find the scan quality of full-tone transparency film images were very clean and smooth at all levels of density. In the area of image sharpness, the CanoScan was not quite the equal of the more expensive scanner, which I would assess to the larger CCD element sensor size of the Canon. This distinction was however, only visible on-screen at high image magnification. In prints of the images the results from the two scanners were indistinguishable in sharpness. The one performance factor of the CanoScan FB 1200S that is not equal to more expensive scanners is in scan speed.
One of the most surprising scan results I obtained with the CanoScan FB 1200S was from the transparency with the fullest possible range of tones. Besides having absolutely no noise in the black background and dark tones, the balance of color was reproduced with extreme accuracy and every bit of detail in the highlights was preserved precisely.
Adding everything up based on my work with the CanoScan I found the scanner's capabilities combined with its affordability make it an ideal complement to an enthusiast's digital darkroom. Any photographer who uses 120 or 4x5 film, and has an need for print and document scanning will be well served by the CanoScan FB 1200S. At this new price level I would afford the FB 1200S just for proofing roll and sheet film--it'll proof entire rolls of 35mm and 120 film at a clip, or four 4x5s, and send the scan directly to your printer. And although I wouldn't recommend it as a primary 35mm film scanner because 1200dpi optical is not enough resolution, scans of 35mm will yield quite decent 5x7 prints. I believe with this new 1200dpi scanner Canon has made the digital darkroom a much more attractive possibility for many photo enthusiasts. For more information, call (800) 652-2666 or visit either www.ccsi.canon.com or www.canoscan.com.
Technical Specifications
Compatibility: Windows 95, 98, and NT 4.0, and macintosh 7.51 or higher
Type: Flat-bed, color, black and white
Scan Method: Three line color CCD
Resolution: 1200dpi optical, 9600dpi interpolated
Scan Mode: Color 36 bit, black and white 12 bit
Output: 8 or 12 bit per RGB channel
Dynamic Range: 3.3
Scan Area: 8.5x11.7"
Accessories: FAU-S10 film adapter, ADF-S9 automatic document feeder
Dimensions: 11.5x18.1x3.7"
Weight: 8.8 lbs
Estimated Street Price: $499

LATEST VIDEO