Canon's EOS ELAN 7NE
A New 35mm Film SLR Page 2
The Eye Control Function
To the left of the LCD read-out is a switch that allows you to switch the Eye Control off, on, and calibrate. With this Eye Control the internal camera sensors can detect which autofocus point your eye is looking at (but not with sunglasses on) and adjust the focus accordingly. Below that is the knob that you would use to select the proper autofocusing mode for the picture-taking situation at hand. For instance, you can choose "One Shot" for still subjects, AI Servo for moving subjects that would move toward and away from the camera, and AI Focus for moving objects that you would want to track continuously.
Pro Style AF
The autofocusing capability of the EOS ELAN 7NE is one of the top new features of this camera. Taking the circuitry from the EOS 10D camera and incorporating it into the EOS ELAN 7NE places this camera in the upper pro category when it comes to quickness of focus and along with 4 frames per second propels this camera into one of the fastest operating models in its price range and model category.
Again, this could make for a difficult photograph to take. Shadows on the left, bright white on the right, but the EOS ELAN 7NE hit a compromise and delivered the goods once again.
On the left-hand side of this Canon is the main selector knob, which includes the basic Shutter and Aperture Priority modes, Manual, Program plus a custom function and a DEP zone, which I find most interesting. What this stands for is DEPth of Field and its function is to obtain a wide depth of field between two subjects. For instance, if you have two people standing close to each other, you would first focus on the nearest subject, then press the shutter button to set this distance. Now focus on the farthest subject and do the same thing. Compose the photo, press the shutter release halfway down which sets the correct distance for optimum sharpness and follow through with your photograph.

The other half of this knob contains symbols that comprise the Image Zone. Here you'll find preset values for such things as Portrait, Landscape, Close-up, Sports, and Night Scene that need assistance from the internal flash unit. Moving this selector increases or decreases the f/stop for a shallow (portrait) or deep (landscape) depth of field. Pretty neat.
The EOS ELAN 7NE has the capability of using a partial metering mode (10 percent) for exposure control. The author walked up to a tree until it filled this area, took a reading, then backed off for this dark, eerie mood of somewhat naked pine trees.
For the consumer this camera is surely loaded with value-added features that go way beyond what I can place in this report. For instance, in shooting with the EOS ELAN 7NE I found that the 35-zone metering system gave me knockdown accurate exposures whether I was in the bright sun or open shade. Partial (10 percent) and center-weighted metering methods are also offered and correct exposures are registered whether the camera is held in either the vertical or horizontal position. The EOS ELAN 7NE also has the capability to incorporate accessories and lenses saved only for the higher priced cameras in the line, like the revised E-TTL II flash unit and over 50 of Canon's finest lenses from wide angle to super telephoto.
In The Field
Out in the field I found the camera very responsive to my shooting style. Once I calibrated the Eye Control I could focus on objects at either end of the viewfinder and with its 92 percent horizontal coverage I was afforded a quick and easy way of using selective focus without changing any of the focus brackets via a selector on the back of the camera. Additionally, I found that I could move my eye within the viewfinder on a different focus point while the camera was on AI Servo and change the point of focus even on fast-moving objects, which could be an advantage for wildlife photographers using super telephoto lenses.
In this day and age where everything seems to be accomplished in milliseconds, it's nice to see that Canon has allowed for the photographer who still loves photography by shooting film-based images. With all the features I've mentioned and more than I can point out, this EOS ELAN 7NE is one impressive package.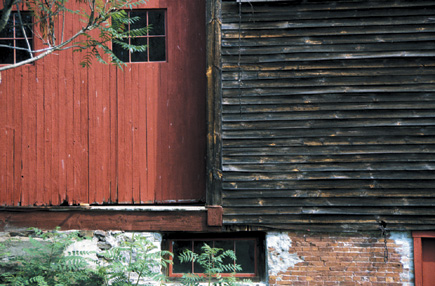 Sidelighting will always show the best (or worst) in a lens and the Canon EF lens pulls out all the details in stunning clarity. With this old warehouse in muted colors the Canon produced a perfect photo without bracketing.
Technical Specifications
Camera Type: 35mm Single Lens Reflex (SLR) with multi-point autofocus, autoexposure with built-in flash
Lens Mount: Canon EF mount
AF Working Range: EV 1-18
Exposure Control: TTL maximum aperture with a 35-zone silicon photocell with Evaluative, partial (10 percent) metering, and center-weighted choices
Shutter Speeds: 1/4000 sec to 30 seconds in 1/2 stop increments, plus bulb
Built-In Flash: Retractable TTL type with pop-up features for low-light or backlight situations. Guide number is 43 and covers 28mm lenses.
Film Speed Setting: ISO 25-5000 automatically set in 1/3-stop increments according to DX scale. Can also be set manually from ISO 6-6400 in 1/3-stop increments.
Film Transport: Continuous shooting at approximately 4 fps with additive frame counter
Dimensions: 5.78x4.06x2.72"
Weight: 20.5 oz (without batteries or BP-300 battery pack)
Approximate Price: EOS ELAN 7NE body only, $399; with kit including EF 28-105mm f/4-5.6 lens, $539
For more information on the EOS ELAN 7NE, visit Canon's website at: www.canoneos.com.
Stan Trzoniec is a frequent "Shutterbug" contributor and a widely published author on the outdoors, photography, railroads, and travel with over 1800 magazine articles, 700 full-color covers, and five books to his credit. His new photography book, "Images of the Present," is due out this fall. He can be reached via e-mail at: fotoclass@aol.com.
FEATURED VIDEO