Canon's EF 70-300mm f/4.5-5.6 DO IS USM
An Incredibly Small, Fully-Corrected Telephoto Zoom With High-Tech Diffractive Optics
All Photos © 2004, Peter K. Burian, All Rights Reserved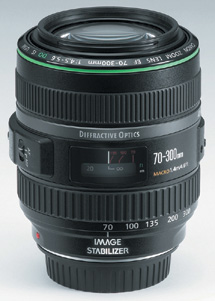 When it was announced in 1995, the Canon EF 75-300mm f/4-5.6 IS USM zoom was truly unique, as the world's first 35mm system lens with a built-in Image Stabilizer (IS). Versatile, compact, and great for low-light shooting without a tripod, that zoom has been very popular in spite of mixed reviews about its imaging qualities. Recently, Canon announced a new and improved version, the EF 70-300mm f/4.5-5.6 DO IS USM, which is also unique. The first zoom lens to incorporate Diffractive Optics (DO), it's exceptionally small but produces superior image quality, said to approach the performance of L-series pro lenses.

Previously available only in the very expensive ($4900) EF 400mm f/4 DO IS super telephoto, the DO technology is exclusive to Canon. It consists of a diffraction grating, a special element that's etched with very fine parallel grooves that alter the path of light rays. According to Canon, the grating corrects lens aberration more effectively than expensive low dispersion glass elements and allows for making more compact lenses. For additional specifics, review our technology sidebar. While shooting travel, nature, event, and action images for my stock files, I used this lens extensively in order to assess not only image quality, but also autofocus and Image Stabilizer performance. The new model produced numerous sharp images with excellent color rendition, meeting my expectations in just about every category.
At many focal lengths and f/stops, the DO zoom is quite competitive with the L-series lenses. My best digital images and 35mm Velvia slides are outstanding in all technical aspects, suitable for professional applications. (Canon EOS-1Ds at ISO 800; 230mm; f/11 at 1/1000 sec.)
Construction And Features
Nicely finished in black with a green stripe, the 70-300mm f/4.5-5.6 DO IS USM zoom is amazingly small. It's similar in size to the 28-135mm f/3.5-5.6 IS USM zoom and 1.3" shorter than the already-compact 75-300mm zoom. It's 3 oz heavier but appears to be more rugged. The internal lens barrel protrudes an extra 2.5" when zoomed to 300mm, but that's less than the extension with many comparable lenses. Unlike most L-series lenses, this compact zoom is not compatible with tele-converters and is not water-resistant.

In addition to a zoom lock mechanism and the autofocus/manual focus focusing mode selector switch, the barrel includes controls for the Image Stabilizer, including two options. Mode 1 is intended for static subjects; a built-in gyro senses camera shake and a microcomputer shifts optical elements within the lens to counteract vertical and horizontal movement. For panning with fast action at long shutter speeds, Mode 2 is preferable because the IS system compensates only for up/down camera movement. Consequently, the viewfinder image is steadier, allowing for smoother pans and sharper photos.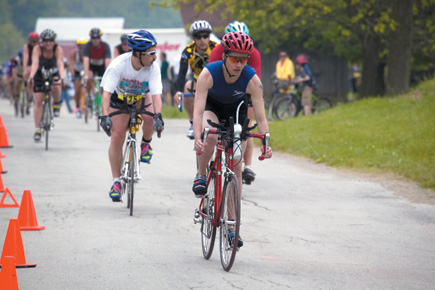 Thanks to USM and the latest autofocus technology, the DO zoom provides extremely fast and reliable autofocus performance with a camera with an advanced autofocus system. During this race, I shot nearly 100 frames of the competitors and all but a handful are sharply focused. (Canon EOS-1Ds; 300mm; f/8 at 1/640 sec.)
This new zoom employs a superior autofocus system. That includes a larger ring-type Ultrasonic (USM) focus motor for more power and torque, new rear group autofocus for moving much lighter and smaller elements, plus enhanced CPU and faster autofocus data communication with the camera. This efficient system was designed to deliver high speed and reliability with great torque for quick starting and stopping response. Full-time manual override is provided, great for quickly touching up focus without switching to manual focus mode.

Evaluation: During my tests with an EOS-1Ds and EOS ELAN 7NE, autofocus performance was lightning fast and accurate; tracking autofocus was highly reliable even with fast-moving cyclists accelerating toward my shooting position. My only complaint? The minimum focus distance is quite long at 4.6 ft. Even at 300mm, I was unable to fill the frame with a large flower; an optional EF extension tube would solve that problem.
In order to clearly illustrate the effectiveness of the IS system, I made these photos at a very long, 1/2 sec exposure at 300mm, with and without the Image Stabilizer. For critical sharpness however, use a 1/90 or 1/60 sec shutter speed. (Canon EOS-1Ds; IS Mode 1; ISO 250; at f/5.6.)
As with other recent IS lenses, the Image Stabilizer was very effective, allowing me to make razor-sharp images at 300mm at 1/60 sec and, occasionally, at 1/30 sec in handheld shooting. The IS system was most useful on a dark, overcast day while shooting portraits of triathlon competitors. It allowed me to work without a tripod at ISO 100 (film or digital setting) for the best image quality. In brighter conditions during nature photography, the stabilizer provided another benefit. I was able to stop down to f/16 for great depth of field without worrying about image blur at the longer shutter speeds.
FEATURED VIDEO