The Canon EOS 1Ds
The Well Heeled Photographers Dream Camera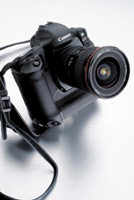 Look familiar? The EOS-1Ds is nearly identical to the EOS-1D, and can also be mistaken for the film-based EOS-1 V.
This digital thing just might work out after all. Consumer point-and-shoot cameras are getting better, faster, cheaper, and easier to use. Photo quality color printers are starting to live up to their "lab quality prints" claims, and the high end is getting positively scary! Recently I had the chance to get my hands on one of the very first production Canon EOS-1Ds digital cameras, the new 11 million pixel, full 24x36mm frame professional CMOS SLR body that has the photo world buzzing. This is a serious camera that should push the few film-only stalwarts over the fence.
Is Film Still Dead?
Ever since the first Apple Quicktake hit dealers' shelves about a decade ago there have been those proclaiming that "film is dead!" Every year we see new pro cameras that almost match film. We keep getting closer, but maybe the images are a little softer, display a little more artifacting, a little less dynamic range, or the cameras are just way too much money. While camera backs from Leaf Systems, MegaVision, Better Light, and others pushed the high end forward quickly, their tethered, studio-bound shooting style left a lot to be desired. We started to see breakthroughs with groundbreaking products like Kodak's DCS 520, which brought instant review LCD screens and bulletproof digital capture to photojournalists. It continued with Nikon's D1, and later the D1H and D1X. (Try finding a major newspaper that doesn't own some of these cameras!) Canon got our attention with stunning CMOS cameras like the EOS D30 and EOS D60, and made Canon-equipped photojournalists happy with the CCD-chipped EOS-1D.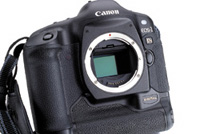 Take a look inside an EOS-1Ds and you'll find a real honest-to-goodness full frame sensor. Now your 28mm lens is a 28mm lens, though sports shooters sure are going to be shocked when their 300mm lenses stop behaving like 480mm lenses!
While all of these cameras can replace film for many applications, for commercial shooters like myself I've found that they are close, real close, but not quite there yet. For studio shots I've reverted either to a 4x5 view camera loaded with Fuji Provia, or the excellent MegaVision T32 three-shot camera back on a Hasselblad body.

I remember several years ago listening to a seminar at the Seybold seminars in San Francisco proclaiming that 6 megapixels would be "plenty" of resolution to replace 35mm film for most photographers. Well that statement has proven to be fairly accurate. I find that captures from my 6-megapixel Canon EOS D60 do in fact compare quite favorably to 35mm negative film. I still find that 35mm chrome film captures a bit more detail, and certainly larger format film holds greater advantages. Since almost everything I shoot is reproduced on a four-color printing press, claims of "photo quality" mean different things to me. I'm concerned with shadow detail, absolutely accurate color, and an image as free of digital smearing, artifacts, and halos as possible.

Cameras like the Fuji S2, Nikon D1X and D100, Canon EOS D60 and EOS-1D do a great job for half page or under, but for full US letter bleed (9x12"), I've found myself resorting to the studio solutions like the 16-megapixel Kodak DCS Pro Back and my 6-megapixel MegaVision T32 three-shot back (18 million uninterpolated pixels).
The menu on the EOS-1Ds offers an exhaustive array of camera and image controls. It still requires you to use the menu button to get to your desired setting, then press and hold the select button while turning the appropriate control wheel. It's a bit fussy and rough with gloves on, but provides welcome security.
The Dreamer Awakes
The dream for many pros has been a 35mm form factor camera that could deliver the really big, smooth files. Files good enough to run full-bleed, files good enough to surpass 35mm, files good enough to equal quality drum scans from a 21/4" transparency. In addition, many have dreamed of a digital SLR that would do away with the nasty lens multiplier factor. While sports shooters love the 1.3x to 1.6x multiplier factor that the smaller digital chips impose on existing 35mm lenses, architecture, nature, and commercial shooters miss their wide angle glass! (A 28mm wide angle lens has an effective focal length of 45mm on an EOS D60.) The Contax N Digital beat everyone to the market with a Phillips-chipped full frame 6-megapixel beauty, but the world has dreamed of a Nikon/Canon full frame 10+ megapixel device. Well, quit your dreaming folks. If you've got the scratch then you can own the solution. The 11-megapixel full frame Canon EOS-1Ds is a dream come true for many working pros and well-heeled enthusiasts, and yet brings a whole new group of capabilities to the table as well.
But At What Price Glory?
When Canon announced this camera last year at the massive photokina fair in Cologne, Germany, there was substantial grumbling from the faithful over the price. Sure, an amazing 11-megapixel Canon-developed CMOS chip, robust EOS-1D body, tethered FireWire shooting mode, 45-point autofocus, redesigned image conversion utility were all nice, but the $8999 list price seemed extravagant. Never mind the fact that just a few years ago 6-megapixel cameras developed on pro SLR bodies were fetching $30,000. Never mind the staggering amount of R&D devoted to this product and the remarkable speed to market--we wanted it cheap.

In light of Kodak's simultaneous announcement of the 14-megapixel, full frame, sub-$5k DCS 14n, there was a lot of speculation as to the real price of the EOS-1Ds. How could Canon justify the high price when Kodak was coming in with more pixels for way less money? The truth was that they are radically different cameras with different form factors and capabilities. While supply remains awfully tight on the EOS-1Ds, the street price has settled somewhere below $8000 USD, not the price some had hoped for, but a bargain for working photographers nonetheless.
This is what the EOS-1Ds is all about. For this catalog I chose the EOS-1Ds over sheet film. The level of detail and color saturation in this file impressed everyone, and allowed me to work in RAW mode without tethering to the computer, producing huge 16-bit TIFF files.
Photos © 2002, Jay Abend, All Rights Reserved
Our 1Ds Arrives
Our review EOS-1Ds arrived about a month before it was officially available in the US, cloaked in a non-disclosure agreement. I practically tackled my UPS driver when I saw the box coming into my studio. With all of the prerelease hype I was absolutely desperate to give it a whirl. If you haven't been following the rumors and whispers about Canon's new digital SLR then let me fill you in--the CMOS sensors used in Canon's wildly successful EOS D30 and EOS D60 ushered in a whole new era of digital imaging. The super smooth, super saturated look of the Canon CMOS chip gave photographers the first real alternative to punchy Fuji Velvia transparency film.

While the EOS-1D finally gave Canon shooters a real pro SLR with a digital chip and a remarkable 8 fps (frames per second), it used a CCD chip. Nothing wrong with CCD, but images from the EOS-1D lack the syrupy warmth of the CMOS images. Canon has incorporated an 11 million pixel CMOS chip in the EOS-1Ds, and it is a full 24x36mm in size--exactly the size of a 35mm film frame. What this means is that photographers can now move seamlessly between film and digital platforms, using the same glass and experiencing no changes in angle of view.

Unpacking the EOS-1Ds for the first time I was immediately alarmed. "Wait a second," I thought, "they've sent an EOS-1D by mistake." Sure enough, the two cameras are practically identical, save for a tiny "S" stuck on the EOS-1Ds, and of course the big 11-megapixel CMOS chip inside. The camera duplicates all of the EOS-1D attributes. It's big and solid, feels great in your hand, has an incredible array of camera and image controls, that remarkable 45-point autofocus, and is sealed against dirt, dust, and moisture. You certainly seem to get your $8000 worth of features, but the image quality is where the rubber meets the road.
My first image shot with the EOS-1Ds. Jeremy skated as fast as he could, but the EOS-1Ds set to auto-everything kept up just fine. The resulting 11-megapixel file was crisp, perfectly exposed, and showed excellent color. (This is Color Matrix 2, perfect for portraits.)
Putting It To Work
This exciting new camera arrived during a period where my studio was flat out with work. I had location shoots at high tech factories, product shoots in the studio, and even some shoots in a local restaurant. I had planned to use the EOS D60 and a Hasselblad for the location shoots, the Mamiya RZ-67 and 100 speed transparency film for the product stuff, and the EOS D60 for the restaurant. I already own both a LeafScan 45 film scanner and a ScanView drum scanner to create high-resolution scans of my film images, but I always try to find a way to shoot digitally if possible, since the speed of the process helps those tight printing deadlines.

I bolted a very sharp lens, the Canon 70-200mm f/2.8 L, onto the EOS-1Ds and began to test the camera out. While I've used the excellent EOS-1D quite a bit, I always found the two-handed push and turn menu system to be a bit complicated, and having it replicated on the
EOS-1Ds wasn't thrilling me. (But having inadvertently changed settings on the EOS D60, maybe the extra security afforded by the two-handed approach is worth it.) After a few minutes of refreshing myself with the EOS-1D style menus I was ready to roll. I grabbed the camera and headed out to shoot a few images of kids playing in a local playground.

The first thing you notice about the EOS-1Ds is the feel. It feels perfect in my large hands. All of the controls fall under your fingertips and the whole package is just conducive to shooting. The second thing you notice is the speed. While not designed as a sports camera, everything is quick. Shutter lag is the lowest in the business, a stunning 55ms. The camera has a robust 10 frame burst mode, and clears out the on-board memory very quickly, allowing practically uninterrupted shooting even for action and sports. Since I had just recently shot some professional sports assignments with the EOS D60, I was particularly aware of AF speed, accuracy, and the limits placed on both of those parameters by the three-point AF system of the EOS D60.

No such problems with the EOS-1Ds. It snapped into focus instantly, silently, and always correctly. Even when my subject rollerbladed in between trees and parked cars, the EOS-1Ds tracked perfectly. This is the kind of performance EOS-1 V and EOS-1D users have been raving about, and having it available on a camera with a big CMOS chip was terribly exciting. Even if you're not a Canon shooter you owe it to yourself to try an EOS-1D caliber body out with a long lens--it's quite amazing!
The EOS-1Ds allows you to choose one of six preset White Balance settings, Auto White Balance or create your own custom White Balance. As with the EOS-1D, you can save up to four custom White Balance settings for instant recall. Even better is the ability to manually dial in your own color temp--in 100Þ Kelvin increments. Auto White Balance settings don't just look at color from the sensor, but also take into account the ambient light conditions--read from a small white window on the front of the camera. The results are quite accurate.
Checking The Image Files
Before I could even think of shooting anything else I whipped out my notebook computer to check out the files. I shot in JPEG Large, which produced files ranging from 1.5-2.4MB, or roughly 100 images on a 256MB flash card. Opening the first file in Photoshop was a particularly memorable moment, I must admit. While the first images from my Better Light scan back in 1997 impressed me, and the first files from the EOS D30 in 2000 blew me away, these EOS-1Ds files left me speechless. I was prepared for the EOS D60-like color saturation, the smooth, nearly noiseless skies, the excellent definition, and the sheer size of the file. I was not prepared for the incredible detail in the images, and the near total lack of "digitalness" in the files.

These images looked like really good, really clean, really sharp medium format drum scans. They did not look like DSLR files. I compared them to my thousands of archived images from the Canon EOS D60, the Nikon D1 and D1X, the Kodak 760, and my various studio cameras, and the EOS-1Ds files looked more like files created with an expensive, tethered digital back. Gone were the mushy details, the artifacts on diagonal lines, the noisy shadows. These files were gorgeous.
What About The Noise Over The Noise?
I've heard some grumbling from the enthusiasts on various digicam web sites complaining about the noise of the EOS-1Ds files. True, they do not exhibit the total and utter lack of noise as do files from CMOS-chipped EOS D30 and EOS D60 cameras. There is a tiny bit of noise in flat areas. To my eye it looks for all the world exactly like film grain--albeit a very fine-grained film at that! I compared the files to numerous drum scans and I would say the noise inherent in EOS-1Ds files is roughly equivalent to medium format roll film. Fairly amazing when the camera in question is basically a 35mm SLR. However, the EOS-1Ds files are noticeably sharper than other CMOS camera files. Once sharpened in Photoshop they exhibit substantially more detail as well. In fact, a 6-megapixel crop of an EOS-1Ds file does deliver more detail and a crisper, truer file than my 6-megapixel EOS D60.
Getting RAW In The Studio
My curiosity satisfied, I set about using the EOS-1Ds in my studio, and I immediately integrated it into my workflow. The new version of Canon's software is far more user-friendly than past versions, and in fact supports all of the various DSLR profiles, so RAW files from any Canon camera can be converted. The File Utility allows for rapid thumbnailing of RAW images, and very quick conversion to 16-bit TIFF files.
Why shoot in RAW mode you ask? After all, suddenly your 1.5MB JPEG files turn into monster 8MB TIFF files. Well the answer is quality, control, and permanence. The RAW files contain the actual pixel data from each image capture. Shooting this way and creating archive CDs or DVDs of these captures creates a digital "negative" folder, which will allow the photographer to always recall the highest quality version of the data later. As far as control, once a RAW file is shot you can assign any white balance, sharpness setting, color profile, and even digitally alter the exposure plus or minus a full two f/stops. In addition, third-party conversion programs are just now hitting the market, including the inexpensive and very user-friendly breeze Browser, and the highly touted Capture One from studio digital pioneers Phase One.

As far as image quality goes, I did notice a decrease in noise and edge artifacting when comparing converted RAW images to native JPEG images. I imagine that using the computing power of your desktop allows Canon to use a different algorithm to convert RAW pixel data vs. the
on-board firmware in the camera itself. For my work the ability to put an image into a new white balance mode, sharpness level, and color matrix after the shoot was a must. A perfect example was a large catalog shoot I began just days after the EOS-1Ds arrived.
On The Job
I had planned to shoot this retail catalog for a candle manufacturer on 4x5 sheet film. Each two-page spread would be a single image, so I really needed the 4x5's clarity and lack of film grain. After a few test shots I realized that with the long lens we needed for the proper perspective, a 300mm Nikkor, even at f/32 we had a serious lack of depth. No matter how I swung the back and lensboard I could not get everything in focus. I then went to my 6x7 rollfilm camera, where I could just about pull off the proper depth of field, since a long lens is now only 180mm. I shot a test roll and pulled a drum scan at 2000dpi--producing a very large and very crisp scan. Just for fun I also shot an image with the EOS-1Ds using my Canon 100mm f/2.8 Macro at f/32. I toned and sharpened both images and I made large 13x19" proofs. Everyone who viewed the two proofs thought the EOS-1Ds files looked better. Now don't get me wrong, if you looked at the two files side by side on screen you might think that the film scan had a bit more shadow detail and was a little crisper, but overall the printed proof pages proved that the EOS-1Ds files did reproduce a bit better.

With that in my back pocket I began to shoot the entire catalog with the EOS-1Ds. I shot each page spread in RAW mode with either the 100mm f/2.8 Macro or my huge and sharp 200mm f/1.8 L. (Yes, a 200mm lens for product photography!) Since we wanted a warm country feel for these shots, I converted them in the File Viewer Utility program picking a warm color temp of 6600ÞK. Since the File Viewer Utility allowed me to also assign a custom color space (Canon calls it a Color Matrix setting) I went with Color Matrix 3, which produces the punchiest colors. This produced files that looked as if they had been shot through an 81E warming filter. In Photoshop I applied massive sharpening--410 percent, .6 pixels, levels 3. This produced terribly sharp files that were right on the edge of being oversharpened, but perfect for 200 lpi four-color printing.
The Horse's Mouth At The Printing House
The best endorsement for this camera came from the printing house. When the printer showed up at my studio to show us the proofs his first question was, "Are these digital shots?" "Yes," I replied..."Well, they're gorgeous!" And this from a guy who sees the high-end work from the top digital backs every day.

On that catalog job I replaced well over $1000 worth of film and drum scanning with several gigs of RAW EOS-1Ds captures. Over the course of the next few weeks I used the EOS-1Ds on a number of assignments. I shot in the factory of a defense contractor, shooting images for a capabilities brochure. When I used strobes at ISO 100 or shot in available light at ISO 800 in Program mode with Auto White Balance everything looked great. I shot sports with the EOS-1Ds, and while it is no match for the awesome 8 fps EOS-1D, I found that the camera felt really fast and responsive. I don't feel that I missed a shot.
Easy To Like
It's hard not to love the EOS-1Ds. It's one of those products that come along every so often that radically change the way you view things. I've owned and used practically every digital camera ever made. The Leaf DCB back--the first real professional studio camera from the early 1990s--changed everything, and I think the EOS-1Ds does the same. It brings medium format image quality to a digital SLR that offers topnotch ergonomics, industry leading autofocus, and a brilliant exposure system.

Almost everything about the EOS-1Ds speaks to Canon's dedication to satisfying the needs of the professional photographer. The super autofocus, the excellent 21-zone evaluative exposure system, the TIFF-based RAW file mode, with the option to save both a full RAW file along with a JPEG file for quick computer review, the full-sized FireWire IEEE 1394 port, allowing for quick file transfers or brilliant tethered studio shooting, the 20 custom functions and 26 personal functions, and of course the incredible file quality.
And A Few Grumbles...
This is not a perfect camera, and I certainly would have loved more choices for resolution--there is no 6-megapixel option, just an 11 megapixel or 2.7-megapixel file size. I would have loved the camera to come in under $5000, since it is based on an existing camera platform, and I surely think there should be some way to make the camera shoot faster with smaller file sizes. (Currently it is fixed at 3 fps regardless of file size.) While I haven't had a chance to use any of the other new multi-megapixel cameras just recently announced, I feel that the total package offered by Canon will be very, very tough to beat. My complaints are minor and the overall excellence of this camera overwhelms everyone who has had a chance to use it.

If you fancy an EOS-1Ds be prepared for a wait. Even at a minimum advertised price of $8995 this camera is in super-short supply. Every pro who has had a chance to stop by my studio to play with the EOS-1Ds has ordered one, even a couple of friends who shoot with another manufacturer's SLR system! If you're not a pro you may want to sit tight. The excellent EOS D60 is plenty for most serious shooters, the robust 4-megapixel EOS-1D is now under $4500, and Canon has a few more tricks up their sleeves for their serious non-professional clients. Of course if you just have to have an EOS-1Ds...I totally understand.

For more information, visit Canon's web site at www.usa.canon.com.
Technical Specifications
Camera Type: Interchangeable lens SLR
Lens Mount: Canon EF autofocus
Sensor: Canon-produced 24x36mm CMOS
Lens Multiplier Factor: 1:1
Effective Pixels: 11.1 million
RGB TIFF File Size: 31.4MB
Image Dimensions: 4064x2704
Maximum FPS Rate: 3 fps
Maximum Burst Mode: 10 frames
Shutter Speed Range: 30 sec to 1/8000 sec
Fastest Flash Sync: 1/250
RAW Files: TIFF-based lossless compression
Exposure Metering: 21-zone evaluative
Auto Bracket Options: 1) Bracket via ISO and 2) WB bracketing
Compatible TTL Flashes: All "EX" speedlites
PC Socket: Yes
Viewfinder: 100 percent accurate
AF System: 45 point
Dimension: 6.1x6.2x3.1"
Weight: 44.1 oz
Price: Approximately $8000

LATEST VIDEO