Canon's EOS Digital Rebel XTi; A Lightweight D-SLR With Heavyweight Performance And High-Resolution Image Quality Page 2
The AWB (Auto White Balance) system worked well in daylight but was unable to correct for the color of various types of artificial light indoors or in night photography; frankly, very few AWB systems provide better results in such circumstances. My only real complaint was about the effectiveness of the sophisticated Evaluative metering system: underexposure was common with light-toned subjects in daylight and with most scenes in night photography. That was easy to solve by setting a +2/3 compensation level when necessary.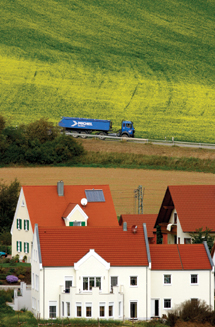 Some of the competing 10-megapixel D-SLRs incorporate an Anti-Shake device that compensates for camera shake with any lens, the EOS Digital Rebel XTi does not offer this feature. Instead, Canon has decided that an Image Stabilizer system is more suitable in lenses and offers an increasing number of lenses with this amenity. (Image made handheld with EF 300mm f/4L IS USM lens, a 480mm equivalent, with the Stabilizer active; at 1/250 sec; Hoya polarizing filter.)
As expected, each of the Picture Style modes produced a different effect with color images. (They're unnecessary in raw capture of course, because all image parameters can be adjusted in the converter software.) Standard Picture Style worked well for most subjects, delivering JPEGs with clean, accurate colors with vivid reds, greens, and blues. In other Picture Styles, color rendition ranged from unusually vibrant, warm, sharp, and contrasty (Landscape) to somewhat dull (Faithful) to flat and lifeless (Neutral). For colorful street scenes, I preferred the effect produced by Landscape mode but for people pictures, the Faithful Picture Style was the most suitable for more natural hues and skin tones. These options were designed for simplicity but the advanced photographer will want to exert greater control in JPEG capture, setting just the appropriate level of color saturation, tone, contrast, and sharpness for each type of subject.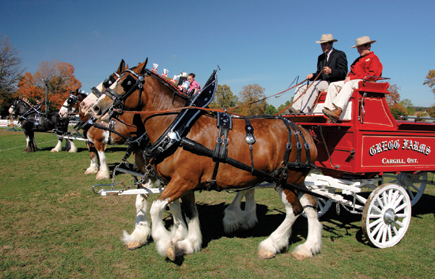 While shooting the unpredictable actions of competitors during equestrian events, I found the EOS Digital Rebel XTi to be an ideal camera in terms of reliability and speed. Thanks to the instant response, fast framing rate, and effective autofocus system, I never missed a shot. (At ISO 200; 1/250 sec at f/8; EF 24-105mm lens; Hoya polarizing filter.)
It's also worth noting that automatic sensor cleaning works very well. While I was changing lenses on a windy day some dust did get into the XTi, leaving two speck marks on my subsequent 20 images. But photos made after turning the camera Off and On do not exhibit those blemishes, confirming the effectiveness of the ultrasonic cleaning system.

Image Quality Evaluation
In spite of its entry-level price, the 10-megapixel EOS Digital Rebel XTi produces images of incredibly high quality in both raw and JPEG Large/Fine capture. Images made in Standard Picture Style--without any user-selected overrides, except exposure compensation--are impressive. They're sharp with exceptional clarity, rich color saturation, and remarkable definition of fine detail. A wide tonal range helps to hold detail in both shadow and highlight areas. While the difference between 10-megapixel and 8-megapixel resolution is not dramatic, the superior definition of intricate detail is visible under close scrutiny in 11x16.5" and larger prints.
In spite of the smaller pixel size when compared to the XT, the EOS Digital Rebel XTi produces comparable image quality at high ISO levels. Avoid underexposing ISO 1600 images and you'll find that they are relatively "clean" and that fine details are well defined as confirmed by the small portion of this image, lightened in Photoshop to make the noise pattern more visible. (ISO 1600; JPEG Large/Fine capture at default settings.)
Because Canon needed to cram a full 10 million pixels on the XTi's sensor, the physical size of each light-sensitive point is smaller when compared to the 8-megapixel XT sensor. While that would suggest less light-gathering ability, and more prominent digital noise, the XTi performs every bit as well as the XT in this respect. According to a Canon rep, that's because the XTi benefits from a variety of complex new sensor technologies that provide greater light-gathering ability and a higher "signal to noise" ratio. In addition to producing clean images, this technology is said to produce a great "dynamic" (tonal) range.

Low ISO images are extremely clean and silky smooth. Digital noise is barely noticeable at ISO 400, making this a useful level for all-purpose use; my best images made for excellent 13x19" prints. By ISO 800 a fine, tight grain pattern is visible but fine details are well maintained. (For the "cleanest" images at any ISO, it's important to avoid underexposure, as with any digital camera.) It's only at ISO 1600 where the mottled color specks are problematic; there's also some softening and loss of intricate detail due to automatic noise reduction processing. Still, my best ISO 1600 photos are suitable for making good 8x10" prints.
The ISO 800 level produced such "clean" images that I found it to be an ideal choice for low-light photography. (ISO 800 plus an Image Stabilizer lens often precluded the need for a tripod.) After some judicious sharpening in Adobe's Photoshop (to avoid emphasizing the fine noise pattern) I was able to make excellent 11x16.5" prints from the ISO 800 images. (Evaluative metering and +2/3 exposure compensation; EF 24-105mm f/4L IS USM lens.)
Although JPEG is the standard shooting mode, Raw capture is also available. Image quality is very slightly higher in a raw photo than in the largest/finest JPEG, so it's the "adjustability" of the raw data files that is the primary advantage. Many image parameters can be changed using the DPP software, before actual processing, in order to maintain optimal quality. Anyone who appreciates black and white photos should shoot in Raw capture and then use the Monochrome conversion feature in DPP. Be sure to experiment with the various Monochrome Filter and Tone options available in this software; they're great for experimenting quickly with a variety of black and white effects. The new DPP Version 2.2 program is more versatile and faster than previous editions, making raw file adjustment and conversion a more rewarding process.

The Bottom Line
When compared to the more expensive 8-megapixel EOS 30D, the EOS Digital Rebel XTi is quite competitive. It's equipped with most of the same amenities but provides higher resolution, a larger LCD screen plus the anti-dust features. Even so, the larger, heavier 30D may be preferred by serious photographers. That prosumer-grade camera provides extra amenities that some will definitely appreciate: a larger/brighter viewfinder with higher magnification, more rugged construction, faster 5 fps Drive mode, white balance selection in degrees Kelvin, spot metering, and a PC cord socket for studio flash systems.
The EOS Digital Rebel XTi targets the experienced photo enthusiast with its multitude of advanced capabilities, high resolution, and great speed. And yet, this model would also be a fine choice for digital novices and for families who want a compact, lightweight, affordable D-SLR with many automatic features that provide great simplicity and very good snapshots. (Portrait Program and Landscape Picture Style; slight underexposure corrected in Adobe's Photoshop Elements 5.0.)
On the other hand, the Digital Rebel XTi competes in the "under-$1000" range where it's a strong contender among the various brands. Because of its impressive performance, comprehensive feature set, and superb image quality, this model offers exceptional value at the $799 list price. While owners of the 8-megapixel XT may not find a compelling need to upgrade to the XTi, the newer Digital Rebel would be an ideal choice for photo enthusiasts still using an older camera. And it would be just as suitable for families shopping for a first D-SLR because of its modest price/ size/weight and full complement of automatic, semiautomatic, and manual features. Based on my experience Canon has another winner on their hands and this latest Rebel model will remain the "one to beat" in the entry-level category.

For more information, contact Canon U.S.A., Inc., One Canon Plaza, Lake Success, NY 11042; (800) 652-2666, (516) 328-5000; www.canonusa.com.

A long-time "Shutterbug" contributor, stock photographer Peter K. Burian (www.peterkburian.com) is the author of several books, including the new "Magic Lantern Guide to the Sony Alpha A100" (Lark Books) and "Mastering Digital Photography and Imaging" (Sybex). He is also a digital photography course instructor with BetterPhoto.com.
For a full list of Technical Specifications, visit the Instant Links section of our website at: www.shutterbug.com/currentissuelinks/