Canon's EOS 5D Full-Frame Digital SLR ; Is This The Affordable Pro Digital We've Been Waiting For? Page 2
Once I had gone through all of the files I narrowed the selection, picking the best angles and compositions, to make a set of 12x18" prints on 13x19" paper with Epson's new R2400 printer. Then, with a couple of dozen prints, resulting from my test shooting, in front of me I was able to see "the proof of the pudding."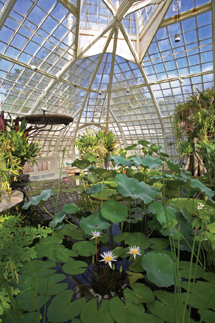 Now recently restored with new clean, clear glass the contrast is much greater than when I photographed inside the Golden Gate Conservatory some 20 years ago. Then the light was more diffuse, which barely made it possible to capture the brightness range on Kodachrome. The Canon EOS 5D obviously has a greater dynamic range, as it recorded detail throughout a scene of even greater brightness range.
The road from my chosen test subjects to obtaining a first set of finished prints was both smooth and rewarding. Out of all the shots I made the only culls were my own mistakes, mostly of not choosing the best angle for a good composition and one instance of not including enough of the brightest part of the scene when locking in the exposure, thereby overexposing some highlights. In other words, the camera was dead on in auto-setting exposure, white balance, and focus. Regardless, and particularly when comparing my shoot years ago on Kodachrome of the Golden Gate Conservatory, I obtained a much higher percentage of ideal results out of all of the exposures made than I have with any photography experience in the past.

I photographed all but the initial local test shots using raw to unleash the maximum potential of the 5D. I also did this because it is a "professional" digital camera, and I am sure most users will also choose to save in raw when they can. Processing these raw files provided a revelation of just how much digital cameras have been improved and refined in the almost 15 years I have been using and testing various products.
Although most of the Golden Gate Conservatory is densely planted, there is one section that contains many varieties of orchids and other tropical flowers with more room for a photographer to work freely. But you may not want to stay too long at a time because the temperature and humidity is like a tropical jungle. By then, the greatest challenge to photographing was keeping perspiration from running into my eyes.
Even in raw very little if any color correction was required. Mostly it amounted to using Photoshop's Levels to optimize the gamut when the subject's range of densities was low in contrast and did not fill the dynamic range of the camera's sensor. Raw, of course, records at a fairly low level of saturation, which is easily and most effectively adjusted after the fact in software. (Image-editing software, in fact, is much less effective in lowering saturation and contrast.) If you switch Mode to JPEG output the DIGIC processor will automatically adjust levels, contrast, and saturation to predetermined ideals. I think most professionals and serious enthusiasts will prefer to exercise individual control to output images with their own sense of style. In that respect, the Canon EOS 5D makes achieving that personal ideal quite easy. It requires less editing adjustment from raw files while providing optimum latitude, thanks to its superbly accurate autoexposure, AWB, and autofocus.

Even the first test prints I made came close to that ideal. The prints from the 5D's raw files are quite comparable to those made from the best 35mm film scans, even those done at 5400dpi, which I used for test printing for my recent Epson R2400 report. In addition, the 5D files are incredibly consistent in image quality across a variety of quite distinct subjects. And compared to scanned film images, the raw Canon 5D images are grainless.


I have acquired a liking for photographing flowers. But as subjects providing information to evaluate photographic performance I've learned they are a bit like canaries in a mine because errors and weaknesses in the reproduction process are so readily apparent, at least to my perception. Flowers can be subtle and bold at the same time, delicate and strong, deeply saturated and lightly tinted, all encompassed in a myriad of shapes and patterns. If that delicate balance is off it is immediately noticeable and reflective of any weakness in the process.
However, capturing images with a digital sensor does have its occasional faults and limitations. Using the Canon EF 16-35mm f/2.8 at its shortest setting produced red/green image-edge fringing at the outer perimeters of the picture space. This is not an optical aberration but a sensor-created artifact caused by the light from the subject striking the sensor surface at an extreme angle. This is common to all very wide angle lenses. I recorded the very same wide angle artifacts with the Canon EOS 20D using the Canon EF-S 10-22mm wide angle zoom. In both cases the color fringe along sharp edges in the image at the outer limits of the format were corrected and eliminated entirely using the Adobe Photoshop CS2 Noise Reduction filter.
Conclusion And Recommendation
From the e-mail I receive and the chatter I read on the Internet, digital photography has developed so rapidly and profoundly that it has caused a kind of insecure trepidation. Many, I think, may hesitate making the commitment to a certain model, assuming yet another new model that's both cheaper and better will soon appear. That sort of trepidation could make some think that an investment in the new Canon EOS 5D would be a questionable value. In this regard, I believe Canon has forced a tipping point in terms of the price/performance equation. First of all, I think it will be quite well into the future before the competition catches up. I have nothing more than a hunch to go on, but I would guess Canon has pegged the price of the new EOS 5D as low as it has with the assumption that the camera will attract enough sales to garner a reasonable profit over time.

The real question is: Will the 5D meet the needs of professionals and serious enthusiasts adequately enough to fend off what a little more resolution or other minor upgrades might offer? My impression from using the camera and the resultant images is that photographers are going to be satisfied with the product and its performance for some time to come. Sure, bigger, better, and faster is the constant siren song of the marketplace. But the Canon EOS 5D might just stave off that clarion call for quite a while.
The shear brilliance of subtly varied orange shades and hues distinguishes this rare hibiscus. I was impressed by how it was recorded so pristinely and faithfully by the Canon EOS 5D.
Personally, I would feel secure paying the tab for a 5D, especially if I were doing photography for business and profit. But these are unsettled times and the road ahead seems to be enveloped in fog. I can't speak for what the future will hold, but if a great performing camera is what you want and need, and you have the courage, go for it. It seems to me, from what I've experienced using the Canon EOS 5D, it's unlikely to disappoint.
Technical Specifications
Recording Media: CompactFlash card Type I and II
Sensor Size: 1.41x0.94"/35.8x23.9mm
Compatible Lenses: Canon EF lenses (except EF-S lenses)
Type: High-sensitivity, high-resolution, single-plate, CMOS sensor
Effective Pixels: Approx. 12.8 megapixels
File Format: Design rule for Camera File system (JPEG) and raw, EXIF 2.21 compliant
Processing Parameters: Standard parameters plus up to three custom processing parameter sets and monochrome can be set
Color Temperature Compensation: White balance bracketing: +/- 3 stops in full-stop increments; White Balance Correction: blue/amber bias +/- 9 levels
Coverage: Approx. 96 percent horizontally and vertically (coverage against JPEG Large)
Magnification: 0.71x (-1 diopter with 50mm lens at infinity)
AF Points: Nine AF points (plus six invisible Supplemental AF points)
Exposure Control: (1) Evaluative metering (link to all AF points); (2) Partial metering (approx. 8 percent of viewfinder); (3) Spot metering (approx. 3.5 percent of viewfinder); (4) Center-weighted average metering
ISO Speed Range: Equivalent to ISO 100-1600 (in 1/3-stop increments); ISO speed can be expanded to ISO 50 and 3200
Shutter Speeds: 1/8000 sec to 30 seconds (1/3-stop increments); X-sync at 1/200 sec
Flash--EOS-Dedicated Speedlite: E-TTL II autoflash with EX-series Speedlite
PC Terminal: Provided
Drive System--Modes: Single, Continuous (approx. 3 fps), Self-timer
Continuous Shooting Speed: Approx. 3 fps (at 1/250 sec or faster for all recording quality settings)
Max. Burst: JPEG: approx. 60 frames (JPEG/Large); raw: approx. 17 frames; JPEG+raw: approx. 12 frames
Monitor Size: 2.5"
Power Source--Battery: One Battery Pack BP-511A/BP-514/BP-511/BP-512
Shooting Capacity: Approx. 800 (68ÞF/20ÞC); approx. 400 (32ÞF/0ÞC)
Dimensions: 6.0x4.4x3.0"/152x113x75mm
Weight: 28.6 oz/810g (body only); Battery: 2.9 oz/82g
Price: $3299

For more information, contact Canon U.S.A., Inc., One Canon Plaza, Lake Success, NY 11042; (800) 652-2666, (516) 328-5000; www.canonusa.com.
FEATURED VIDEO