Canon's EOS-1D Mark IV; An EOS Evolution Page 2
The camera records at 1080p Full HD and 720p HD in a 16:9 aspect ratio and Standard Definition (SD) at a 4:3 aspect ratio. The camera records 1920x1080 Full HD at selectable frame rates of 24p, 25p, or 30p and 720p HD or SD video recording at 50p or 60p. SD video can be recorded in either NTSC or PAL standards in case you plan to sell to the BBC. To minimize unwanted footage, an in camera editing function lets you remove the start or end of a video clip. An HDMI connection is located on the left side of the camera and I was surprised to learn that, according to the Television Bureau of Advertising, 46 percent of Americans have an HD television set with one of these connections that SD TVs lack. Sound can be recorded either through an internal monaural microphone or an external microphone connected to the camera's stereo mic input.
When I was photographing Mary in the shade against a graffiti-covered wall I occasionally experienced AF problems (see text) but a short-term fix was to move her away from the wall to where she was backlit and use the 220EX flash as a fill. Exposure with an EF 28-135mm IS lens was 1⁄250 sec at f/5.6 and ISO 200.
Out There In The Real (Cold) World
The shape of the Mark IV is similar to the Mark III and its ergonomics are similarly excellent. Like all One-series cameras, the Mark IV is built for professional use and the body covers and chassis, including mirror box, are magnesium alloy and the lens mount is stainless steel. It's weather-resistant, too, and gaskets and seals surround all 76 buttons and seams. Even when used with Canon's Speedlite 580EX II and most current L-series lenses, the entire system is weather-resistant, which came in much too handy in my tests. I tested the Mark III in June. During my review period with the Mark IV, the weather was constantly snowy, cloudy, and cold. I ended up shooting most of my outdoor photography at temps below the lower end of the Mark IV's 32-113?F working temperature range and it handled the cold with aplomb, never missing a beat, which is more than I can say for the photographer.

While I could whine about the Mark IV's lack of a pop-up flash, Canon is never going to put one on its One-series cameras, at least not when they can sell you a Speedlite 270EX. Tip: If you want to add just a little fill flash to your images, you really need a 270EX. It is small, inexpensive ($150), and works perfectly as a fill light source. Since the Mark IV's shutter speed range is 1⁄8000 sec to 30 seconds with X-sync at 1⁄300 sec, the 270EX is really useful for fill flash applications.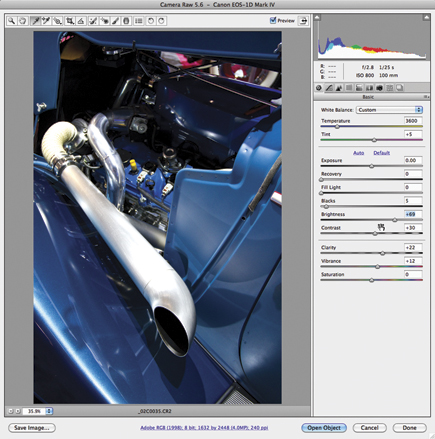 Adobe Camera Raw 5.6 reads the EOS-1D Mark IV's standard-sized Raw and compact mRaw and sRaw files. Canon bundles its Digital Photo Professional software that does a great job of Raw file processing, especially if you use its batch function.
Canon offers SLRs with different lens multiplication factors, including full frame, 1.6x, and 1.3x, the latter being the one used by the Mark IV. To show how much you lose between a full-frame camera and the Mark IV, I set up a test using the same lens with the Mark IV and my EOS 5D. I made sure my personal 5D had the latest firmware installed as well as the Mark IV. During the test, Canon updated its firmware from 1.0.4 to 1.0.6. Tip: Don't assume your camera will be delivered with the latest firmware. Check to see what's installed and then visit the web (www.canon.com/eos-d) to see if there have been updates.

Although there has been some grumbling from the web, there has not been the kind of autofocus kerfuffle surrounding the launch of the Mark IV as there was with the Mark III and, in general, this new camera responded as Canon claims. The Mark IV's AF can be sluggish in low-light, low-contrast situations unless you select a specific focusing point and then bang-zoom! When I was photographing Mary outdoors in the shade (there's that lack of contrast) against a graffiti-covered wall it would sometimes focus on the wall a few inches behind her. When I selected a specific point near her eyes there was no problem. With 19 Custom Functions related to Autofocus/Drive I adjusted the "AF expansion with selected point setting" options and it fixed the problem under most lighting conditions. I'm not saying autofocus is a problem with the Mark IV but few cameras or photographers for that matter are perfect. What I'm saying is that high technology such as a 45-point autofocus grid is no substitute for good judgment on the photographer's part, when it comes to lens, depth of field, and even ISO choices. Tip: You might just take a break from shooting to occasionally review images on the LCD screen using the Mark IV's image zoom capabilities to check for sharp focus.
This composite image shows a series of exposures I made at ISO 400; 12,800; 25,600; 51,200; and 102,400. Shooting in Av mode with an aperture of f/22 to maximize depth of field from the EF 100mm f/2.8L Macro IS USM lens, the first (left) produced a 13-second shutter speed. At ISO 12,880 the shutter speed was reduced to 0.4 seconds and by the time I reached the Big Kahuna ISO 102,400, it was at 1⁄25 sec, well within the hand holdable speed of an Image Stabilized lens.
The as-I write-this (5.6) version of Adobe Camera Raw (ACR) happily reads the Mark IV's standard-sized Raw files as well as the compact mRaw and sRaw versions. The Mark IV is bundled with a useful assortment of imaging software at no additional charge with the camera, including the latest version of Canon's DPP software. Canon's techies tell me that DPP is superior for processing their proprietary CR2-format Raw files and it certainly does a great job of batch processing them, but I couldn't see any on-screen differences between DPP and ACR, but for perfectionists, you've been alerted.
The Mark IV has two memory card slots: one for Type I and Type II CompactFlash and the other for SD/SDHC. Simultaneous Raw+JPEG recording is possible onto both cards and the Mark IV uses the same method as the Mark III, but it's hard to find in the manual because of its skimpy index. Look on page 57 or the Tool1 menu under "Record func+media/folder sel," which might make sense to some engineer somewhere, but not to me. Once there, four options are available, including Standard, which lets you shoot to a selected card; Auto switch, which automatically shoots images to the second card when the first is full; and Rec Separately, which lets you record different file types/sizes to different cards, and you're free to aim different JPEG or Raw sizes at the two cards or Raw to one and JPEG to the other. The last option is Rec to multiple, a back-up function that lets you record the same file type to multiple cards. Keep in mind that if one of Canon's wireless transmitters (see the "Wireless Connectivity" sidebar) is connected, it's considered a memory card.
The EOS-1D Mark IV offers four High ISO Noise Reduction options as a Custom Function, including Standard (default), Low, Strong, and Disable. The Strong setting (left) does a remarkable job of reducing the excessively noisy image to just "really noisy." I applied Imagenomic's Noiseware Professional to an identical image made at the Standard setting (right) and while still noisy, is quite usable. Noiseware Professional costs $69.95 and is a useful tool for Mark IV shooters working at six-figure ISOs.
The Mark IV has a nominal ISO range of ISO 100 to 12,800 that's expandable to 102,400, so naturally I had to see what happens to noise levels at those higher speeds. Keep in mind that the camera was designed and rated for a maximum ISO speed of 12,800 and so upping the ante—the digital equivalent of push processing—to 25,600, 51,200, or 102,400 is going to involve compromises that affect image quality. I set up my initial test at the Standard noise reduction setting and shot a benchmark exposure at ISO 400 and made subsequent exposures at 12,800; 25,600; 51,200; and 102,400 (with the latter three using the camera's "Set ISO speed range" Custom Function).

At ISO 400, the image is perfect; there is no noise and in fact the photograph looks as if it was made at ISO 100! Bumping the ISO setting to the nominal maximum of 12,800 produced some color noise in black areas. At ISO 25,600, the image is not much different from test exposures at 12,800. At ISO 51,200, color noise begins to show up in other than black areas but overall the noise is what we expected from ISO 3200 not that long ago. At ISO 102,400—well, now we're talking some noise! This setting should be used like a fire extinguisher, only in emergencies. I tried various noise reduction software products on the ISO 102,400 shot and most of them failed. Only Imagenomic's (www.imagenomic.com) Noiseware Professional was able to do anything and if you need to shoot at six-digit ISOs, you'll want a copy. It won't remove all the noise but provides an excellent balance between noise reduction and image sharpness.
(Left): Lighting for this colorful photo of Victoria was made using a four-head setup connected to a Dynalite SP2000 power pack. The main light used a large Chimera light bank, fill was from a Chimera strip light, the hairlight had a small Chimera light bank mounted, and the fourth head served as a backlight. Exposure was 1⁄80 sec at f/8 and ISO 100. Jack's studio can be quite chilly in the winter and while Victoria never complained, the resolution of the EOS-1D Mark IV is so good that if you look closely you can see goose bumps on her skin. (Right): For this shot of Victoria, two stacked Grin&Stir 30" FourSquare light banks, each with a single Speedlite mounted, were used. A reflector was placed at camera left. Backdrop was a "Joe Farace" muslin background that's available from Silverlake Photo (www.silverlakephoto.com). Lens was an EF 28-135mm f/3.5-5.6 IS and the final exposure was 1⁄100 sec at f/5.6 and ISO 200.
To test the in-studio capabilities of the Mark IV, Jack Dean (www.jackdeanphotography.com) allowed me to do a test shoot at his Fort Lupton studio and I also shot at Peregrine Studios in Denver. Like any real professional camera, the Mark IV has a PC connection for connection via sync cord to studio lighting equipment and that's what I used when working with Grin&Stir's (www.lightwaredirect.com) FourSquare light bank and Speedlites. For the other shoot, I slipped PocketWizard's (www.pocketwizard.com) Plus II transmitter into the Mark IV's hot shoe to trip a Dynalite (www.dynalite.com) SP2000 that has a built-in PocketWizard receiver. During both sessions the camera handled, focused, and functioned under the kind of conditions a working pro encounters in a typical studio session.
What's Not To Like?
You may have noticed that this review contains a bit less snarkiness than normal. Is the camera that good or am I mellowing in my old age? Perhaps a bit of both. With its 16-megapixel resolution, 10 fps continuous shooting capability, and astronomically wide ISO range, the EOS-1D Mark IV D-SLR has lots to offer wedding and event photographers who need fast handling, great low-light performance, and high image quality.
Wireless Connectivity
Along with the EOS-1D Mark IV, Canon announced the WFT-E2 II A wireless file transmitter that offers a range of connectivity options, including IEEE802.11a/b/g wireless networking and Ethernet. In addition, the WFT-E2 II A's Camera Linking feature lets you simultaneously fire up to 10 cameras remotely and the updated WFT Server mode lets you remotely use Live View, control settings, and even fire the Mark IV over the Internet using a web browser or web-enabled smart phone. Geotagging is also possible via Bluetooth, using compatible GPS devices to append coordinate data to the images. All this and video, too, makes the Mark IV sound more like an "image capture device" than a traditional camera, but such is the world of professional photography these post-paradigm shift days.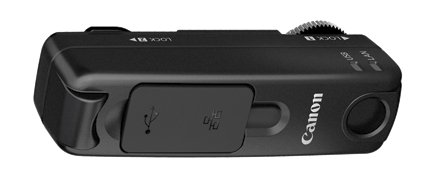 Canon's EF 100mm f/2.8L Macro IS USM Lens
The EF 100mm f/2.8L Macro IS USM lens is Canon's first mid-telephoto macro lens to offer Hybrid Image Stabilization that works in 1:1 mode and compensates for angular and shift camera shake during close-up shooting. Canon claims the optical Image Stabilizer (IS) produces a four-stop advantage over the previous model and like all recent IS lenses it has an on-off switch clearly labeled "on" and "off." While not seemingly a big deal, it beats trying to decipher the icons Canon used previously. In addition to an AF on-off switch, the lens has an AF limiter switch with settings of 1 to 1.6 feet, 1.6 feet to infinity, and Full so the lens will focus faster under certain working conditions, especially close-up work. Using the switch is especially useful under low light, when it could be sluggish to focus with the EOS-1D Mark IV.
The new lens is resistant to dust and water droplets and for all you bokeh fans it has a circular aperture diaphragm with nine blades, producing smooth out-of-focus highlights. While almost dimensionally identical to the previous version, the filter is 67mm, not the older lens' 58mm. If you're shooting with a Canon MR-14EX ringlight you'll need to order a 67C Macrolite Adapter ($34.95) to work with this new lens. Because its front element is so close to the front of the lens—the recess is barely the depth of the filter threads—I strongly recommend you get a UV or Skylight filter to protect the front element. Even a 67mm B+W will only set you back $50 and is cheap insurance. The lens is bundled with goodies not typically included with other lenses such as a case (LP-1219) and hood (ET-73).
While this lens is designed for close-up photography, I often used my EF 100mm f/2.8 Macro USM lens for portraiture. Tip: If you try that with the EF 100mm f/2.8L Macro IS USM lens make sure your subject can handle the extreme sharpness that shows every skin defect, or just shoot and use soft focus and diffusion software tools later in the digital darkroom. The EF 100mm f/2.8L Macro IS USM is clearly a step up—in price, too—from the previous, less expensive non-IS model that this new lens replaces.
For more information, contact Canon U.S.A., Inc. at: www.usa.canon.com.

LATEST VIDEO